Innova unveils a new, faster, more efficient Stretch Hood ELITE system at Interpack
The new Stretch Hood generation is here! In the context of high logistic and packaging demands, Innova launches its new Stretch Hood ELITE, a more efficient, sustainable, and faster pallet packaging system to adapt to the growing demands of the industry. The new Stretch Hood will be officially presented at Interpack 2023 from May 4 to 10 in Düsseldorf, the world's largest international packaging event, where the machine and its operation will be shown on-site.
This new generation of Stretch Hood wrapping system completes a major milestone in Innova's history of more than 20 years as a manufacturer specializing in the Stretch Hood system and hundreds of installations worldwide. Thus, the new Stretch Hood ELITE is the result of intense engineering development, continuous listening to the market, and the mission to meet the needs expressed by customers in terms of efficiency, connectivity 4.0, safety, and speed of packaging.
New hooding carriage technology
One of the main new features of the new Stretch Hood ELITE is the redesign of the hooding carriage technology that makes it possible to lower the carriage to ground level for greater safety, easier machine maintenance, and film changes. This feature is one of the most demanded in terms of factory safety as it eliminates risks and facilitates maintenance tasks.
In addition, a unique feature of Innova's Stretch Hood ELITE system is that the carriage can change its hooding height to adapt to different load formats, thus gaining speed and efficiency with multi-height production.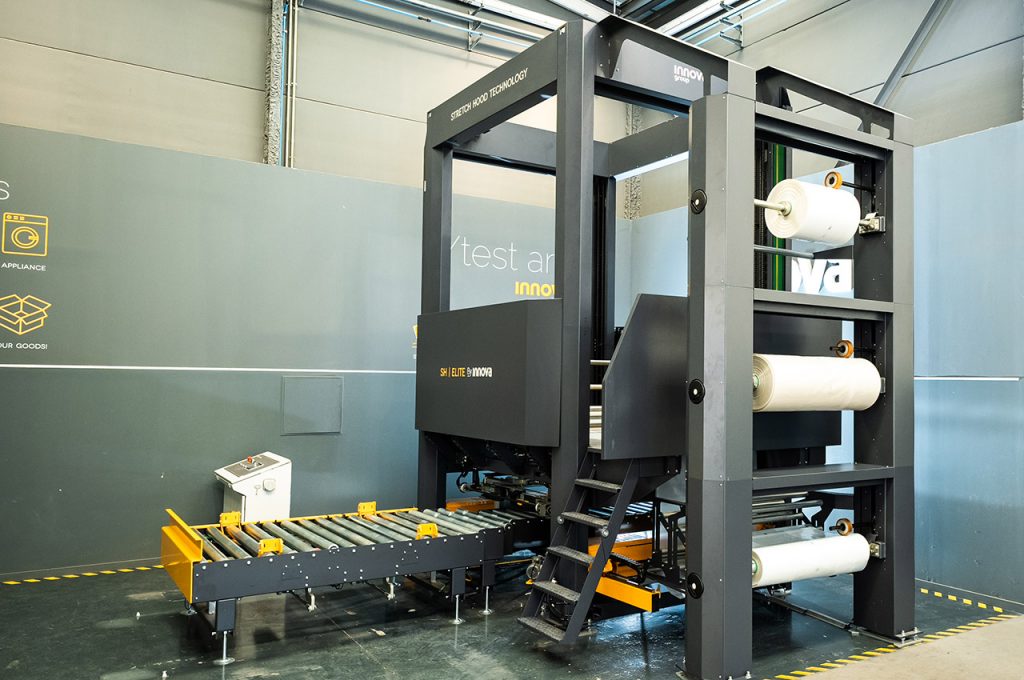 Modular design with more efficient components
The other major new feature of the ELITE stretch hooder is that it incorporates more sustainable components and high-efficiency motors. This, together with the new carriage lowering technology, results in greater savings in energy consumption.
In terms of connection and safety, it also includes decentralized electronics and an exclusive safety PLC, as well as an innovative wireless communication system between its different motors for less wear and tear on components and greater safety in the operation of the machine.
Finally, ELITE also features a modular design for ease of assembly and maintenance and increased machine performance. For example, the columns of the new Stretch hood have a hexagonal shape for greater stability during hooding.
Wide range of accessories
Another new feature of the new ELITE system is that it includes accessories and complements to improve the hooding, unlike other Stretch Hood models on the market. For example, one of the most popular accessories included in ELITE for boxed loads is the vertical edge band applicator before wrapping to protect the edges and provide greater load containment and compaction.
For bag pallet loads, it incorporates a complementary edge rounding system or edge trimmer to reduce bag protrusions and improve wrapping. This is a required accessory to avoid tears caused by bags or protruding ends.
What improvements and advantages does Stretch Hood ELITE bring to pallet packaging?
The new Stretch Hood generation brings considerable advantages in terms of load protection, safety, and reduction of film usage, compared to other packaging systems such as pallet stretch wrapping or shrink wrapping.
Faster packaging speed
The new Stretch Hood wrapping machine allows maximum adaptation to the height of the load with the exclusive lowering system of the hooding carriage, making it possible to increase the speed in the case of lower load heights. It also includes a high-production kit to increase the speed of automatic pallet wrapping with fast hood welding. With ELITE we increase from a standard speed of 60 pallets/hour to a 150 pallets/hour speed and more depending on the stretch hood configuration and load specifications.
Total load protection
Stretch Hood systems stand out for their high effectiveness in protecting cargo, thanks to the technical characteristics of the Stretch Hood film, which is made of MLLDPE material with barrier properties against external agents.
In addition, Innova's new system provides even more tailored wrapping to the load, thanks to its carriage-lowering technology. Innova's hooding ring features an open design to conform to the shape, rectify in case of bulges or multi-shaped loads, and offer different wrapping finishes for greater protection of the load contents.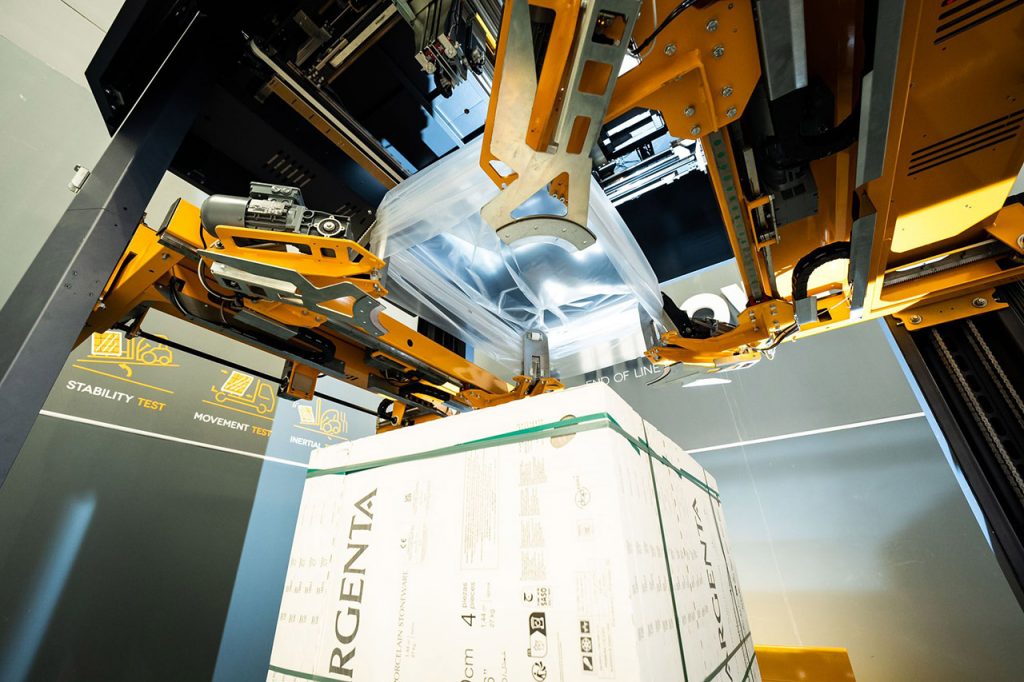 Reduction of film use
The new Stretch Hood can use a wide variety of Stretch Hood films, which are approved and certified in our Innova Lab. This makes it possible to work with more technical Stretch Hood films with lower thickness, recycling components (50% PCR), and higher stretch capacities, to reduce the film used as much as possible.
Increased equipment safety
Thanks to the new technology of lowering hooding ring, the safety of maintenance and film changeovers is improved compared to other Stretch Hoods with ladder access. The carriage lowering also reduces the time required for technical interventions and production stoppages for routine tasks and film changeovers.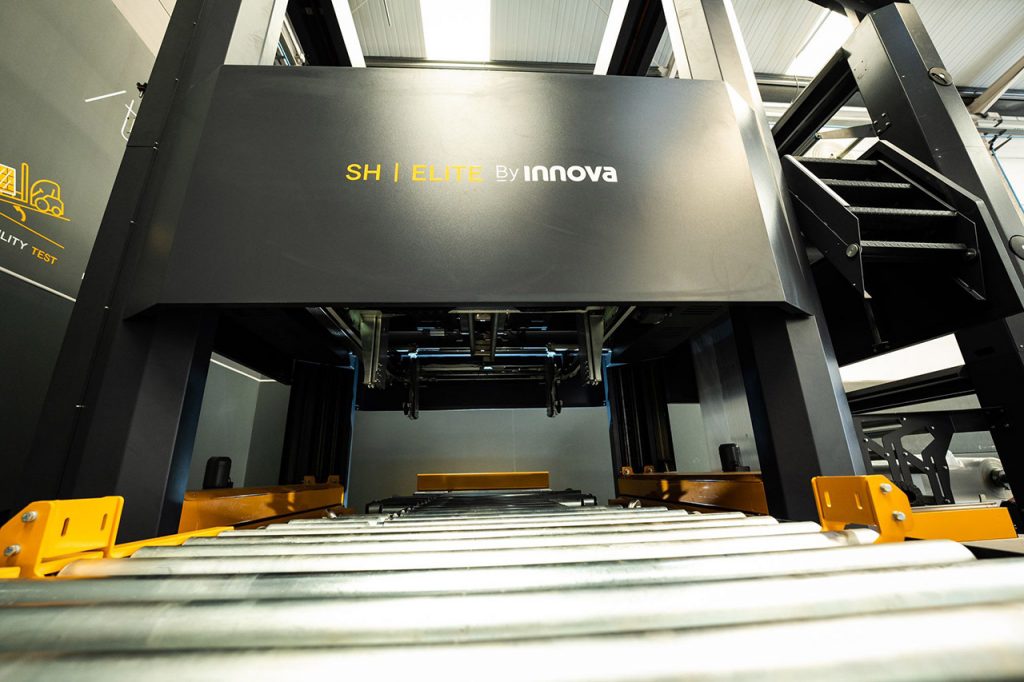 Full adaptability to different formats
With a single Stretch Hood system, loads can be wrapped at different heights and in different formats. The new equipment includes a reel holder for 3 different types of film, with the possibility of expanding to 6 if necessary. While with other Stretch Hood models the machine has to be designed according to the height, the Stretch Hood ELITE permits adjustment of the hooding carriage to adapt much more closely to the size in the event of format changes in production.
Efficiency and sustainability
In addition to reducing consumables by up to 60% and working with recycled films, the new Stretch Hood ELITE has been designed with a strong focus on sustainability. It incorporates more energy-efficient components and motors, and its structure has a lower carbon footprint, thanks to its modular and compact technological design. The Stretch Hood of the green industry has arrived!
In summary, Innova's Stretch Hood ELITE is presented as a new pallet packaging system for a new era of a more connected, efficient, and green industry that must meet the logistical challenges of an ever-changing global economy.
Discover the new Stretch Hood ELITE live at Interpack 2023! Get to know its advantages firsthand and see wrapping demonstrations from May 4 to 10 in Germany.
You will find us at:
INTERPACK 2023
HALL 12 – BOOTH D65
DUSSELDORF MESSE
GERMANY
You can book an appointment with our technical sales team at the fair or ask us for more information about the new version of Stretch Hood without commitment.