Interpack 2023 exceeds expectations and reaffirms trends in packaging innovation and sustainability
Interpack, the world's leading trade fair for the packaging industry, returned this May 2023 after a 6-year pandemic hiatus in Düsseldorf, Germany. This internationally renowned event brought together experts, companies, and professionals from around the world to explore the latest trends, innovations, and solutions in the packaging sector.
Innova Group participated again in the show exhibiting on-site our new pallet wrapping system Stretch Hood Elite, a packaging solution that brings technological innovation, sustainability, and connectivity 4.0 to companies.
Interpack, at the forefront of packaging trends
This year, Interpack focused on four main topics: Circular Economy, Resource Conservation, Digital Technologies, and Product Safety. Once again Interpack demonstrated that sectoral trade fairs play a key role as drivers of market dynamism. They go beyond simply being showcases for sales, as their main objective is to attract innovation and "force" companies to come up with a wide variety of advances, novelties, and improvements.
1. Circular Economy in Packaging: Towards a sustainable future
The circular economy was one of the key focus areas at Interpack 2023. Both companies and visiting industry professionals demonstrated an increasing commitment to waste reduction and the implementation of sustainable practices in the life cycle of products and packaging materials. At the show, visitors were able to discover the latest innovations in eco-friendly packaging design, the reduction of non-recyclable materials, and the promotion of reuse and recycling.
In this regard, companies such as Innova Group are working to develop packaging technologies that contribute to the circular economy and provide protection for goods with recycled materials and lower energy consumption. At Interpack, Innova presented its new, more energy-efficient Stretch Hood ELITE model, which works with super-stretch films with 50% PCR content. Innova was the only exhibitor at the fair to show this type of Stretch Hood film with high recycled content for wrapping goods.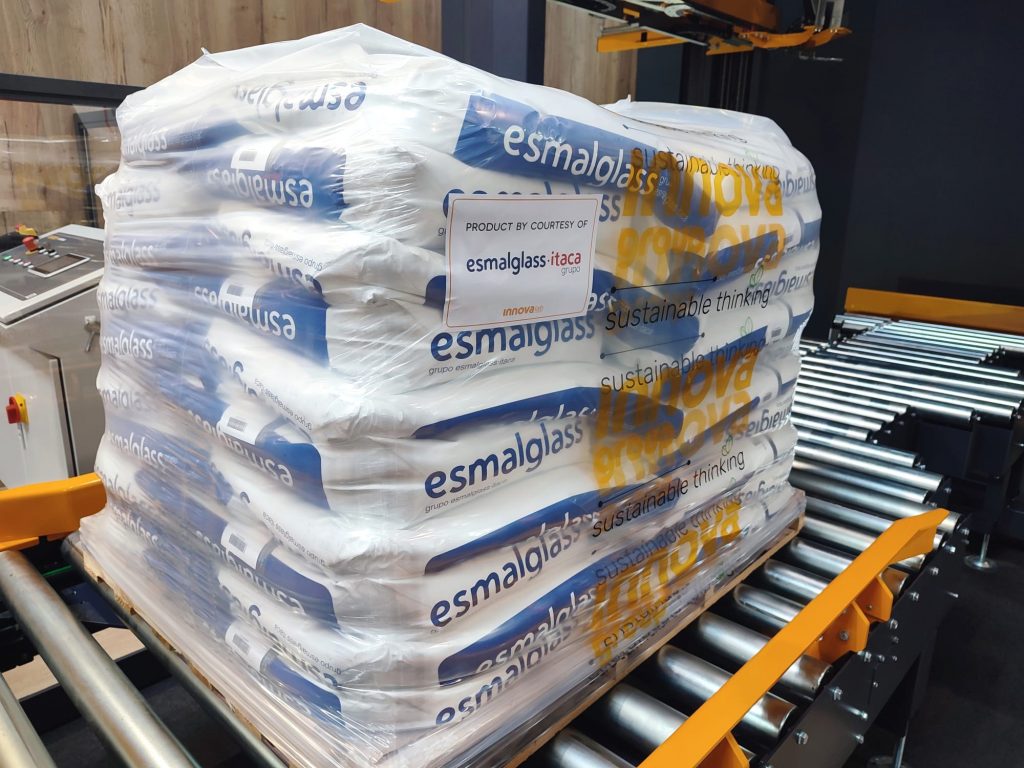 2. Resource conservation: Optimizing the use of raw materials
In line with the sustainability topic, resource conservation was another key subject at Interpack 2023. The packaging industry faces the challenge of maximizing efficiency in the use of raw materials without compromising product quality and safety. At the show, technological advances were presented that enable the development of lighter packaging, the use of renewable materials, and the optimization of the supply chain to reduce the environmental footprint.
New pallet wrapping technologies such as Stretch Hood reduce the amount of plastic used to protect the goods by up to 50% compared to other systems such as stretch wrapping. A single layer of film protects and secures the product on the pallet in a waterproof way. The application of the film is done without the need for shrink wrapping, thus reducing CO2 emissions due to the use of fuel. It also permits the use of films with a recycled component, thus reducing the carbon footprint.
3. Digital technologies: The transformation of the industry is here
Digitalization has left a significant footprint on all industries, including packaging. At Interpack 2023, visitors were able to explore the latest digital technologies transforming the way packaging is designed, produced, and distributed. From personalized digital printing, smart labeling, and traceability to end-of-line digitization, the show offered a comprehensive overview of the digital tools and solutions available to improve efficiency and personalization in the packaging industry.
Innova Group contributed its input on digitization and Industry 4.0, with its range of packaging systems with 4.0 support service, real-time reporting, and end-of-line connectivity.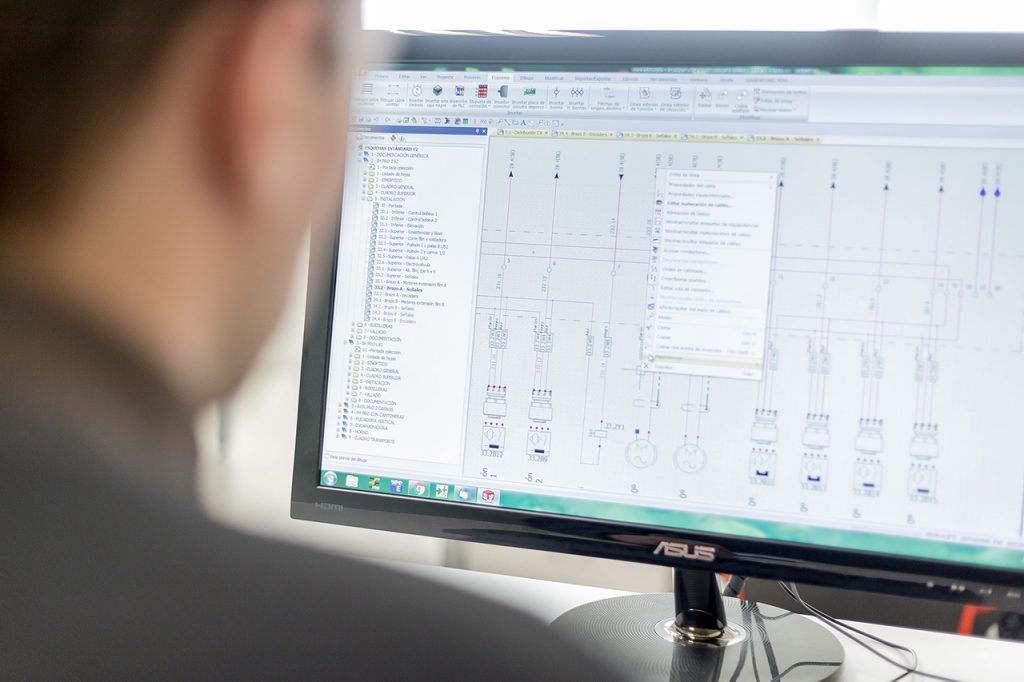 4. Product safety: Consumer protection and confidence
Product safety was another of the most discussed topics at Interpack 2023. In a changing global socio-economic context, consumers are looking for safe and reliable products, and packaging plays a key role in protecting products during transportation and storage. At Interpack 2023, the latest developments in safe and resistant packaging materials, hermetic packaging technologies, and safer goods packaging systems to ensure product quality and safety were highlighted.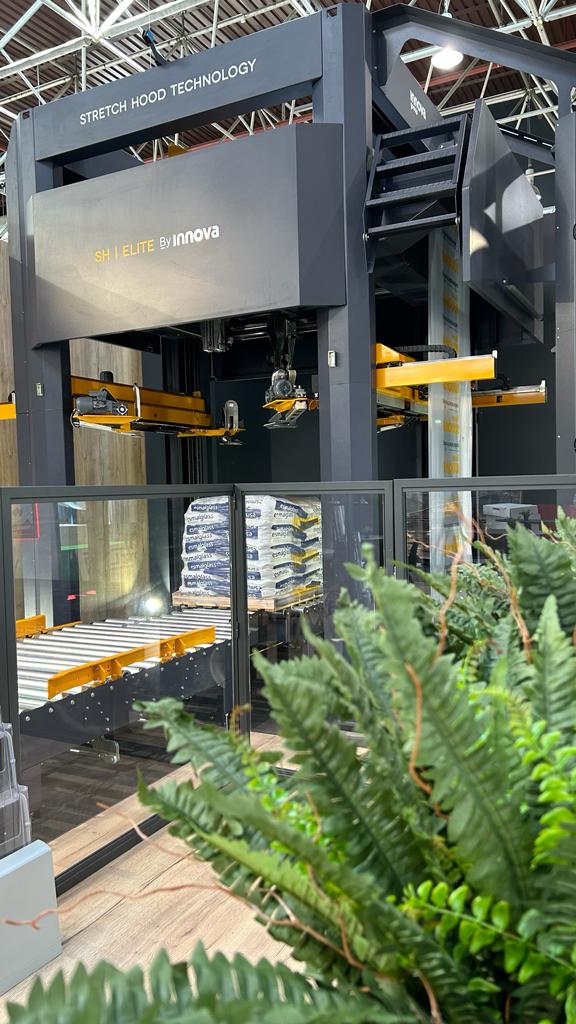 In this area, the manufacturers of Stretch Hood systems, such as Innova Group, had much to contribute in terms of security and protection of logistic loads. We can assure that the Stretch Hood system is the best in pallet protection as it provides containment of the load on the pallet, protection, and total impermeability to external agents.
In conclusion, Interpack 2023 once again proved to be the global epicenter of sustainable innovation in the packaging industry. During this leading trade show, key challenges were addressed and the most relevant technology trends in the sector were explored. From circular economy and resource conservation to digital technologies and product safety, Interpack offered a comprehensive overview of the latest solutions and developments.
Ultimately, Interpack acts as a market driver, fostering collaboration, inspiration, and knowledge sharing among industry professionals. Undoubtedly, this industry show will continue to drive innovation and guide the future of packaging toward a more sustainable and efficient approach.