Baldocer automates its entire end-of-line with two new packaging lines from Innova Group
The ceramic company Baldocer obtains a fully automated end of line with two new packaging lines in its Factories 1 and 2. The maximum security and protection in the transport of goods, the latest packaging technology, the most environmentally responsible systems, and ultimately the most unified and efficient logistic chain. These were some of the objectives the company pursued in its automation project and achieved with these two new packaging lines with Innova, one of them specializing in its large format production.
The two new lines became operational in spring 2022, between April and June respectively, at its production center in Vilafamés (Castellón, Spain). This project represents the second phase of the automation project with Innova, with a first packaging line commissioned at the end of 2021.
Baldocer is a reference in the Spanish ceramic sector, growing and expanding internationally in over 130 countries. With this total automation project, its commitment to innovation and new technologies Baldocer confirms its commitment to Innova Group as its partner in packaging.
1. Objective automation and unification of processes
Baldocer's automation project included several phases of its end-of-line processes, with the objective of abandoning all manual processes and obtaining better packaging quality.
These new automatic packaging lines have unified the packaging process in its various facilities with the combination of automatic wrapping systems (for securing) and Stretch Hood wrapping (for total protection). In addition, the two new lines offer a solution to Baldocer's increased production at its Production Hub.
2. The new packaging lines
This second phase of the project consisted of two specialized lines with different objectives:
Baldocer Line 2 in Factory 1: Specialized in maximum gripping, with an automatic horizontal strapping system, high-performance ring wrapper with cover applicator, and Stretch Hood system with special safety accesses.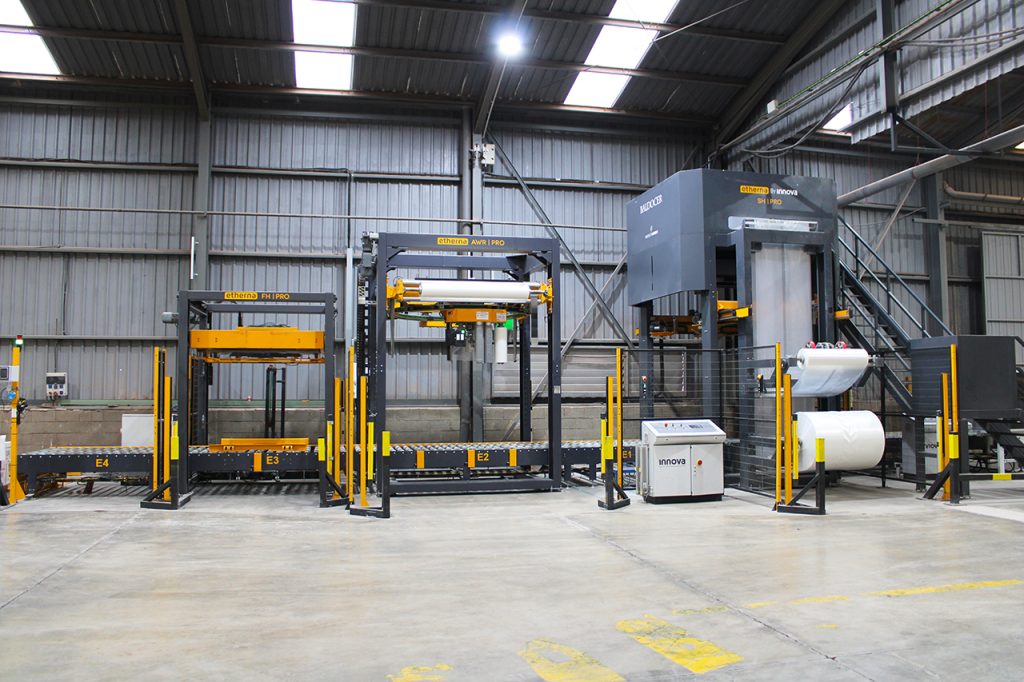 Check out the video of the Large Format Packaging Line:
Baldocer Linea 3 in Factory 2, for large-format: Aimed at protecting all special Baldocer formats, with XL Automatic Wrapping System with cover and XL Stretch Hooder with special measures to wrap Baldocer loads of extra length up to 1,650 mm.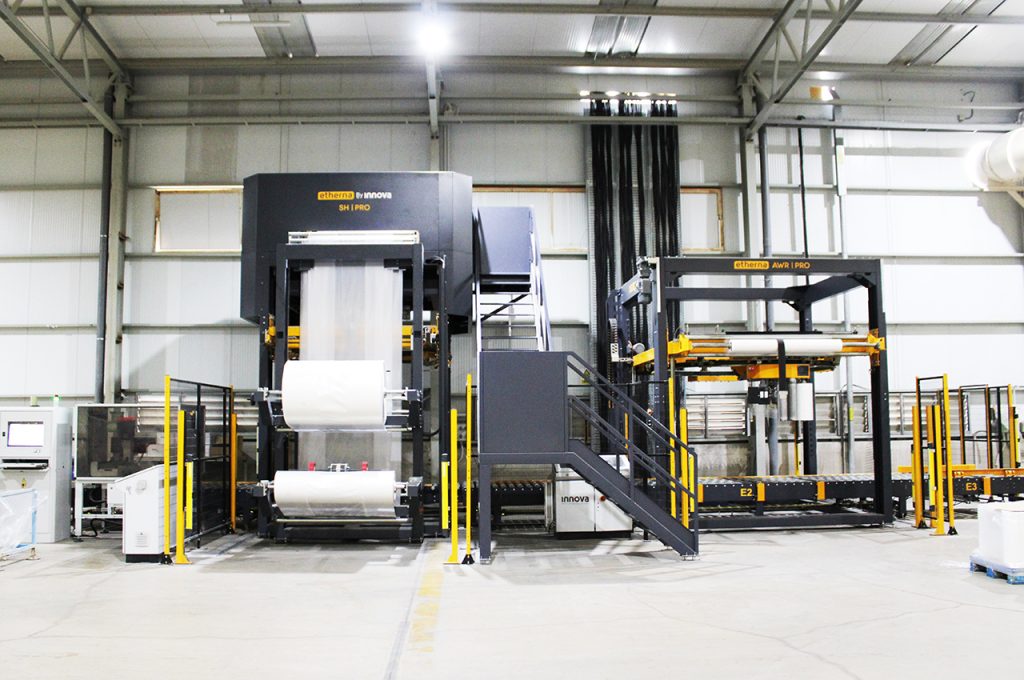 Check out the video of the Large Format Packaging Line:
3. Baldocer's packaging line systems:
The two lines have a similar composition of packaging systems, with some differentiation in the large format models. Thus, the automation project includes:
Horizontal strapping system (Factory 1): The objective of Line 2 in Factory 1 is to provide maximum support to the cargo, hence the use of horizontal strapping to further compact the load and provide greater stability during the transport and handling of the ceramic goods. This is the first system on the line and is applied before the stretch wrapper and the final Stretch Hood.
Horizontal strapping has the advantage of keeping the ceramic boxes together when unpacking the load, an advantage for the retail product line.
Ring stretch wrapping system with cover (Factories 1 and 2): All Baldocer's packaging lines feature the automatic ring pallet wrapper as a system to secure and stabilize the load. The pallet stretch wrappers have an automatic cover applicator to offer extra protection, and the roping system to offer greater reinforcement.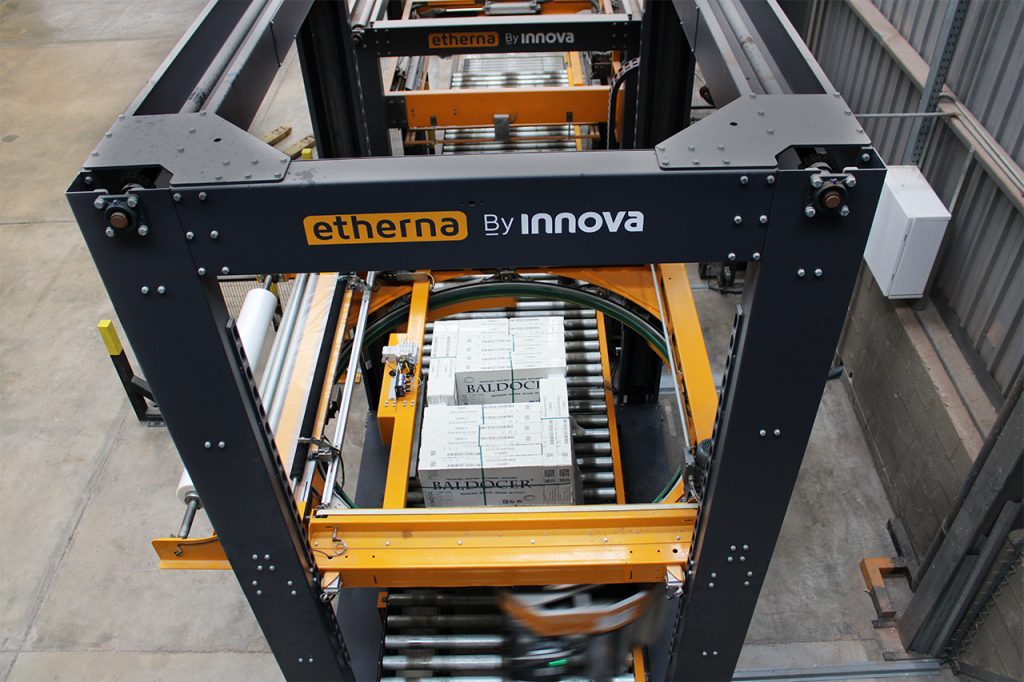 In the case of the Factory 2 line, the wrapper model is XL for Baldocer's large-format loads.
Stretch Hood System (Factories 1 and 2): The Stretch Hood system provides waterproof protection for ceramic loads, which is why it is used on all Baldocer's automatic lines. At Factory 2, the pallet stretch hooder has also been designed for special large-format sizes, allowing pallets up to 1,650 meters long to be wrapped.
Both Stretch Hood installations at Baldocer incorporate special safety accesses for maintenance staff, a commitment to maximum work safety by the company.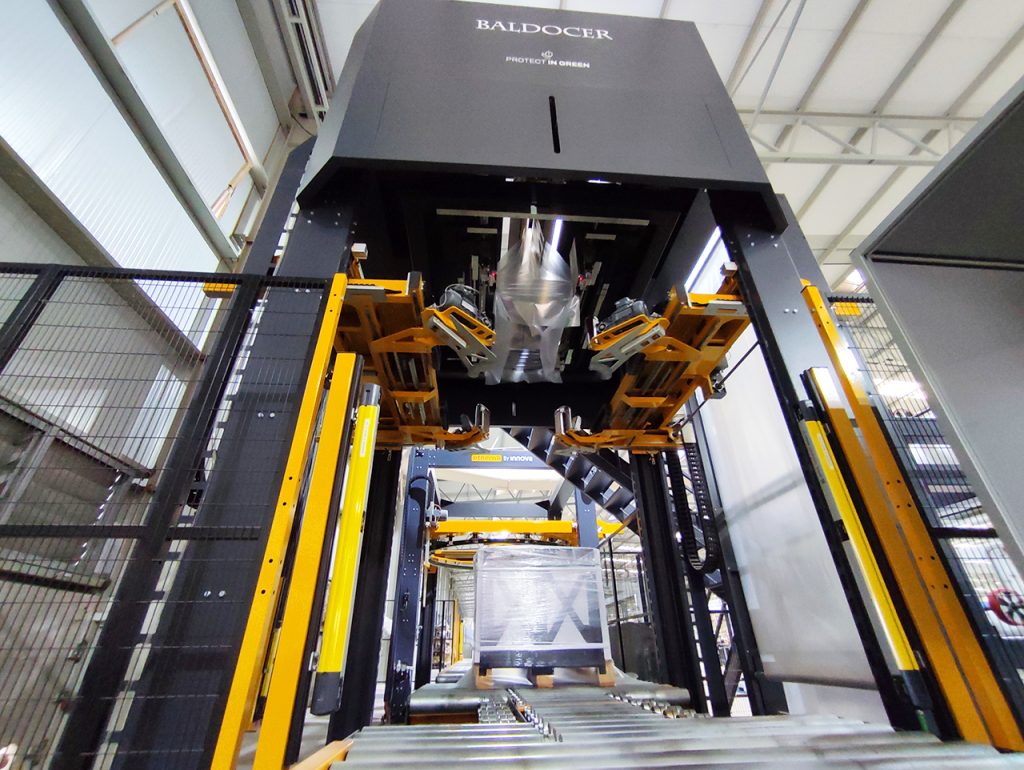 Multi-adapted conveyor line: Both facilities have a pallet conveyor line prepared to be accessed by various loading vehicles such as hand pallet trucks, forklifts, or AGVs. The two lines include an elevating conveyor with plates system to lift the load at ground level, conveyor system with centering device and outfeed conveyor line for pallet accumulation and pick-up.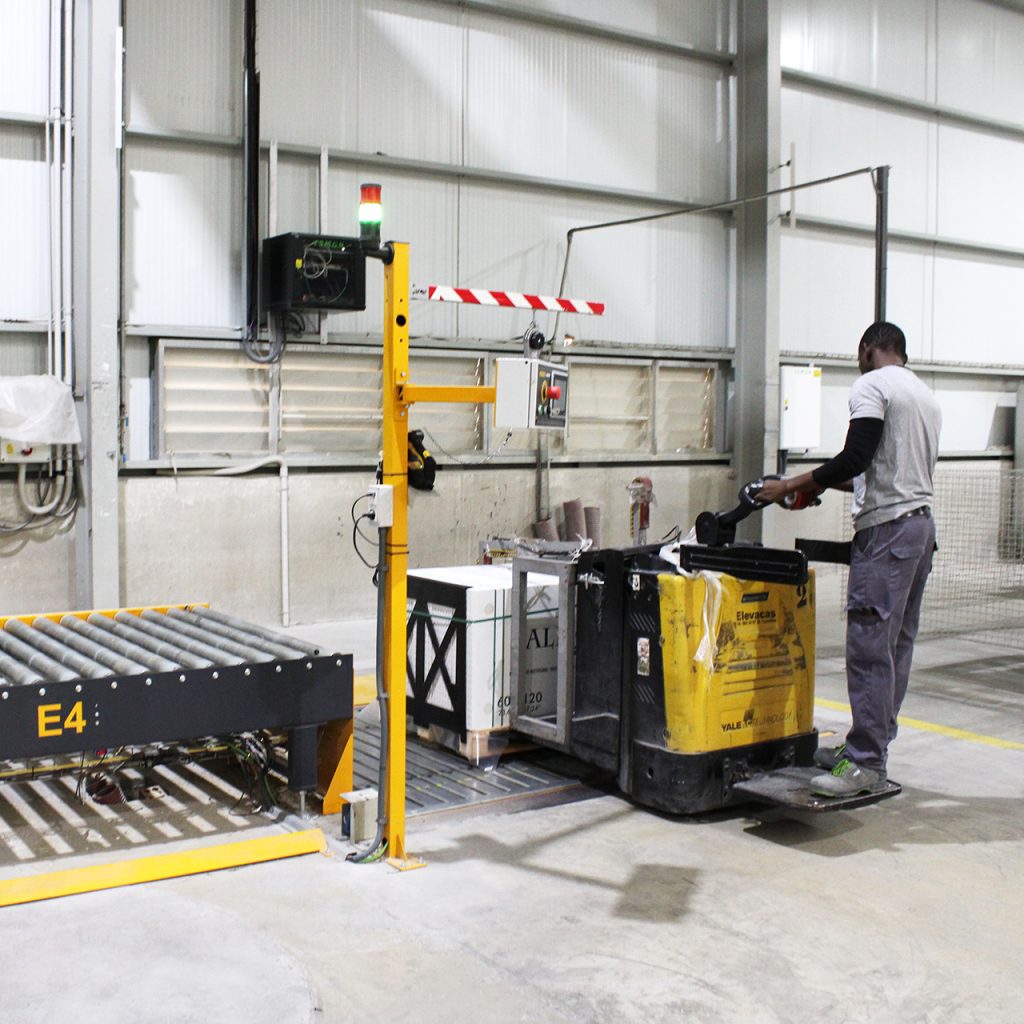 4. Results for Baldocer: efficiency and sustainability
The two new Stretch Hood packaging lines represent for Baldocer a big step towards a more efficient industry, with a clear commitment to new 4.0 technologies. In fact, practically all of its production uses the same packaging process, resulting in a better logistical flow, less waste and rework due to manual processes, and ultimately greater protection for its loads. Baldocer has also improved its environmental performance by using more sustainable, more efficient, and more energy-efficient technologies. In fact, the Stretch Hood system is known worldwide for its reduction in plastic usage and CO2 emissions.
Baldocer has transmitted to us their more than satisfaction with the whole automation project and his confidence in Innova as a partner in their packaging solutions.
For Innova Group it is a pleasure to work with companies like Baldocer, for their dedication and proactivity in the project. A reference in the ceramic sector with which we are proud to collaborate and with which we share philosophy and enthusiasm for innovation.
Thank you Baldocer for trusting once again in Innova!