Expo Revestir Brazil 2018: Innova reinforces its presence in Brazil
Brazil is one of the primary producers and exporters of ceramics, an industry that is on the rise and ever more competitive. A very good example of this is the Expo Revestir trade show, one of the most relevant  construction and ceramic materials competitions in Latin America, held from March 13 to 16 in São Paulo. Innova was present again at the Brazilian trade show, hand-in-hand with partner Servitech, where it presented the latest end-of-line packing technology for the ceramics sector, such as the Stretch Hood wrapping system.
One of the most important ceramic competitions in Latin America
The Expo Revestir trade show celebrated its 16th year this year, with participation from more than 62,000 visitors from more than 56 countries. This year, topics closely related to the not-so-far future of the ceramics industry were emphasized, such as the latest applied technology in ceramics manufacturing and sustainability as applied to ceramics, with examples of collections created with lower environmental impact.
Technological innovation and sustainability in particular are lines of work that Innova Maquinaria has presented at Expo Revestir through the Etherna Stretch Hood Line. In all of our packing technology, we keep in mind the conservation of both consumables and energy, in addition to the premise of manufacturing machinery using sustainable processes.
Innova reinforces its presense in Brazil, a leading country in ceramics
In this year at Expo Revestir, Innova rededicates its bet on Brazil. Innova offers the latest packing technology to Brazilian ceramic companies directly through its distributor, Servitech. Thanks to this local partner, we guarantee immediate, nearby customer assistance in addition to personalized assessment for each project in Brazil.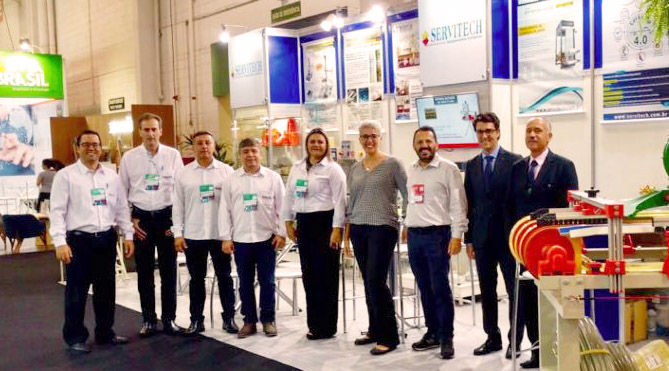 Innova has a wide range of experience and globally renowned clients in the ceramics and construction materials sector. Contact us, obligation-free for any project or end-of-line packaging needs. We offer direct service throughout Europe and Latin America.