Grupo Halcón chooses Innova for its new complete packaging line
To get the best protection and securing for the logistics of their ceramic product. To further automate their end of line and packaging process. To achieve an impeccable image and, in short, to gain added value for their ceramic product. These were the challenges that Grupo Halcón presented to Innova and to which we responded with one of the most complete and specialized end-of-line packaging lines. The installation of the new Stretch Hood packaging line was carried out at the end of 2020 in its production plant Halcón 2 in L'Alcora (the Ceramic Hub in Spain) and is one of the most ambitious in terms of final packaging for the Grupo Halcón.
With over 50 years of experience in ceramics, Grupo Halcón is a benchmark company in the national and international ceramic market. Recently the group has announced a growth plan for 2021 that includes new facilities and projects such as the one Innova has been proud to participate in.
Grupo Halcón's challenge: New packaging line, more automated and secure
Halcón Group was looking to renew its current packaging line consisting of an automatic rotary arm wrapping machine and its respective complements. Although their main objective was to renew systems, Grupo Halcón also required a packaging technology that would provide greater protection and security for their export product. For this reason we proposed a complete line with Stretch Hood and specialized strapping and wrapping systems for large ceramic formats.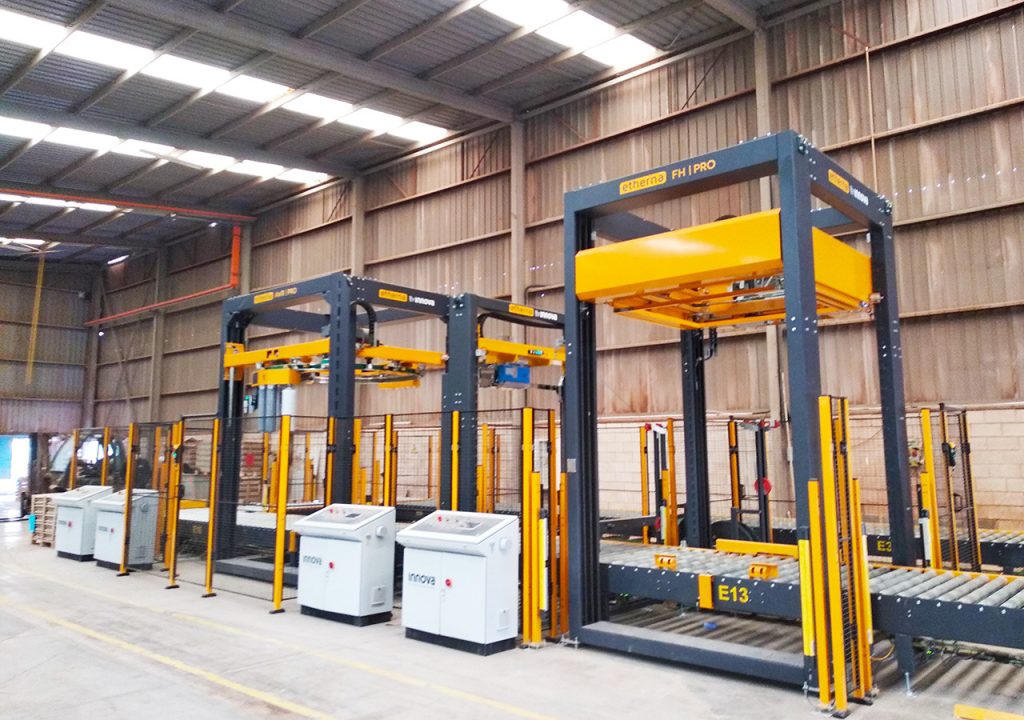 Grupo Halcón's line: Maximum security and protection
The line installed in the Halcón 2 factory has been designed to adapt to the space in the factory and to receive the flow of loads from various production lines. It is one of the most complete lines in the final ceramic packaging, with a layout consisting of the following elements in order:
1. Infeed conveyor line: Includes a pallet lift platform for access with a pallet truck or forklift. This is an entrance fully adapted to Halcón's pallet transport vehicles.
2. Horizontal strapping system: The first packaging station offers them compacting and securing of the ceramic load. The horizontal strapping machine specializes in securing the palletization in a block shape of the ceramic boxes and allows strapping at various heights for a higher compaction.
3. Vertical strapping system: Then, the pallet goes through the vertical strapping machine, which performs a strapping that enables the load to be attached to the base of the pallet. This type of strapping is especially useful for transporting heavy goods such as ceramic products, as it provides total stability to the pallet.
4. Automatic wrapping system: Innova's ring wrapping machine provides very specialized holding for large formats. In this case, the automatic wrapping machine performs a wrapping and reinforcement with the cord application that ensures the stability of the palletised mosaic and is more respectful with special and large-format pieces.
5. Conveyor line with turntable platforms: The packaging line has been designed to take up minimum space in the factory and therefore the conveyor line has a U-shaped layout with two turntable or rotating table platforms. The second turntable will also be an entry point to link the production of future packaging lines.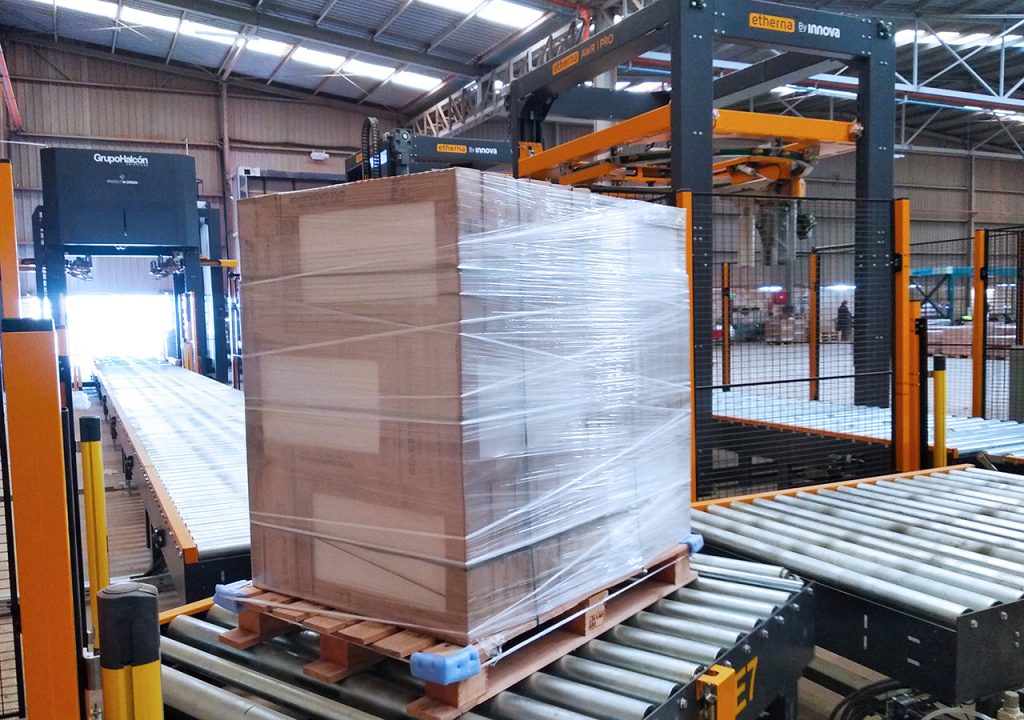 6. Stretch Hood Pro 1 S2 system: The latest packaging station is the Stretch Hood wrapping system, which can wrap various pallet sizes, including large format pallets. The Stretch Hood system provides Grupo Halcón's product with total protection and impermeability for outdoor storage and transport.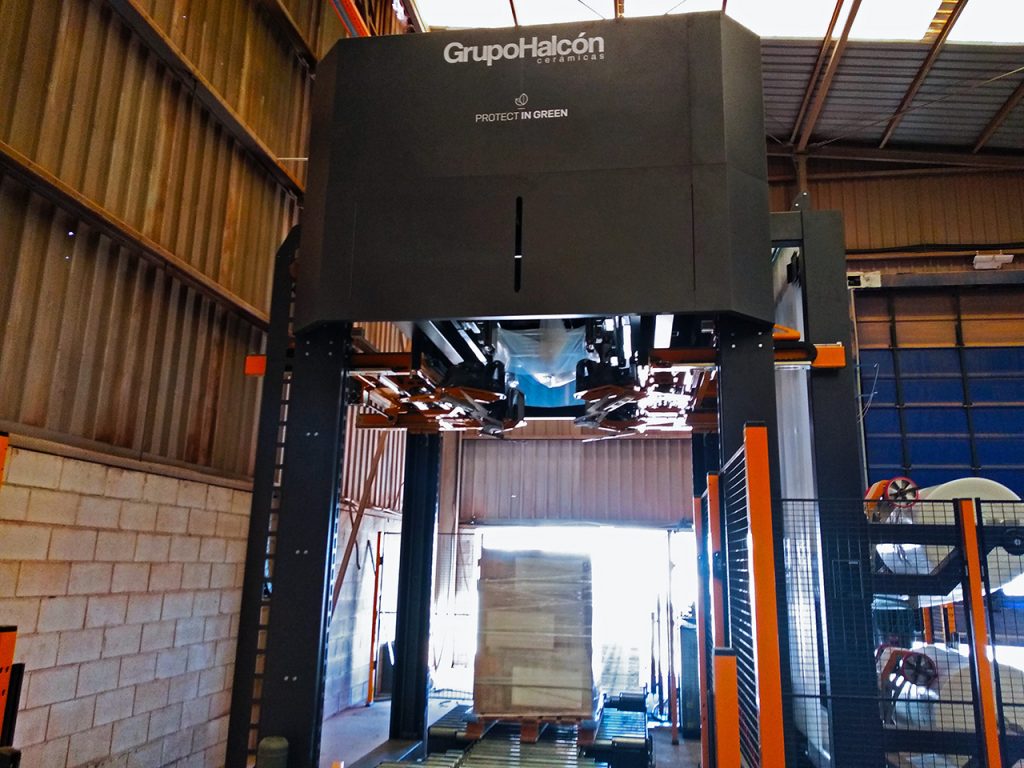 7. Output conveyor line: Finally, the output conveyor line carries the pallets to the exterior for collection and storage. Grupo Halcon's pallets are now ready to travel thousands of kilometres!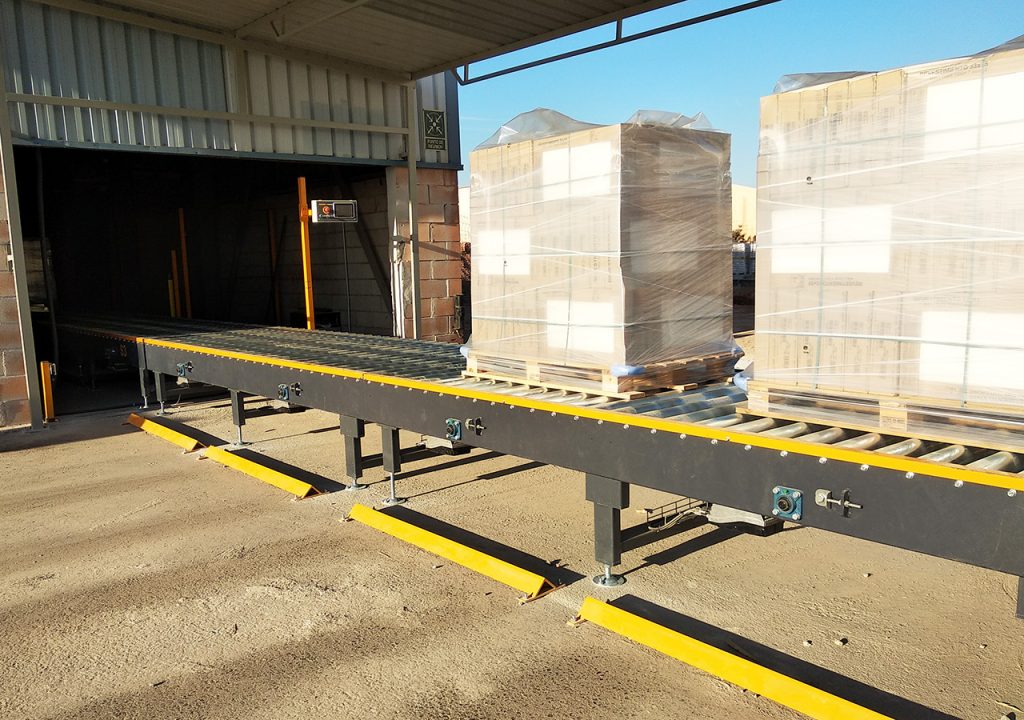 The future: A packaging line ready for Phase 2
The packaging line installed at Halcón 2 is also ready for a second phase in process of a new factory, which will focus in large format production. The project will serve to link two different production lines to the Stretch Hood wrapping machine, thus optimizing Grupo Halcón's entire logistical packaging process to the maximum.
Innova is proud to be able to work with a ceramic company such as Grupo Halcón. A group already a reference in the sector that is in full expansion and is committed to new technologies, industry 4.0 and sustainability, values that we share and which we work on in our day-to-day.
Thank you Grupo Halcón for trusting Innova!