Innova Group presents Stretch Hood at its debut at Pack Expo 2021 Las Vegas
End-of-line automation and modernization requirements, greater protection of loads in transport and storage, compliance with international standards… These were some of the topics of interest to the American market that we were able to discuss with visitors to Pack Expo 2021 during the trade show held from September 27 to 29 in Las Vegas (USA).
At our first post-Covid trade show, Innova Group presented the innovative Stretch Hood technology and our wide range of packaging solutions. This was our first participation in Pack Expo Las Vegas with a booth dedicated to our packaging systems. In this debut we were accompanied by our partner in the United States O&C Services Inc, dedicated to the installation and maintenance of large industrial projects throughout the North American country.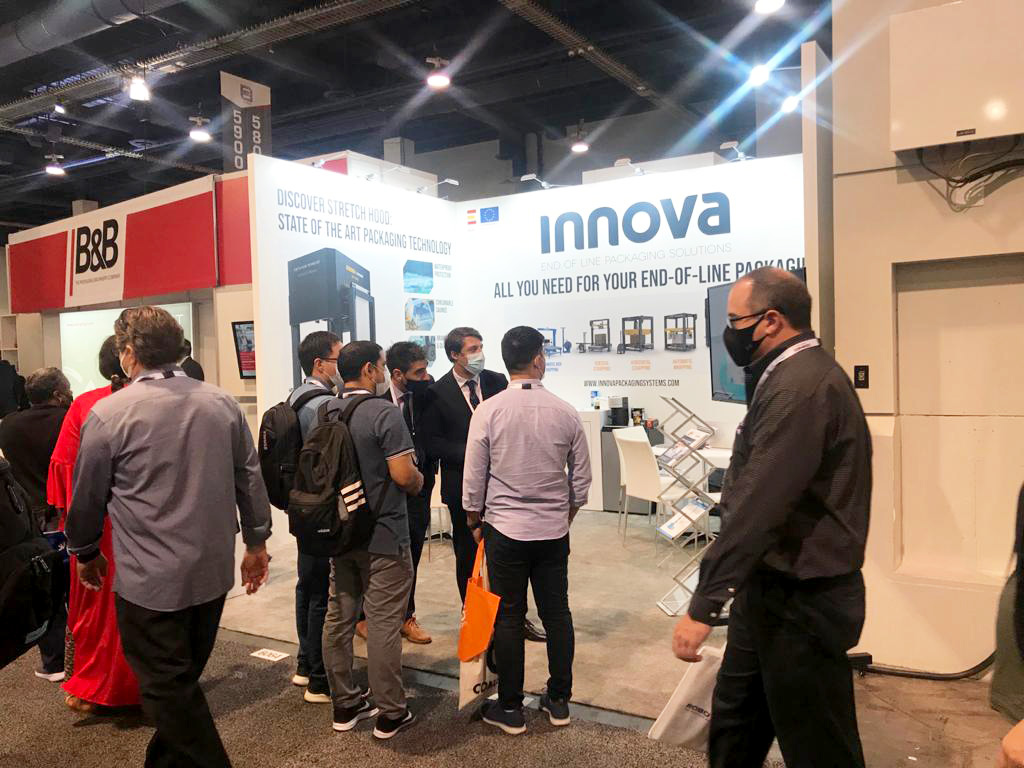 Stretch Hood, an innovative technology on the market
One of the great innovations for the fair was the Stretch Hood packaging system, since it is a technology that has only recently been implemented in the United States. As a packaging system manufactured mainly in Europe, many North American companies with automated production are still unaware of its enormous advantages in terms of savings in consumables, energy efficiency and product presentation results, one of the attractions for visitors to the trade show.
Along with the Stretch Hood system, Innova also presented other end-of-line packaging systems, such as automatic strapping and wrapping systems, for automated production lines in all types of industries. Food, pharmaceutical and cosmetics, chemical and construction companies were some of the most represented sectors at the Las Vegas event.
Demand for versatile Stretch Wrapping solutions at Pack Expo
Another of the most demanded products by the American visitors was to find semi-automatic wrapping systems that include complements and additional accessories for greater customization. From Innova's booth we presented our Cyclone platform stretch wrapper of Spanish manufacture and European components, a system that aroused great interest for its quality and adaptability to the needs of the North American customers.
Presentation of new partnership: Technology from Innova, Support from O&C
At Pack Expo, we also officially presented our new commercial partnership agreement with the American company O&C Services Inc. O&C specializes in the installation, commissioning and maintenance of large industrial production lines and also carries out turnkey projects. They have customers in the United States, Canada and Mexico, among other countries in the American continent, and offer the entire industrial installation service from start to finish. For Innova, O&C is an ideal partner because of its extensive experience in large-scale projects and its coverage and knowledge of the North American country.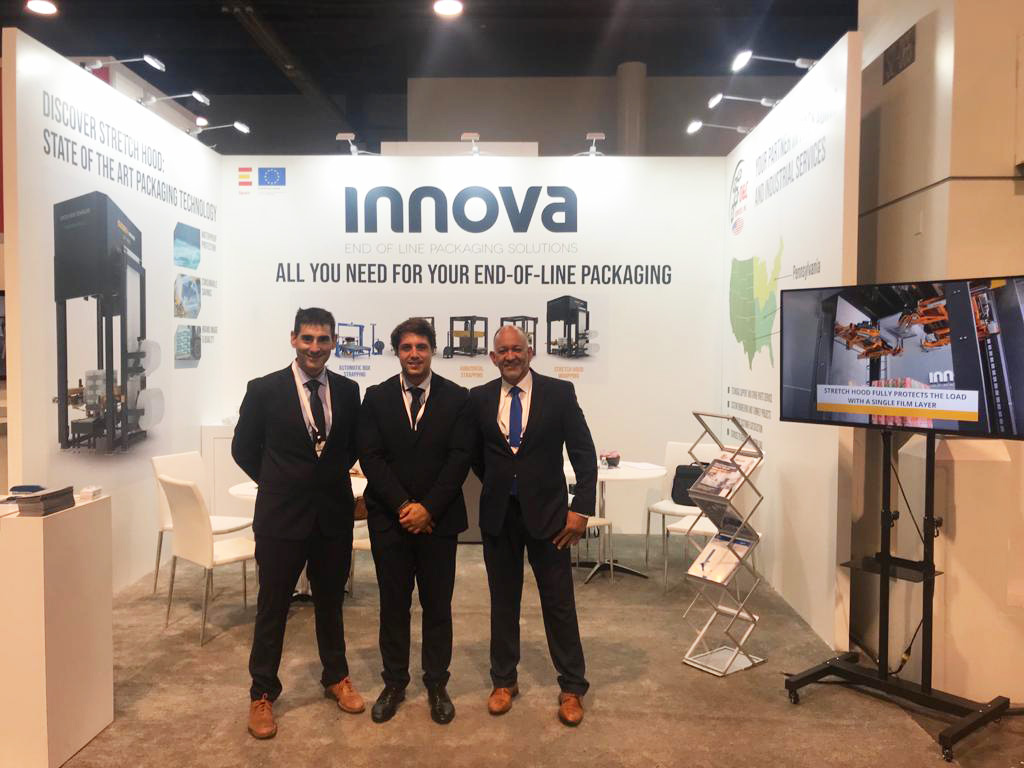 For Innova's customers in the United States, O&C Services provides technical and commercial support throughout the packaging project and is responsible for providing specialized technical service, maintenance plans and original spare parts service.
In summary, Pack Expo 2021 is the starting point for Innova Group in the United States, a country where we are pleased to land and motivated to develop our presence there.
Thank you to all our visitors, customers, collaborators and partners for your support during Pack Expo!
See you soon!

Your Innova + O&C Team