How does the Innova Support maintenance service work?
At Innova we do not close for holidays, quite the opposite. During the holiday season (taking advantage of the manufacturing halt by our clients in order to perform adjustments on their production line), 20 of our technicians visit the client's facilities in order to carry out maintenance tasks and create the Annual Technical Report (ATR) which consists of the identification of preventive actions that allow for maximization of the future performance of the machinery, adjusting it to the production parameters of each client. In this way, we have undertaken over 50 services, both national and international, to which several new assemblies must be added.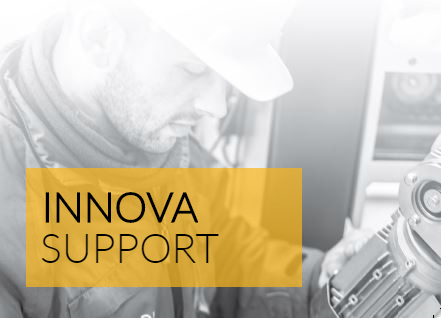 We have set ourselves an objective: to be a long-term partner for our clients by forging an alliance that goes beyond a simple post-sales service. We place the focus on prevention and for that reason, we have created the service INNOVA SUPPORT, through which we provide the unconditional and permanent support that our clients need in order to improve their competitiveness, accompanying them throughout the entire useful life of the machinery. How do we do it?
24/7 monitoring via remote control in order to guarantee full performance and to detect possible incidents.
A global, personalized customer service.
First-class local technical assistance.
Full stock of spare parts.
Preventive maintenance programs.
Regular visits from our technicians, who will diagnose the condition of the machinery.
Spare parts bank for clients at no extra cost.
We provide customized training programs so that the technical staff of each client can become sufficiently independent to solve any incident and make the most of our machinery's performance.
Proximity, immediate response, prevention, permanent support, professionalism, high standards and high performance define the philosophy of INNOVA SUPPORT.