Innova to showcase the advantages of Stretch Hood in Pack Expo Las Vegas 2023
Do you want to ensure that your products are transported safely without any losses or damages? Are you looking for a way to improve the quality of your packaging while reducing the consumption of resources? Innova Group Packaging Solutions has a solution for you! We will be showcasing our innovative Stretch Hood wrapping technology at Pack Expo, which guarantees maximum protection and impermeability for your products while saving on energy and consumable costs.
Why Stretch Hood is the best wrapping system for different industries?
The Stretch Hood wrapping system is a cutting-edge technology used for pallet packaging. It is known for its versatility and ability to package a wide range of products across various industries and formats. As a result, it has become a popular choice for many companies, replacing traditional stretch wrappers in new automation projects. But what makes the Stretch Hood system so adaptable to different types of loads?
The simple answer is that Stretch Hood is the only system that provides customized packaging for each load.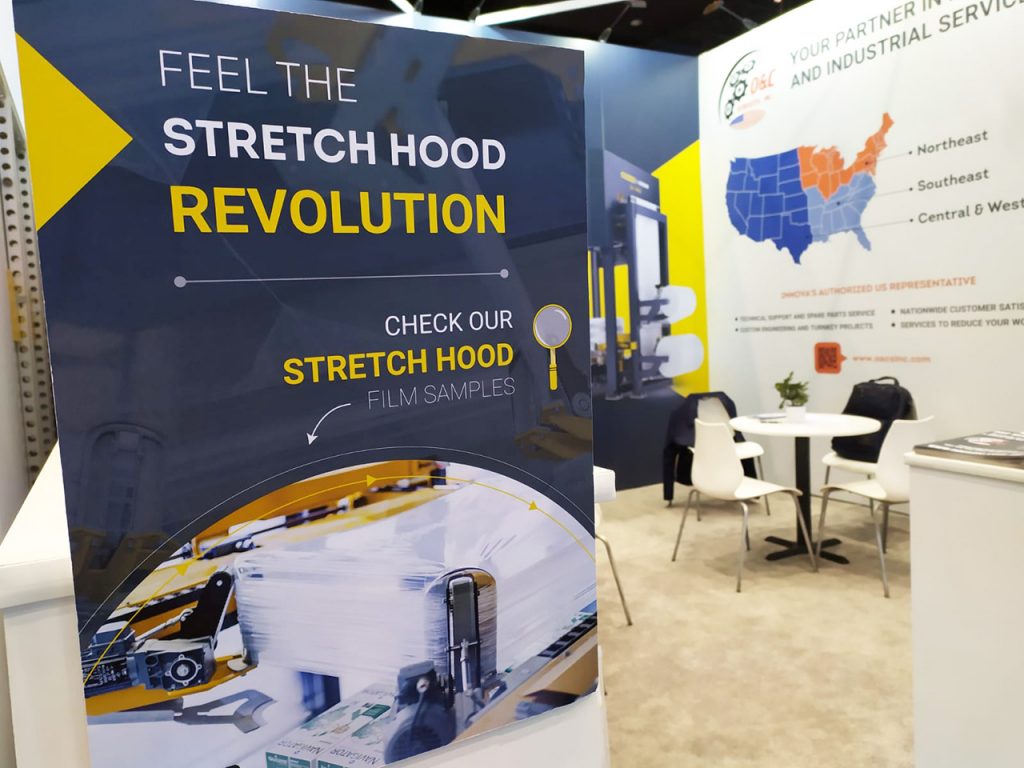 When is Stretch Hood wrapping used?
The Stretch Hooder is used in a multitude of applications and industries with end-of-line packaging:
For the transport of palletized goods: whether in primary or secondary packaging, any product to be transported and stored on a pallet can be wrapped with Stretch Hood.
For palletless transport of products in primary packaging: in this case, these are formats that do not require a pallet for their transport, such as household appliances or loads prepared to be transported without a pallet, such as palletless bagged goods.
When a wrapping machine cannot be used: In the case of very small formats where stretch wrapping is not possible but protection is needed.
The Stretch Hood system sets a new standard for wrapping technologies, with its superior hooding process, exceptional film properties, and remarkable adaptability.
One distinctive feature of the Stretch Hood packaging system is that it customizes the film to fit the exact size of the item being packaged. The film is tubular and slightly smaller than the load's shape, but the Stretch Hood machine stretches and applies the film to securely cover and seal the item.
Another important element is the Stretch Hood film. This film is not the same as the standard stretch film used in stretch wrapping machines. It is actually one of the most advanced and sophisticated films in the packaging industry. It has a multilayer LLPDE polymer composition, which is well-known for its benefits in waterproof protection and stretching abilities.
Stretch Hood technology and its accompanying film are the optimal choice for packaging a variety of products. Numerous industries have abandoned traditional stretch wrapping in favor of this system due to its superior protection, transparency, wrapping finish, and savings on consumables. It is clear that Stretch Hood technology is the way forward for efficient and effective packaging solutions.
Are you interested in finding out whether Stretch Hood is suitable for customizing your product?
Join Innova End-of-Line Packaging Solutions and our US partner O&C Services Inc. at Pack Expo Las Vegas 2023 and discover State-of-the-Art Packaging Technologies that will improve your product protection and reduce logistic issues.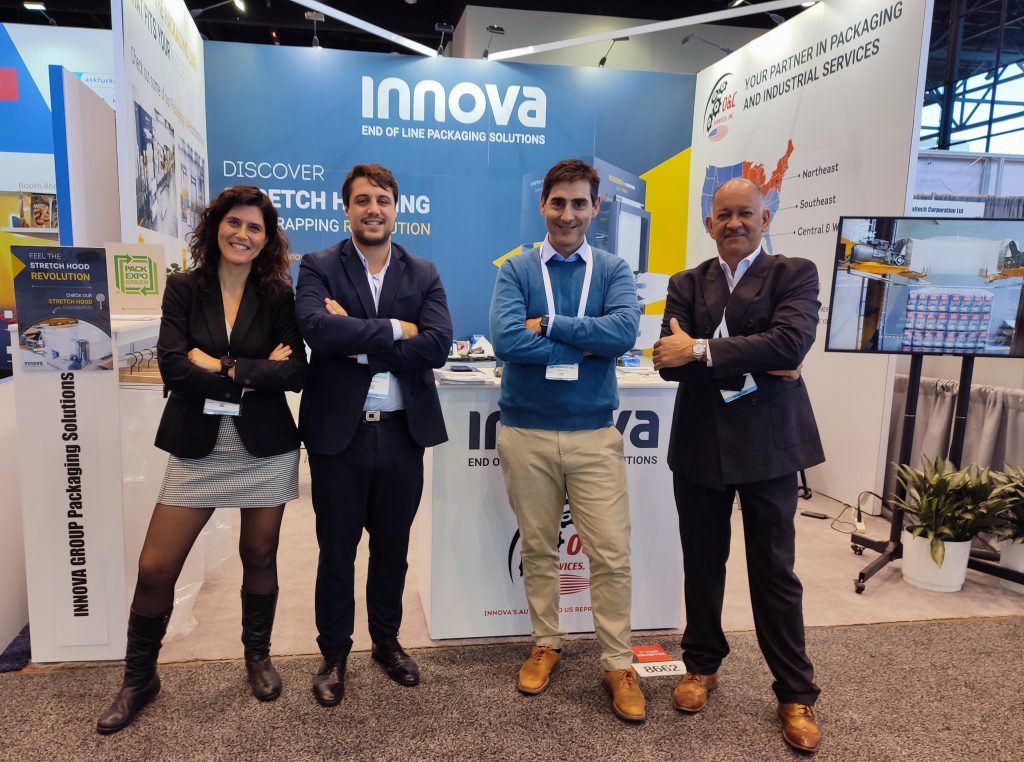 Come and join us this September in Las Vegas!
Pack Expo las Vegas
Las Vegas Convention Center, LAS VEGAS, NV, USA
September 11-13, 2023
INNOVA GROUP PACKAGING SOLUTIONS IS A PMMI MEMBER