ITV Ice Makers Chooses Innova's Stretch Hood to Automate its End-of-Line Packaging
How to optimize the final packaging of household appliances and refrigeration machinery? Is it possible to enhance protection while reducing packaging consumables? How to improve product presentation upon delivery to the customer? These are some of the challenges faced by the household appliances and refrigeration equipment industry, which ITV Ice Makers, a manufacturer of ice machines and refrigeration equipment, presented to us when automating their end-of-line process. We responded to their challenge with an innovative Stretch Hood packaging line that not only automated their final packaging but also optimized it. Our solution was seamlessly integrated with their smart warehouse, resulting in a more efficient and effective process.
ITV Ice Makers is a specialized manufacturer of ice machines, dispensers, and refrigeration equipment, leading the sector with a strong international presence in the Hospitality industry and supermarkets. The packaging line project carried out by Innova was completed in the summer of 2023 at the company's facilities in Valencia (Spain) where they house their production center and logistics warehouse. ITV is a family-owned company with a philosophy rooted in innovation and R&D, focusing on commitment to society and the environment. In this regard, Innova's packaging technology aligns with the innovation and sustainability goals that the company actively pursues.
Packaging Challenges by ITV Ice Makers
ITV presented us with the primary challenge of automating and standardizing their final packaging for over 30 equipment formats. At the time, their packaging process was semi-automatic, involving the addition of protective systems like cardboard boxes and protection bags manually. Depending on the model, automatic pallet strapping or bundling systems were also used.
ITV had a clear objective; to find a unified pallet packaging system that could be easily adapted to their various formats, while reducing the need for manual input and packaging consumables. Innova Group provided the perfect solution by introducing their Stretch Hood wrapping system, combined with a specialized "super stretch" technical film that can seamlessly accommodate different load sizes and pallets. The Stretch Hood system has proved to be a game-changer for ITV, as it has enabled them to significantly reduce the use of cardboard wrapping. They now only require edge and top protection, and have completely eliminated the need for strapping and extra packaging bags in most of their formats.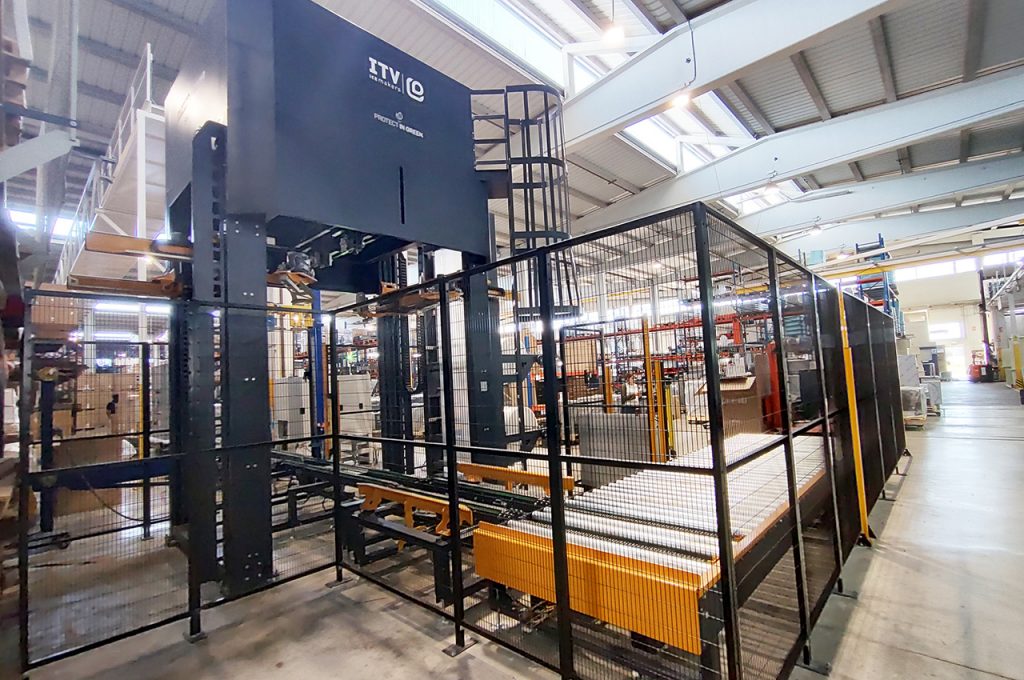 The installation: the Packaging Line for ITV
The final packaging line installed at ITV consisted of a Stretch Hood wrapping system integrated with a conveyor line tailored to their logistics flow for pallet input and output. Let's delve into the specifics of each component of the line:
Stretch Hood System Pro S2:
The Stretch Hood system enables the wrapping of ITV's refrigeration equipment and ice machines, regardless of their size and height. The Stretch Hood film used by ITV is highly stretchable and adaptable to various equipment sizes. Additionally, this Stretch Hood machine model features a dual film reel to further adapt to different formats.
With a single layer of film, the loads are fully protected and secure for storage and transportation. Moreover, this packaging method enhances the product's presentation quality, using a completely transparent film.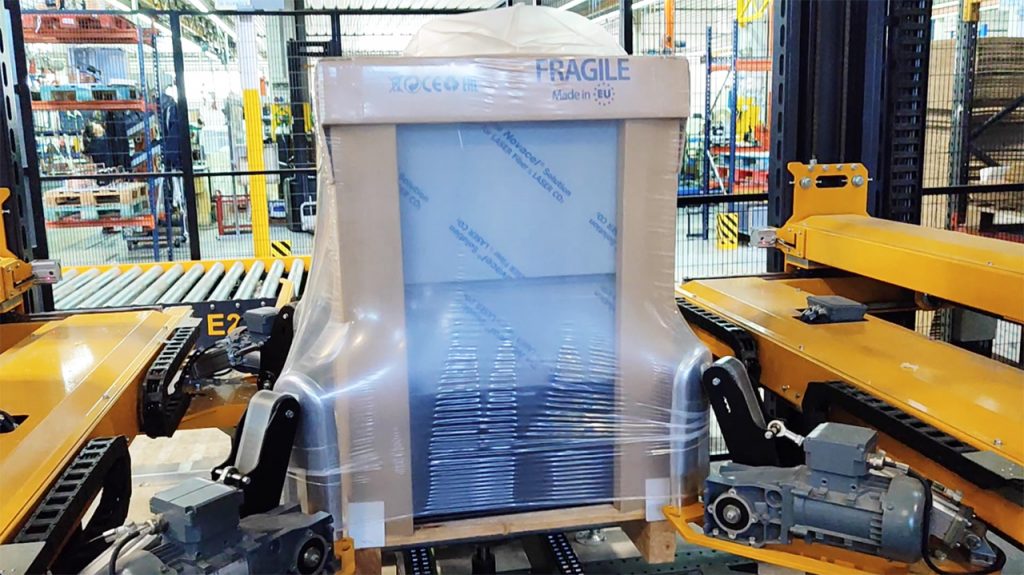 The entire conveyor line integrated into the installation has been designed to fit ITV's factory space, respecting safety perimeters, vehicle and personnel passageways, and connections with product flows. Thus, the conveying line includes:
Entry line with roller conveyors adapted for pallet placement via robots.
90-degree diversion transfer system with chain conveyors to match ITV's pallet base.
Chain conveyors with pneumatic pallet centering, preceding the Stretch Hood wrapping.
Special chain conveyor system for Stretch Hooding, incorporating an integrated turning mechanism to adapt the hooding to the pallet format.
The pallet exit line is connected with the Macsa labeling system and, finally, the pallet exit is connected to their Smart Warehouse.
Project Conclusions
In summary, the collaboration between ITV Ice Makers and Innova Group has resulted in an innovative packaging solution addressing the challenges of the household appliances and refrigeration equipment industry. The Stretch Hood wrapping system has enabled ITV Ice Makers to optimize their packaging process, reduce packaging consumables, and enhance product presentation.
The tailor-made packaging line ensures more efficient handling of their loads and improves connectivity with their smart warehouse. This project not only emphasizes efficiency but also showcases the company's dedication to sustainability and product quality, setting a prime example in their industry.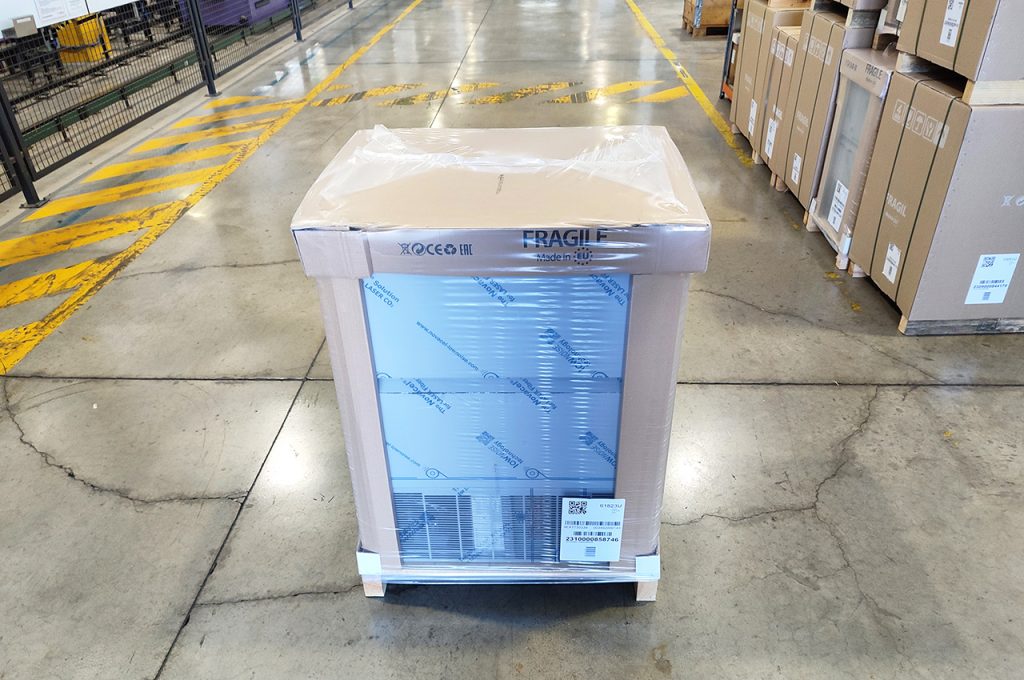 ITV has expressed their trust and satisfaction with Innova's project and service so far: "We are very pleased with the packaging automation project in collaboration with Innova Group. The Stretch Hood system has exceeded our expectations, optimizing our packaging process. This initiative reflects our commitment to excellence, innovation, and sustainability," according to Vicente Mascarell, Director of Operations at ITV Ice Makers.
From Innova Group's perspective, "Successfully addressing packaging challenges, such as the ones faced by ITV, sets new milestones for us at Innova Group. We are proud to have ITV's satisfaction with the results of this project as it validates our commitment to innovation in the packaging industry. We highly appreciate ITV Ice Makers for putting their trust in us and we are excited about the prospect of collaborating with them on future projects," according to Sergio Llidó, Innova's General Manager.
Thank you, ITV Ice Makers, for trusting Innova!