Protection for glass: Libbey México gets the best packaging for its pallets with Innova's Stretch Hooder
How can we achieve maximum protection and security in the logistics of glass products? This was one of the great challenges posed by the Mexican-American group Libbey, to which Innova responded with the Stretch Hood final packaging line.
Thanks to this innovative pallet wrapping technology, Libbey and its Mexican glassware brand Crisa were able to obtain superior quality packaging, with a product totally protected from external agents, safe and stable for its logistical handling. In addition, Stretch Hood is the most environmentally friendly solution, reducing plastics and energy consumption. Find out how it was possible in our case study.
The Innova project with Crisa/Libbey was carried out at the company's production plant in Monterrey where it has its main intelligent distribution center, dedicated to the import/export of its glassware product.
1. Libbey's challenge: meeting its hygiene and safety standards
Libbey is one of the most important multinationals in the glass sector, marketing high quality glassware and tableware. From its production centers in Mexico, and under the Crisa brand, most of its glassware products are manufactured for export to the United States and the rest of the world. Therefore, one of its main requirements was to have a final packaging system that would provide maximum protection and hygiene against external agents – such as dust, humidity, etc. – in the transportation of its product pallets. Libbey was also looking for greater stability and security of its fragile product for export handling and distribution.
At the time, Crisa's Monterrey plant used semi-automatic wrapping solutions that had some limitations for total protection. Although the wrapper provided subjection for transport, it did not comply with the company's requirements in terms of protection, safety and total hygiene of the product.
2. Innova's solution: Stretch Hood line with extra fastening accessories
Innova, through its delegation in Mexico, proposed a packaging project consisting of a Stretch Hood line with strapping. For this purpose, a customized project was designed for Libbey's needs at the Monterrey plant, and a final packaging line with the following components was manufactured and installed:

Stretch Hood Hood Etherna SH | PRO1 S2: the Stretch Hood system uses a tubular film packaging that completely adapts to the load, completely sealing the product and protecting it from external factors. In addition, the Pro1 S2 model allows them to adapt to different pallet sizes and measures, as it has two reels of Stretch Hood film.
Vertical Strapping Machine FV | PRO: the vertical strapping machine provides an extra subjection superior to that of a wrapping machine, as it performs a vertical subjection that does not affect the special load of Libbey (which are usually glassware boxes or larger product organized by horizontal layers). The vertical strapping system provides additional stability to the pallet for transport and handling with the forklift.
Transport line: finally the transport complements allow to join the final packaging line with the rest of production and intelligent distribution center. In this case, the installation included several roller transport systems, pallet centering and accumulation systems.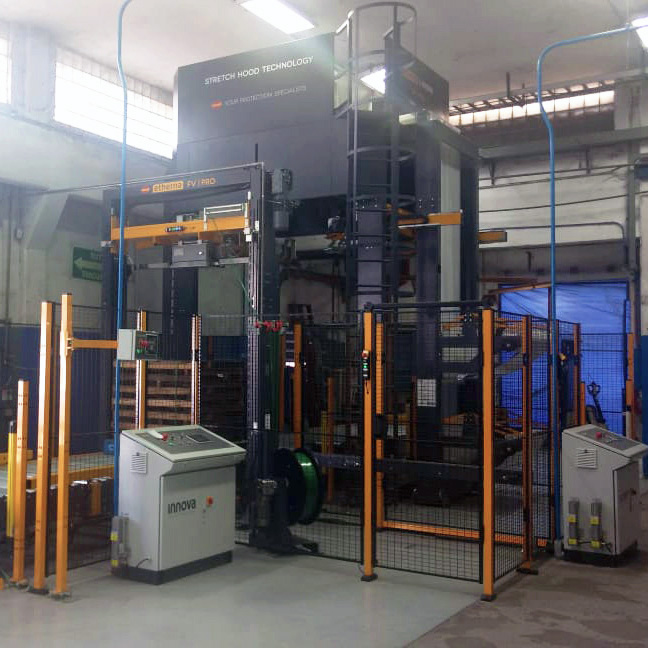 3. Results: protection, stability, automation and greater sustainability
The results of the project have been more than satisfactory, complying with the requirements of protection and stability. The Stretch Hood packaging line is a commitment by the Mexican company to technological innovation and automation of its logistic distribution.
Another of the immediate results of the use of Stretch Hood was a more sustainable final product. With the new system Libbey has reduced the use of plastic in the final packaging, in addition to opting for a technology that reduces CO2 emissions. The type of Stretch Hood film used by Libbey is 100% recyclable plastic composed of virgin resins, much more sustainable than the film used in other systems such as the wrapper or shrink-hood (which are not usually recyclable). Sustainability is one of the main lines of work of the Mexican company, and in fact their products are composed of more than 50% recycled glass and have recycling programs for their cartons, wooden pallets and plastics, including Stretch Hood film.
Innova is proud to be able to work with such an important company in the glass sector with which we share its great values of technological innovation, sustainability and concern for the environment, Lean Manufacturing philosophy and above all trust in human value.
We look forward to being your partner for a long time!
#WeAreYourPartner
#WeAreInnovaMexico