Rodacal Beyem trusts again in Stretch Hood de Innova in its new factory in Lugo (Spain)
How to achieve maximum protection of the mortar and cement product? Not a single drop of rain, not even humidity, reaches the Rodacal Beyem mortar product. They had clear that they required the Stretch Hood packaging system to achieve total protection and waterproofing of their high quality mortar bags. For this reason, Rodacal Beyem trusted Innova once again with a new Stretch Hood installation in their recently opened factory in Begonte (Lugo), where their product is already prepared for the northern rainy season.
Rodacal Beyem is one of Spain's leading manufacturers of construction materials, specialising in industrial mortars for building, masonry and special applications.  With its main manufacturing headquarters in La Roda (Albacete), it also has plants in La Muela (Zaragoza), where it also chose Stretch Hood by Innova, and now in Begonte (Lugo). Precisely this new factory is a commitment of the company to new technologies more efficient with the Environment, as is the case of the Stretch Hood system that contributes to the reduction of the CO2 emissions and to decrease the use of plastic.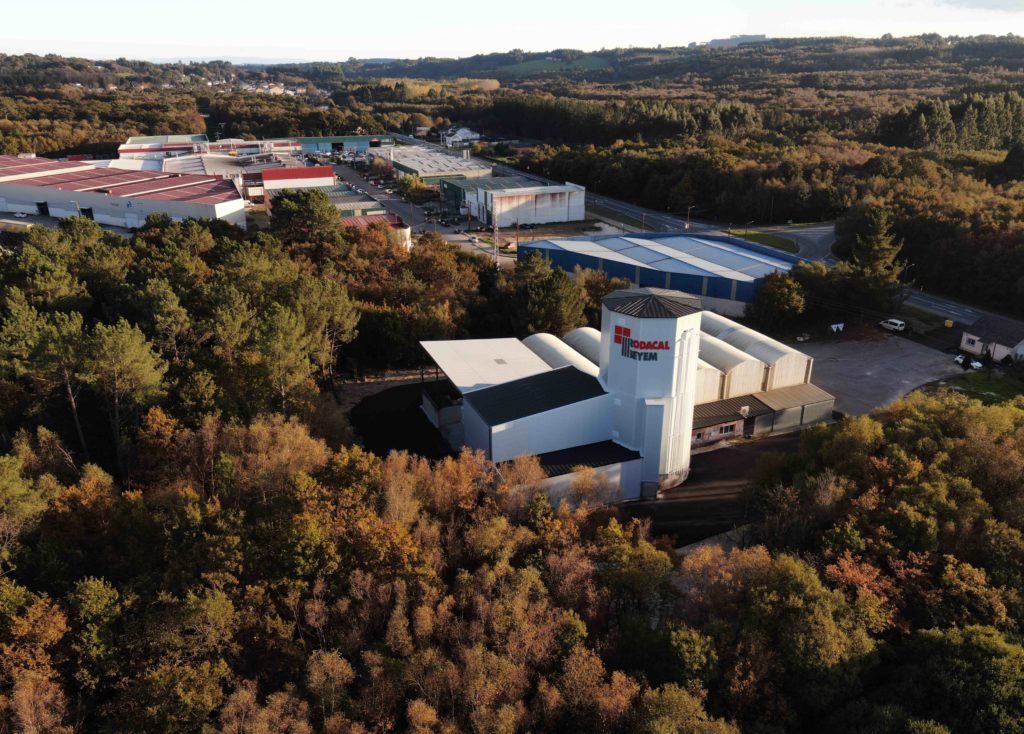 Why Stretch Hood and not Shrink Hood for the protection of mortar bags?
The Stretch Hood system has already become a preferred packaging solution for cement and mortar manufacturers. In fact, Rodacal Beyem already knew first hand its advantages and transmitted to us its need for a Stretch Hood line in this new plant in Northen Spain.
Mortar and cement sacks need packaging that completely covers and protects the pallet and only two types of systems can offer this total protection: the shrink-hoos or the Stretch Hood, but why do cement companies prefer Stretch Hood?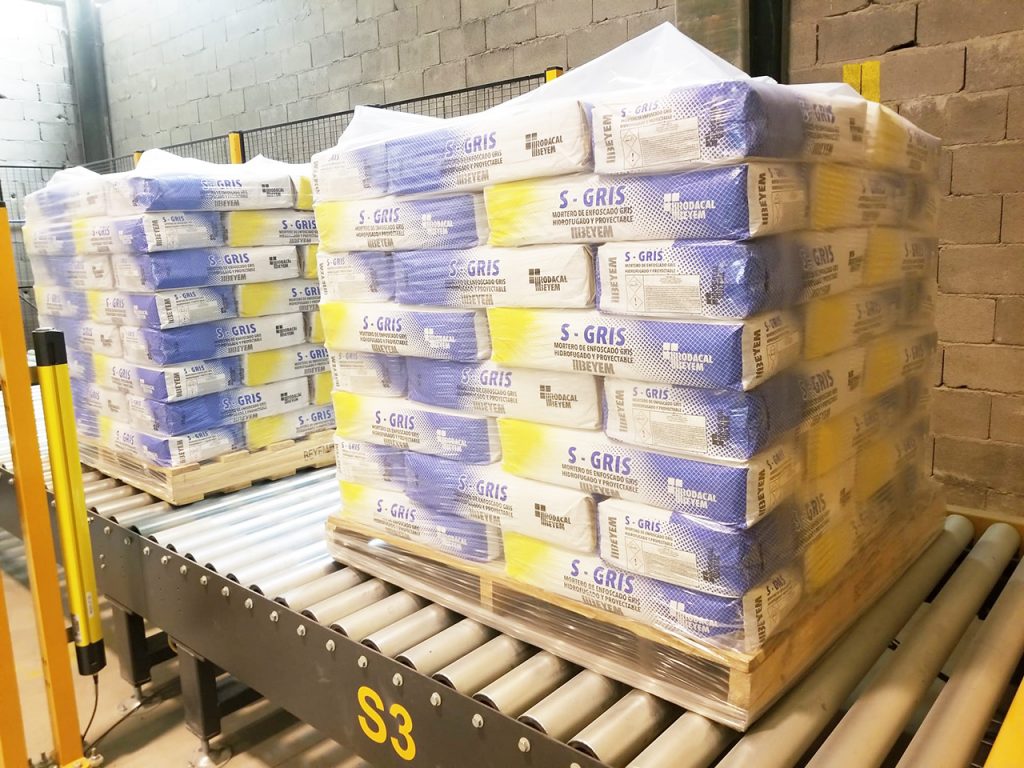 Comparison between Stretch Hood and Heat Shrink
Although both systems are very similar in protection results and both use a tubular film (a hood), the big difference is that the heat shrink system needs gas installation to shrink the hood to the pallet, while Stretch Hood applies a film that adapts to the volume of the load.
For manufacturers like Rodacal Beyem, the Stretch Hood system offers them:
Total protection, thanks to the wrapping itself and the barrier properties of the Stretch Hood film.
Additional fastening to the pallet itself, as the film sleeve adapts to the load.
Totally electrical system, without the need for gas installation in the factory.
Cost savings of up to 50%, as there are no gas supply costs and the amount of film per pallet is reduced, as it is stretchable.
Reduction of CO2 emissions, as the shrink oven is not used.
Improvement of the company's brand image, as Stretch Hood allows total transparency of the sleeve, without folds or wrinkles as in Shrink Hood.
For more details on the comparison between the systems we recommend you read our article: Comparison of sheathing systems: Stretch Hood or Heat Shrink?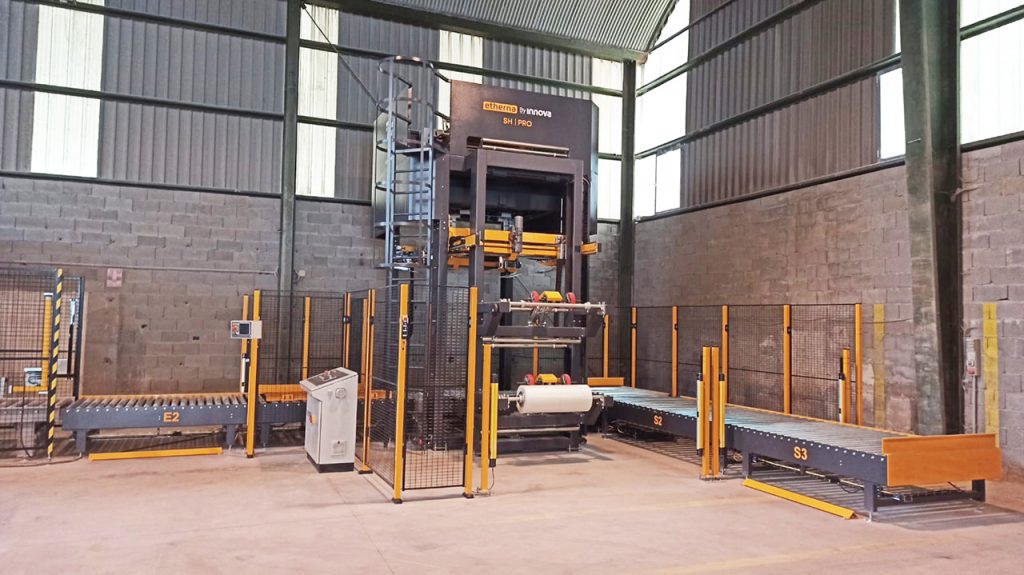 The packaging project in Rodacal Beyem
Once the Stretch Hood system was chosen, Innova's mission was to design and produce a packaging line that would fit the location of the new factory, and connect its production and logistics. Thus, the project of Rodacal Beyem consisted of:
Conveyor line: Line with infeed roller conveyors linked to the palletising system, pallet centring system prior to wrapping, 90º turntable and outfeed roller conveyors for logistic connection to their warehouse.


Stretch Hood SH Pro 1-S2: Stretch Hood wrapping system equipped with 2 reels for wrapping different formats and pallet sizes. Both the stretch hood system and the conveyor line are connected to the production line and the warehouse and have a remote access system to monitor and diagnose any type of incident.
Results for Rodacal: savings, protection and sustainability
The new packaging line has already been designed with the company's objectives of obtaining the maximum protection and quality of packaging for its pallets. Furthermore, as it does not require a gas installation or its consumption, the Stretch Hood system has already resulted in savings for the company compared to the Shrink Hood system. The newly opened factory is already in full production and has a final packaging that will protect its products during the northern rainy season.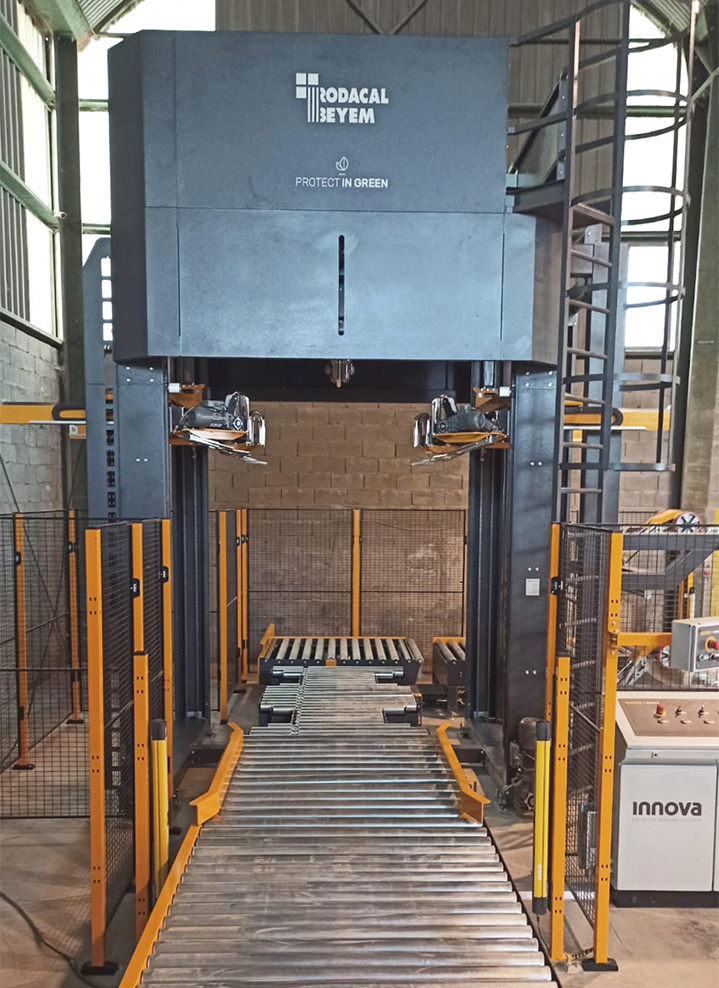 Last but not least, Stretch Hood has also been a measure for the company within its Sustainability plan of more responsible and efficient production with the environment, a goal with which we are proud to participate.
Rodacal Beyem has expressed his satisfaction with the project and his interest in continuing to collaborate with us in future projects. For Innova Group, Rodacal is already more than a partner for us, with whom we hope to work and continue on a path together for many years to come.
#WeAreYourPartner
#WeAreStretchHood