Stretch Hood stands out as the alternative to Stretch Wrapping to protect loads in the US
How to obtain a more secure and protected load? How to avoid losses and damages during transportation? The answer relies on the Stretch Hooding system, which is presented as an optimized automatic wrapping system to better protect the loads. Stretch Hood provides enormous advantages over the conventional wrapper, as was seen during the trade show Pack Expo International 2022, this fall in Chicago (Illinois). Innova Group Packaging Solutions showcased there the benefits of using advanced packaging technology at the end of the line, such as the stretch hooder to protect the pallets.
Technical and Management visitors to the tradeshow acknowledged the many advantages of stretch hood wrapping in protection, film savings, efficient production, and greater autonomy. Even if the conventional pallet wrapper is widely used in the United States, Stretch Hood technology is starting to have an important presence nationwide.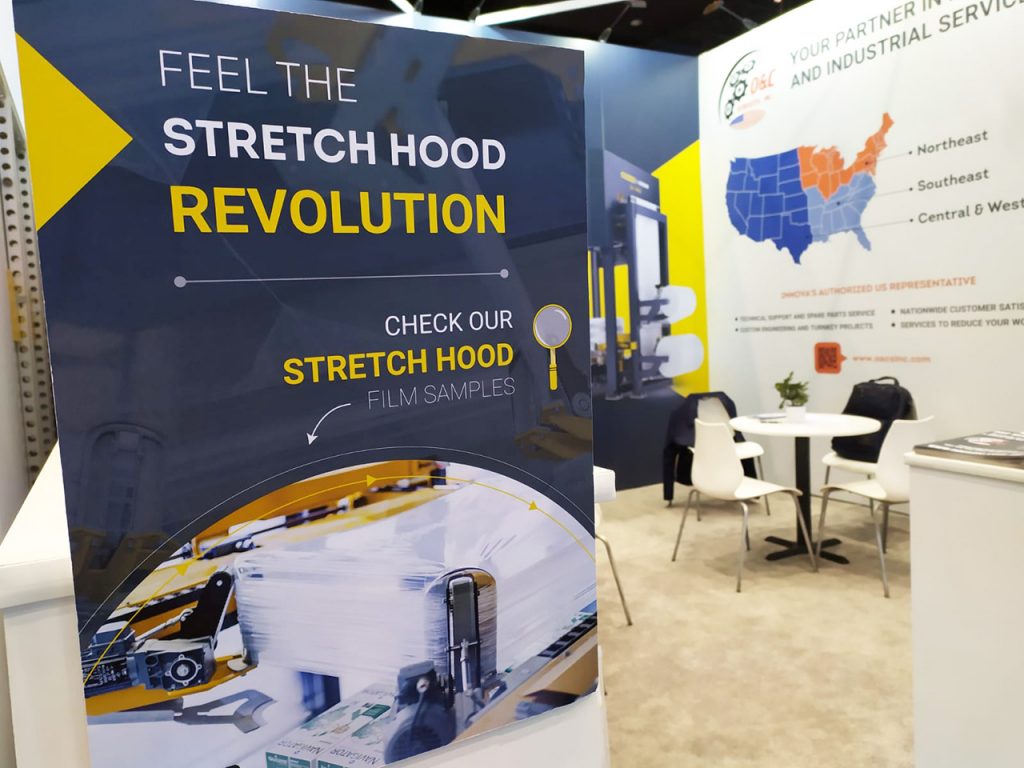 Feeling the advantages of Stretch Hooding
Stretch hood wrapping combines an innovative packaging process with an advanced film based on down-gauging technology to provide the necessary strength, the right holding force, and good puncture resistance. With Stretch Hood a pallet can be wrapped using only one single layer film with less thickness than stretch wrappers. That translates into considerable savings due to the possibility of down-gauging the film thickness and using less of it in each wrapping.
The state-of-the-art wrapping technology of Stretch hood allows adapting to different industries. For years stretch hooding has been seen as wrapping a closed hood over a perfectly cubed load, but its highly developed hooding system by means of four arms can wrap any shape. For instance, Innova's Stretch Hood can wrap very irregular loads from several industries, including logistics, with varying shapes, corners and sharp edges. Our stretch hood system can also work with special films, such as super stretch films, printed, as well as perforated for food industries.
Key benefits of Stretch Hood Vs Stretch Wrapping:
During Pack Expo International, Innova Group presented the most known benefits of Stretch hooding versus conventional stretch wrapping.
Total protection of palletized load
Stretch Hood offers the best protection with one single layer, without the need for covers. Due to Stretch Hood film advanced properties, it provides total sealing against external agents such as dust, UV rays, and even rain.
Discover in this video why Stretch Hood provides the best protection to protect loads:
Greater autonomy without changes of film reels
Stretch Hood is acclaimed by many companies who seek to increase their productivity at their end-of-line, as it allows for a greater autonomy without changing film. While the pallet stretch wrapper needs a change of reel for each 150-200 pallets, the Stretch Hooder can wrap 1.000 pallets and more without a Stretch Hood film reel change.
Less film usage per pallet
One of the most popular benefits is the savings in film and energy. The Stretch Hood system reduces a 50% the usage of film, as it only uses the strictly necessary amount to protect the load with no need for extra wraps or top covers.
In a study carried out by Innova's Consulting team, with a standard load size of 48' x 40' x 40', Stretch wrapping uses 20-30 oz film/pallet (taking into consideration a standard cycle of 20 wraps + cover) while Stretch Hood would use only 15 oz film/pallet.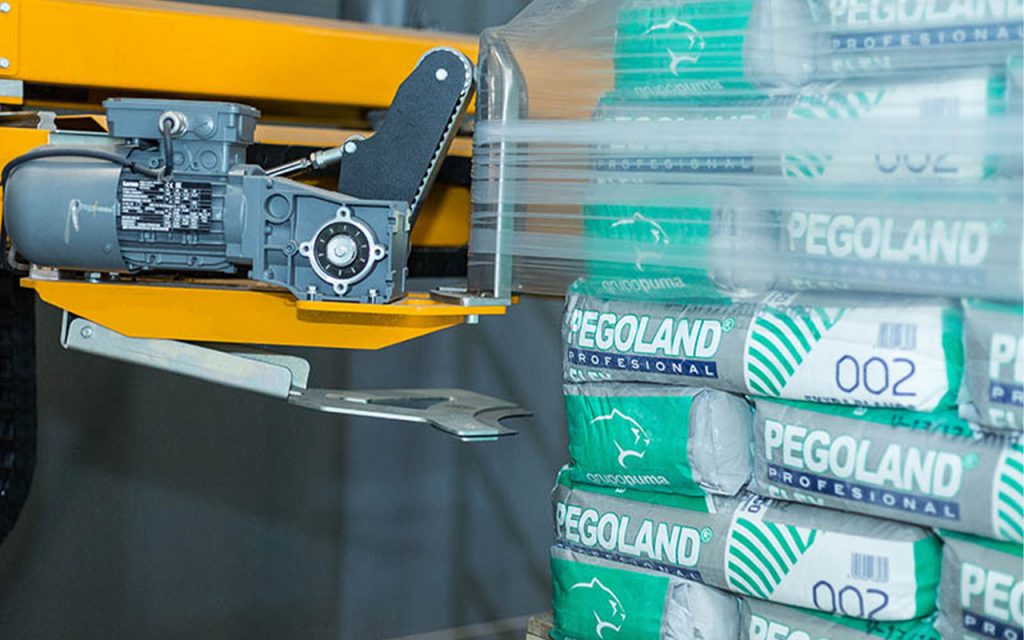 Faster wrapping Speed at the end-of-line
A Stretch hood machine is definitely faster than a Stretch Wrapping. Standard Stretch Hooders can wrap 100-130 pallets/hour thanks to its automated system. In a matter of seconds, the hood is prepared and applied to the load to cover it completely. This provides a huge improvement in faster production at the end-of-line.
Flawless presentation of wrapped load
Finally, but not least, Stretch Hood provides a total transparent wrapped load, without folds, layers, or wrinkles typical of Stretch Wrapping. Stretch Hood finish is also acclaimed for its branding opportunities, providing added value in the Point of Sale or public warehouse.
In a nutshell, this innovative system is proven to be a cost-effective alternative to other wrapping technologies. Many US and Canadian companies from different industries are relying on this packaging technology as part of their production. Please do not hesitate to contact us for further information on Stretch Hood. Our Technical team in the US can study and evaluate the possibilities of using Stretch Hood in your company. From our offices in Texas (HQ), Tennessee, and Pennsylvania we offer installation and technical support nationwide.