Technical support of proximity thanks to the Remote Access Service by Innova
Preventing and solving possible machinery failures is now much easier and immediate than ever thanks to the Remote Access System that Innova currently offers in its machinery installations. By connecting remotely, our Technical Support team can access the control panels of the machine to detect and repair incidents, enabling our customers to shorten the time of machinery shutdown and obtain real-time data. Discover in this article the new system and the advantages it offers to your machinery.
How does remote access work?
The Remote Access Service consists of the installation of control devices with an Internet connection to facilitate the interconnection with our central premises at Innova. To do this we employ the eWON router, which specializes in remote access to machinery and is recommended by specialized manufacturers.
The eWon remote connection allows the diagnosis and monitoring of the machinery in relation to:
Remote troubleshooting
Programming the machine's PLC controller
HMI access and control
Connection to webcams to provide assistance on specific breakdowns or incidents
In the case of a new packaging machinery installation, remote access is extremely useful to receive support from our engineers during commissioning.
For international machinery installations, this service is practically indispensable as it allows the Innova technician on site to quickly connect to our central facilities, offering a much closer service.
The eWon remote connection also enables the periodic update of the control software of the packaging machine's PLCs, HMI panels, drives and safety monitors. Both the software update and the remote connection comply with high safety protocols worldwide.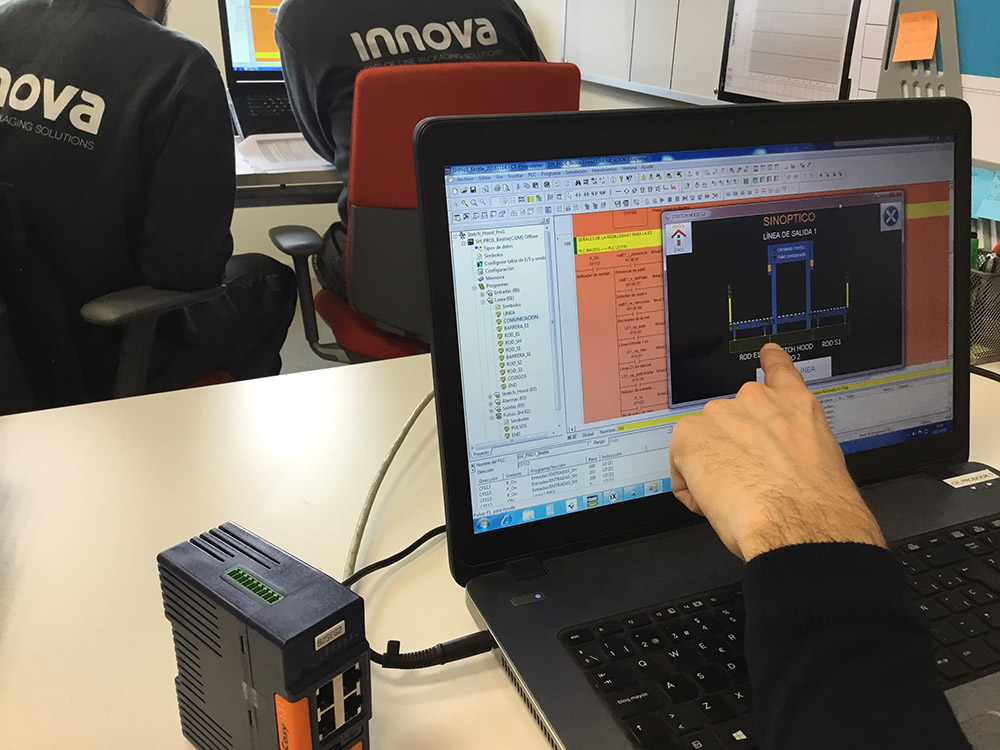 Greater control and information thanks to remote connection
In addition to the functions described, the remote access system provides notifications and alarms by mail or SMS so that both our technical service and our customer's technical department are informed at all times. By using the cloud access, through the web browser, notifications can be configured and reports of failures and incidents can be generated.
No remote access on your packing machine yet?
Innova offers this service in all new machinery installations and also in Innova machinery already existing in our customers. Please consult without commitment the integration of this service in your packaging machinery facilities. We will be happy to provide you with all the information so that you can get to know and test the remote access system first hand.
We are committed to new technologies and Industry 4.0
This new remote maintenance service is part of the Industry 4.0 project that Innova is currently developing. In this sense, our R&D team works continuously so that our machinery incorporates new intelligent technologies that improve its productive process and are more efficient.
We hope that this service will help our customers to keep moving towards Industry 4.0!
#WeAreInnovation
#WeAreYourPartner
#WeAreInnova