Innova innovates automatic packaging for large format with its new Stretch Hood XL
How to protect large format goods in an automated way? Panels, countertops, XL ceramic pieces, slabs… are fragile, large, and difficult to package products that require special protection that is usually done manually. To respond to this market of large format pieces, Innova Group launches in 2023 its new Stretch Hood PRO | XL specialized to automatically wrap these loads.
With this new Stretch Hood launch, Innova now offers automatic packaging solutions for all industries and a wide range of pallet formats. Precisely the large format is one of the booming trends in the ceramic sector and a standard for many building materials industries. Discover in this article the features of the new wrapping system and the innovations it brings to the sector.
Stretch Hood: the automatic solution for large formats
The Stretch Hood system is presented as the automated solution for packaging XL loads. Until now, the industry did not have automatic solutions to protect these formats, using manual or semi-automatic wrapping processes (with robot wrappers or manual shrink wrapping). For this reason, Stretch Hood wrapping is a great novelty in the field of end-of-line automation, and for many production companies, it will allow them to avoid bottlenecks in their final packaging.
Whether it's large slabs and panels, stacked or trestle-mounted in A-Frames, the Stretch Hood XL system allows large format cargo to be wrapped and protected in a few seconds.
Advantages of Innova's Stretch Hood XL
Innova is one of the few manufacturers worldwide that offers the Stretch Hood system for large formats. Its Stretch Hood wrapping technology has been proven by hundreds of customers and installations around the world, but the new model of Innova's XL machine also brings innovations concerning other manufacturers, which are worth mentioning:
1. Specialized wrapping for different load formats
The new Stretch Hood from Innova has been designed to offer a response to different formats of XL loads. For example, it allows wrapping a wide range of goods such as:
Loads in A-frame racks: XL ceramic pieces, slabs, granite countertops, glass sheets, etc.
Stacked loads: thermal insulation, plasterboards, extra-large panels of building materials, etc.
Other extra-large loads: furniture, material coils, industrial appliances, etc.
A special feature of the Innova Stretch Hood is that it can also wrap different sizes within the same packaging line and the same machine. Whether a small or extra-large load, the new Stretch Hood wraps goods from 24 x 24 inches. (600 x 600 mm) up to XL dimensions such as (140 x 50 inches.) 3600 x 1250 mm, and up to 80 inches (2000 mm) in height or more if required.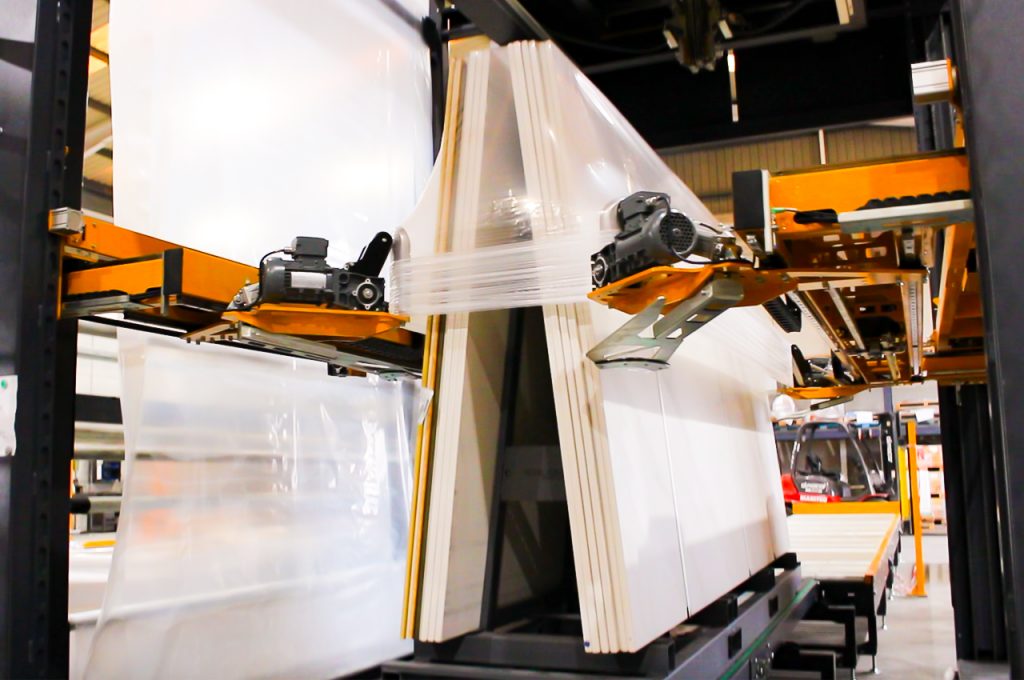 2. The wrapping that best fits the load shape
Innova's Stretch Hooder not only wraps loads up to 140 inches (3600 mm) in length but also adapts to the contour of the load, thanks to the open hooding ring system. This unique Innova system ensures that the application of the Stretch Hood film can be totally adapted to the shape, for example, in the case of products mounted on a trestle or A-Frame, such as slabs, panels, countertops, etc. This type of hooding also offers greater precision and speed in packaging.
3. Reduction of consumables and energy
Innova's technology is designed with high-efficiency motors and components to reduce energy consumption. In addition, the automatic Stretch Hood system provides cost savings in the automated processes and helps to reduce the consumption of plastic in the packaging providing a more sustainable value to your products.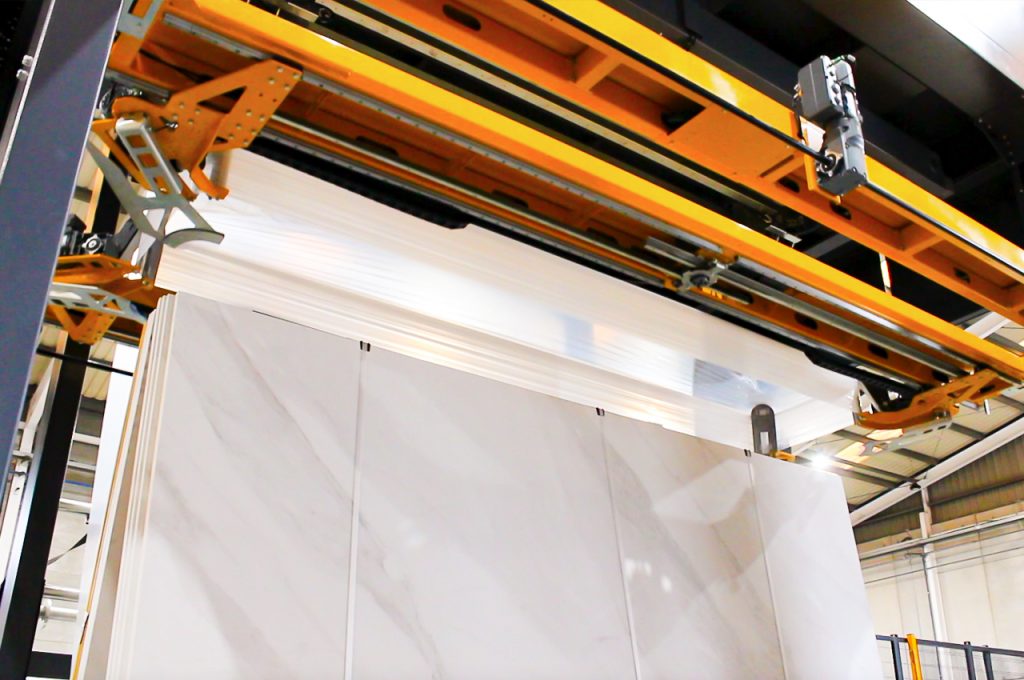 4. Total protection for large formats
Stretch Hood is the packaging system that provides greater protection and impermeability for extra-long loads thanks to the technical characteristics of Stretch Hood film. In addition, at Innova, we certify our Stretch Hood technology with the majority of film manufacturers in the world, specifically for large formats.
Stretch Hood film is a specialized multilayer composition film made of LLDPE (linear low-density polyethylene), a material that provides elasticity, tear resistance, moisture barrier, anti-dust, and UV filter components.
5. Stretch Hood with specialized accessories
Finally, Innova's large format system is designed taking into account the different requirements of the industry and is therefore available with a wide range of specialized accessories for large loads:
Special chain conveyor system, adapted to the trestle and a-frame bases, in case of this type of load.
Vertical edge protection system for corner protection in case of stacked loads.
High-productivity hooding kit for fast production at the end of the line.
2 or 3 film reels to suit different formats (from small loads of 24 x 24 inches / 600 x 600 mm).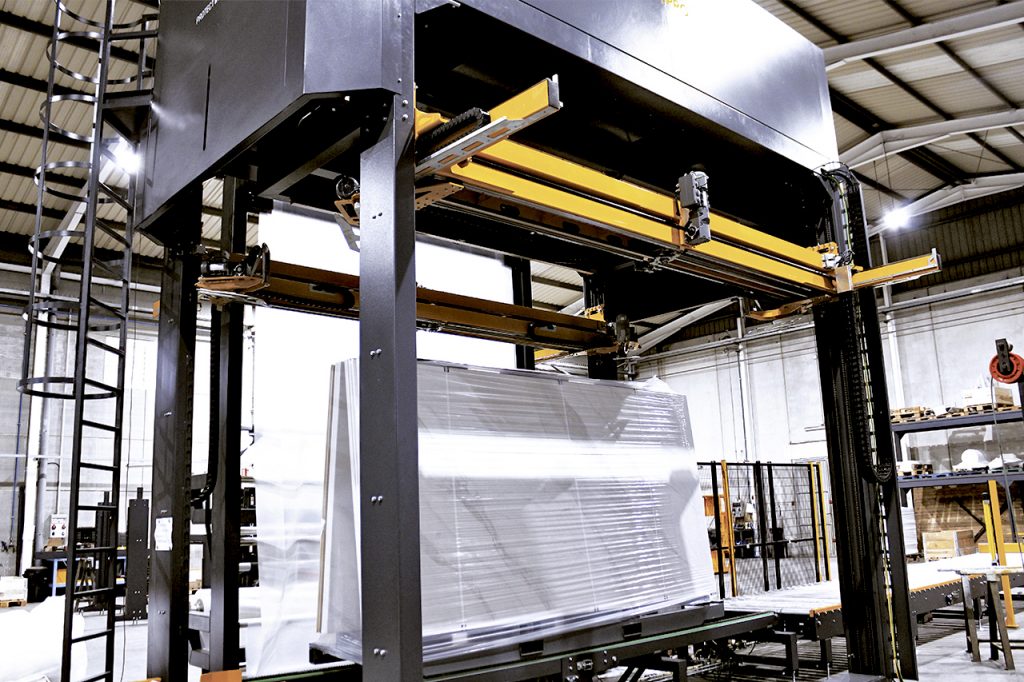 In short, Innova's new Stretch Hood XL system represents a new development in the sector and is in high demand by many ceramic and construction materials companies, among other sectors. In an increasingly automated industrial context, with high logistic demands, manufacturers of large formats require technological solutions adapted to their needs. At Innova Group, we innovate and work in the continuous improvement of our machinery to respond to the technological challenges that the industry brings us.
Do not hesitate to contact our technical team for more information about our new Stretch Hood or other automated end-of-line packaging solutions.