Reducing the cost of pallet packaging: from necessity to legal compliance
In the midst of the inflationary crisis of energy and raw materials such as plastics, it is essential for many companies to review their packaging costs. Not only the context is leading to this cost review, but also the current regulations are forcing manufacturers to reduce their packing, wrapping and packaging waste.
In today's post we outline the keys to understand the necessity, the mandatory conditions and how to adopt measures to reduce the use of plastic and consequently its cost. At Innova Group, as part of our Packaging Consultancy, we offer a Wrapping Consumption Audit service to evaluate consumption according to packaging system and type of consumable. Find out more without obligation here.
Why is it necessary to review packaging costs?
The current context leads many companies to carry out an exhaustive review of the entire packaging process and costs in order not to be affected by market fluctuations. The only way to tackle the inflationary trend of polyethylene and petroleum derivatives is to reduce the plastic used in the packaging of products to be transported.
It is therefore important to have mechanisms to optimize the use of plastic to the maximum: whether for small or large productions, there are systems that use less film and guarantee the same or better final load securing.
Savings in packaging will also increase margins as soon as prices stabilize and allow us to offer a higher value-added product.
When is it mandatory to reduce plastic: Waste Directive compliance
What happens when plastic reduction is not only a cost-review action but a law obligation? Some of the largest countries and regions are taking significant steps to introduce regulations to drive sustainability and are implementing Packaging Waste reduction directives. For example, in the US 16 states have enacted statewide regulations around packaging waste (Mc Kinsey report 2020). In the EU, the directives have progressed further and their country members have to comply with several EU Packaging and Waste directives to reduce waste, reuse and recycle industrial and commercial packaging. In this new directives, manufacturers will now be responsible for plastic reduction and recyclability.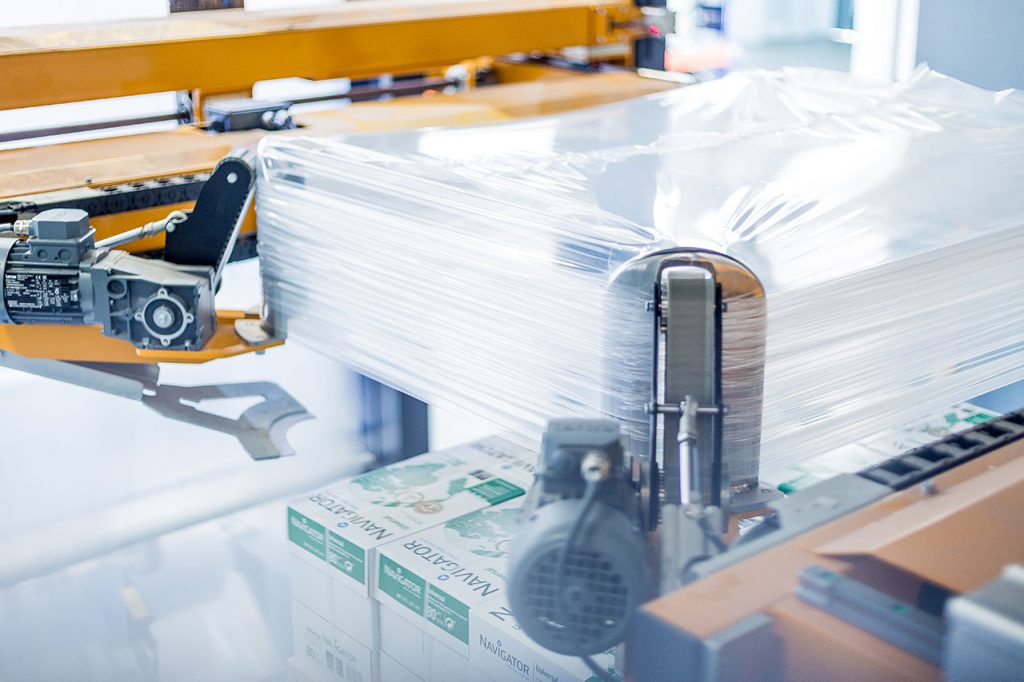 Making a change: Measures to reduce packaging costs
Reducing packaging costs is linked to using less wrapping and in particular to reducing plastic. Whether you are a small or large manufacturer, you will need to take action in two ways: reduce the use of plastic film and optimize your packaging process.
1. The shift to a lower gauge and recyclable packaging
Starting with film, one of the most widespread consumables, the trend is to work with thinner, high-performance film that is also recyclable. For instance, in the case of stretch film for automatic wrapping machines, there are flexible and tear-resistant stretch films on the market that guarantee better hold with less gauge and quantity of film.
Stretch Hood film also allows to save on packaging film, as this is a multilayer film with stretching properties to adapt to the shape of the load using the smallest possible amount of plastic. This type of film is smaller in gauge but more tear resistant, and in fact demonstrates that a thick film is not necessary to provide more resistance to packaging, as is the case with shrink film, which is heavier in weight to withstand heat shrinkage.
Using a high-performance film also provides better load securing, thus saving on possible costs due to accidents, damaged product, loss of material, protruding film, etc. In short, perfect load securing is compatible with minimum film consumption.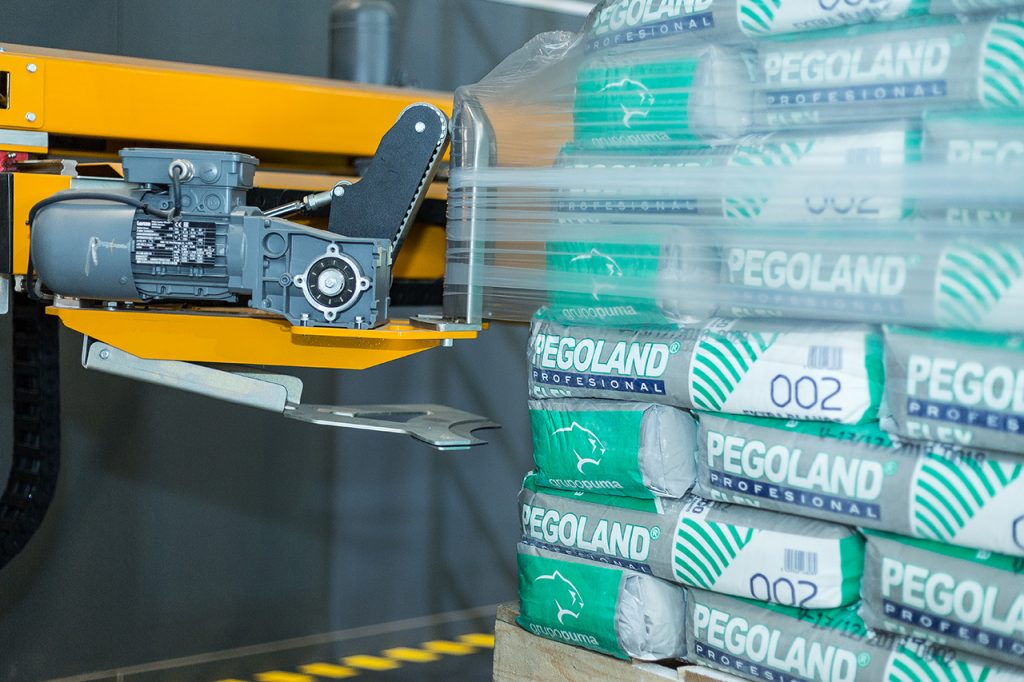 2. The shift to more efficient and sustainable systems
The next step raises the need to invest in optimizing the final packaging equipment. Whether automatic or semi-automatic, there are a multitude of systems on the market to reduce film consumption.
In the case of small production:
A semi-automatic stretch wrapper with film pre-stretching system (such as the pallet stretch wrapper offered by Innova Group) allows the film to stretch up to 350-400% resulting in a considerable reduction in the film used per pallet. For example, if a pallet with a industrial wrapping machine without pre-stretching uses 600-800 gr of film/pallet, with a pre-stretching system it is possible to reduce up to 150-200 gr film/pallet. Standard cycle data without application of cover or reinforcement cord.
In the case of major automated production:
A high-performance automatic pallet wrapper or a Stretch Hood System are the best solutions in terms of film savings.

In the case of Innova's solutions, the automatic ring pallet wrapper system allows a considerable reduction of Stretch film thanks to its pre-stretching system up to 400% and its torque control system that guarantees a minimum consumption of film per pallet.
On the other hand, the Stretch Hood System is the one that allows to further minimize the amount of film per pallet. The Stretch Hood film is slightly smaller than the dimensions of the load and it adapts to the shape of the load through the application of the hood.
For example, comparing film usage on Stretch Hood Vs Industrial Stretch Wrapper on a standard pallet (1200 x 800 x 1000 mm), Stretch Hooding uses only 450 gr/pallet, while an automatic pallet wrapping machine that applies 20 wraps plus a protective cover would use 700-800 gr/pallet.
READ MORE
Comparative between packaging systems: Stretch Hood vs. Stretch Wrap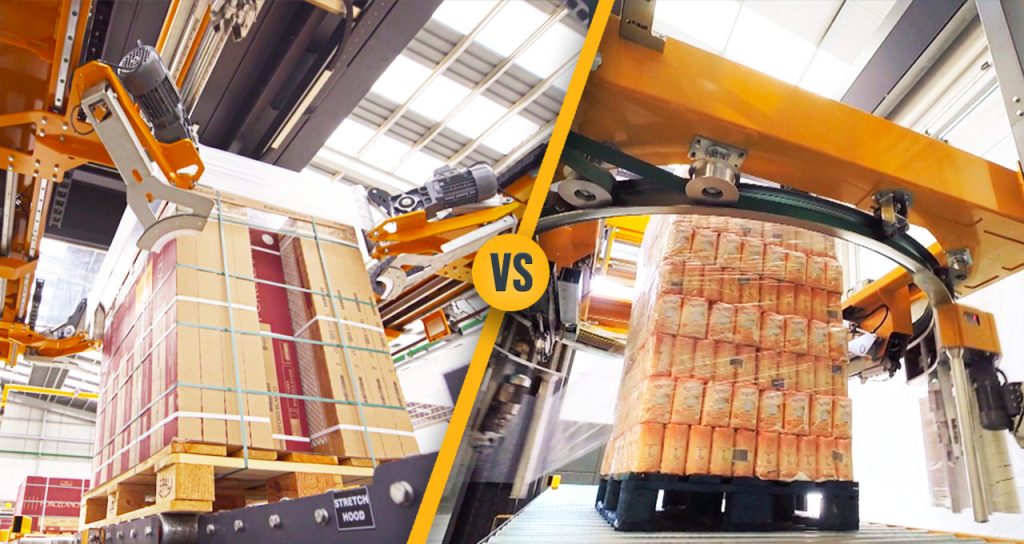 In the end, it is necessary to have the most appropriate systems in place to improve the effectiveness and efficiency of the packaging process. If we automate and optimize the end-of-line with advanced technology, we will also reduce the problems in the logistics line, with less maintenance of the packaging systems, less losses in transportation and a higher value for the company.
In conclusion, not only the economic context is forcing a cost review and reduction in packaging, but also the market and legislation are advocating a shift towards the use of more efficient systems and high performance and recyclable consumables.
At Innova Group, as manufacturers with extensive experience in packaging and consumables, we offer consultancy in these areas. Contact us without obligation, we will be happy to accompany you in your end-of-line project.