Top 10 most frequently asked questions about conveying systems on an automatic packaging line
In an automated packaging line, pallet conveyor systems are the backbone that integrates and organizes all equipment and machinery. Far from being a secondary element, pallet conveyors are responsible for ensuring the continuous flow of movement of the line and providing the necessary logistical connection. This is why, when undertaking an end-of-line project, questions often arise as to what types of conveyors are needed, how to design the conveyor flow, or what performance they can provide. These are questions that our engineering team is responsible for answering in every packaging line project with Innova.
In today's post, we compile the most frequently asked questions about automatic pallet conveying systems, following our Top 10 FAQ article series.
Top 10 FAQ about pallet conveying systems
---
1. Which types of pallet conveyors exist?
In a pallet packaging line, the most common conveyor system is the roller conveyor, but there are also other types of specialized conveyors for different products. The most common are:
Roller conveyor: Composed of motorized rollers, it is the most versatile, resistant, and safe conveyor for palletized loads. Its structure can be more or less robust depending on the weight to be supported.
Chain conveyor: Composed of motorized chains, it is a specialized conveyor for special formats. This system is also used in connection conveying, such as the 90º transfer system.
Chain plate conveyor: Composed of plates that move the pallet, it is the conveyor of choice for accessibility of the load at ground level. Although it is a very versatile conveyor, it is usually used for light or medium-weight loads.
Belt conveyor: Composed of a conveyor belt, more typical of a packing and boxing line conveyor. It can also be used at the end of the palletizing line for specific load formats that do not use wooden pallet bases (as these can damage the belt).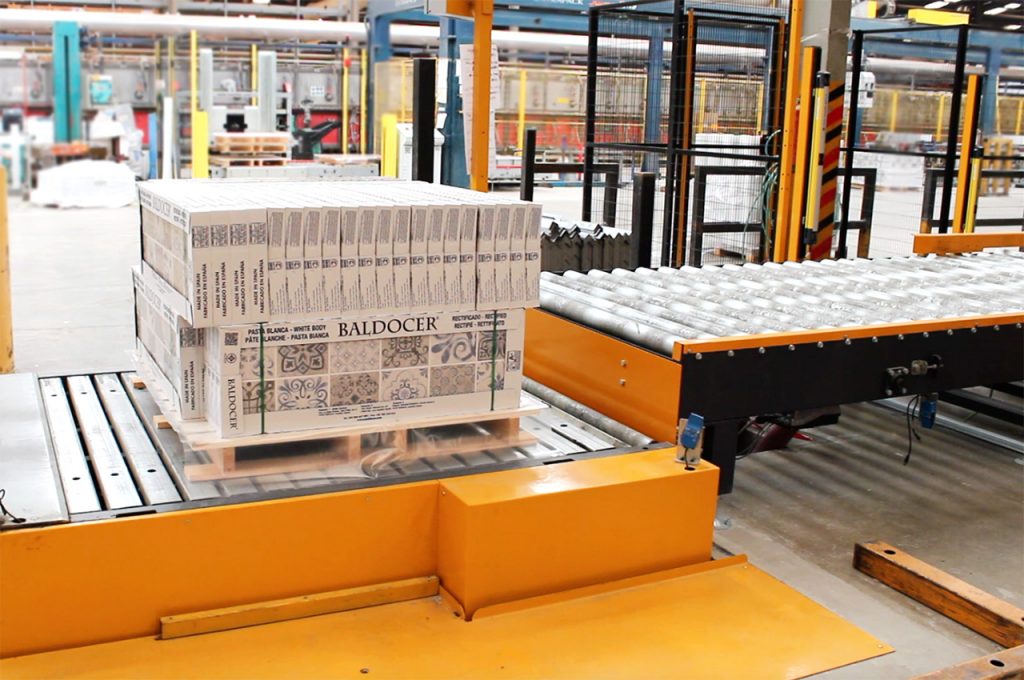 2. What to consider when choosing a type of conveyor?
When designing and choosing conveyor types we take into account several characteristics and requirements such as:
The weight and size of the load to be handled.
The characteristics of the pallet base
The required conveying speed
The height of the packaging line and adaptation with other conveyors
Other functional requirements (turning, lifting, connection with forklift vehicles, etc.).
In a packaging line there is no "one size fits all" standard, because although the most versatile type of roller conveyor can be used, the line must be designed in length and height to offer the best possible flow to the loads.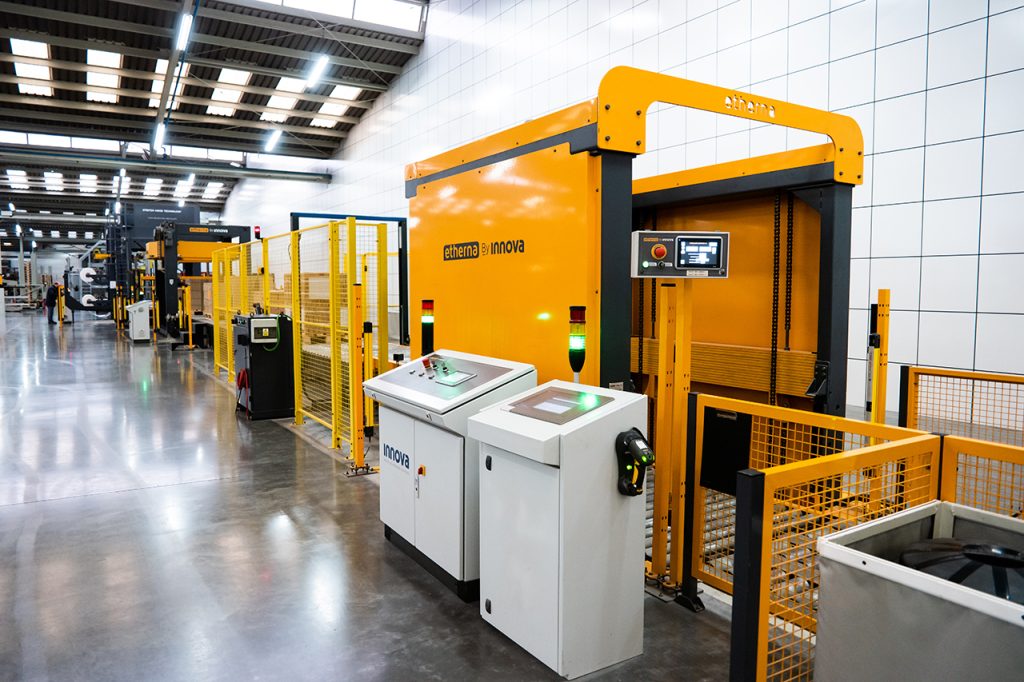 3. Which conveyors are recommended for heavy loads and light loads?
For heavy loads over 1,000 kg / 2,000 lbs. we always recommend using roller conveyors. Because of the motorized drive technology, rollers are usually the most robust and versatile system.
Light loads can be carried on any conveyor, but if you need a dedicated system that is not as robust as a roller conveyor, you can use either a belt conveyor or a roller system designed for light loads.
4. What end-of-line lifting conveyor options are available?
Within the pallet lifting systems, there is a wide range of options, depending on the height requirements to be met. Normally they are elevator systems (either elevator or platform lifts) that include a conveying system for connection to the line.
At Innova, for example, we work with two types of lifting systems:
Scissor lift platform system: Scissor table lifting system that includes a conveyor that can be rollers or plates depending on the requirement of the line. We usually use a scissor lift system with chain plates to lift loads at ground level handled by a hand pallet truck.
Pallet elevator system: A safer lifting system for lifting heavy loads to different floors or levels in the factory up to 10 m / 30 ft. high. Includes roller conveyor for connection to the next line.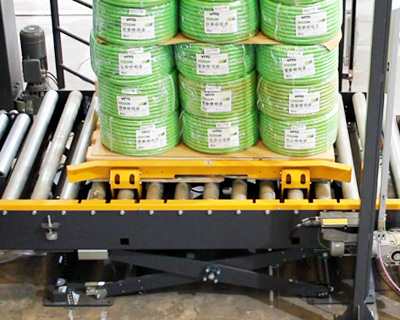 5. How to make connections between different types of conveyors and lines?
One of the most sought-after requirements for pallet conveying systems in a project is their adaptability. Whether in an existing line or with other end-of-line components, usually the conveyor must be designed at the same height and direction of flow.
To overcome this type of linkages between different heights and flow directions, there are connecting and transfer systems, which Innova also offers:
Turntable platform: For connections between perpendicular conveyor lines. It is usually a rotating conveyor system at 45º, 90º, or whatever the line requires.
90º transfers: For connection between several parallel conveyor lines with no connection between them, a lateral transfer system can be used, popularly known as a bench conveyor "bancalino", or also called a square turnout, due to the way it is used to connect the line. They usually use combined chain conveyors on rollers. It has the advantage of joining several conveyor lines into one without having to use several turntables.
Scissor lifting platforms: If the connection to be made is between different conveyor heights in a line, the best solution is scissor lifts.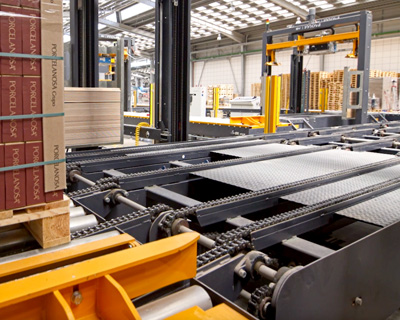 6. What is the maximum speed of pallet conveyors?
The speed of pallet conveyors is usually between 10 m – 32 ft /min and 18 m – 60 ft/min, depending on the characteristics of the conveyors, the type of load to be carried, and so on. At Innova for example, our standard is 14 m / 46 ft per minute as it is a safe speed for heavy and fragile loads.
7. How to connect and communicate with vehicles and forklifts?
The automatic conveyor systems are characterized by being part of the communication and integration between different packaging systems and loading vehicles of the line. The conveyors are also responsible for carrying the information of the loads entering and leaving the line, with the help of measurement and communication systems (wireless or wired). At the entrance of an automatic packaging line, the conveyor receives the information of the incoming load (format, height, weight, etc.) either by wireless input with an AGV or manually by the operator, and intercommunicates it between the different packaging systems at the end of the line. This level of automation allows greater speed and efficiency in the packaging of loads.
8. How to adapt a conveyor line in a small facility?
The design of the conveyor line is critical for the adaptation to the customer's facilities. In this case, it is important to have a supplier with a wide range of conveyors and connections to design a line that guarantees the pallet flow using the strictly necessary conveyors and the connection employing turning and lifting systems.
At Innova, we have adapted hundreds of projects with the need for special conveyor line design. Our engineering team studies each project in detail to design the most appropriate conveyor line for each facility.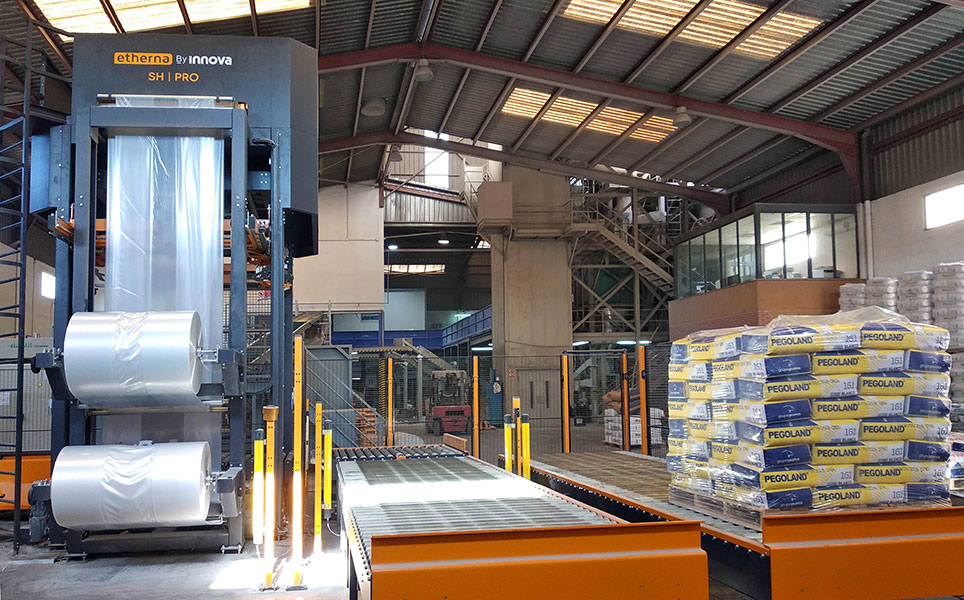 9. Which accessories can be included in conveyor systems?
Conveyor systems are very versatile and can include various accessories to enhance pallet transfer, or to aid in pallet transfer communication. Some of the most common accessories:
Pallet guiding systems: To center the pallet during very long distances.
Pallet centering systems: Usually included before the entry of the packaging systems, as it allows the packaging (pallet wrapping, strapping, or stretch hooding) to be performed with greater precision than if the pallet arrives slightly off-center.
Weighing systems: Among the communication sensors, the weighing cell is one of the most required accessories at the end of the line, since it allows the pallet to be weighed and the information to be sent to the logistics management system, or to other systems such as the labeling system to be included in the final label.
Gauge control systems: As an accessory to the conveying system, a column with a height detection sensor can be included to send additional information about the pallet to other pallet packaging systems in the line. This accessory is commonly used in lines with very different or irregular pallet formats (in the case of end-of-line picking or logistics).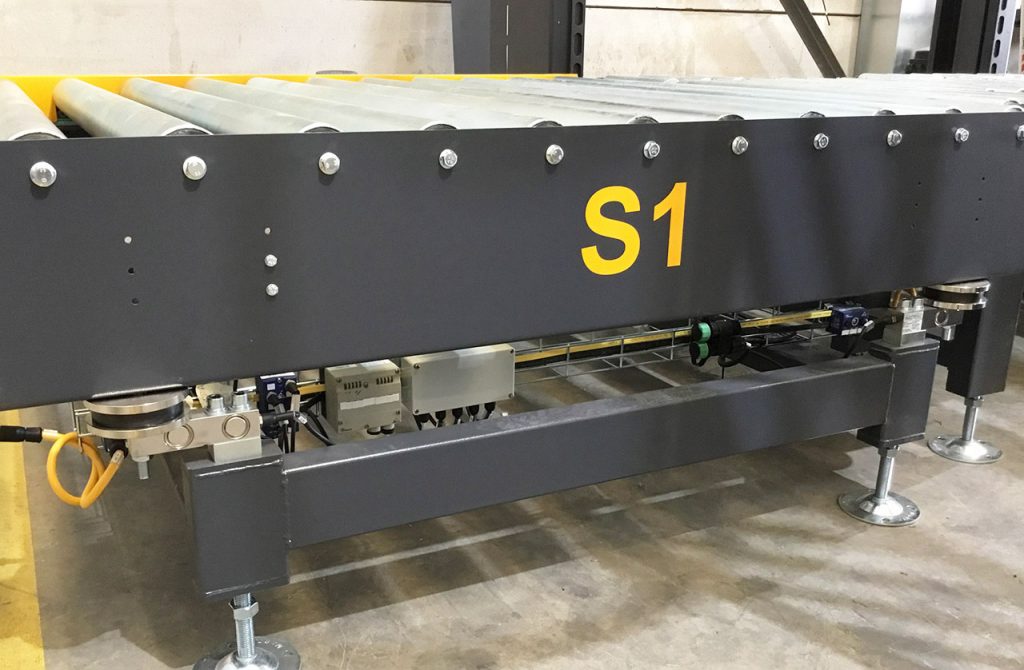 10. Which energy-efficient components do pallet conveyors use?
The conveyor systems are up to date with the latest developments in automation and are developed with advanced technology components, lighter parts, and high-efficiency motors.
At Innova, our conveyor systems are designed with geared motors with integrated frequency inverters for a progressive start-up of the conveyor, allowing considerable energy savings. In addition, they also have photocell sensors to detect the pallet to start and stop only when the pallet is approaching or is in the predefined range, also contributing to energy savings.
Ultimately, the conveyor systems are a main component of the automatic packaging line, with a fundamental role in its operation. That is why it is important to have a manufacturer specialized in end-of-line design that provides a complete conveying system.
Do not hesitate to contact our technical team for more information about our conveying solutions and pallet packaging systems, we will be happy to assist you.
Do you like our technical posts? Find out more in our monthly newsletter on trends and news in logistics and packaging.
SUBSCRIBE TO OUR LOGISTICS NEWSLETTER: