Top 10 most frequently asked questions about pallet strapping systems
Improving the stability of loads during transport is one of the most sought-after objectives in a packaging system. And certainly one of the most preferred systems for securing is strapping systems. Yet questions often arise about the specifications and multitude of strapping options that exist in the market today. Such as, which type of strapping is recommended for my product? When to use horizontal and/or vertical strapping? What strapping accessories can be included?
In this article, following our TOP 10 FAQ series, we answer the most frequently asked questions we receive about pallet strapping systems.
Top 10 FAQs about pallet strapping systems:
---
1. What types of pallet strapping are available?
To ensure the stability of the pallet, there are two strapping systems depending on its orientation: horizontal and vertical. The horizontal strapping system launches the strap laterally to hold the load together and compact it. The vertical strapping system ties the goods to the pallet base vertically using the strap.
The two systems are not substitutes for each other, but rather one system or the other is recommended depending on the load securing and composition objectives (stability or fragility of the product, type of primary packaging, type of palletizing, previous securing, etc.).
For example, for boxes with poor stability, vertical strapping is usually recommended to secure the load on the pallet. On the other hand, with heavy loads that need to be unified and fixed to each other, at the risk of falling or shifting, horizontal strapping is usually used to compact them as a block.
For more information on the differences between the two types of strapping, we recommend our strapping comparison: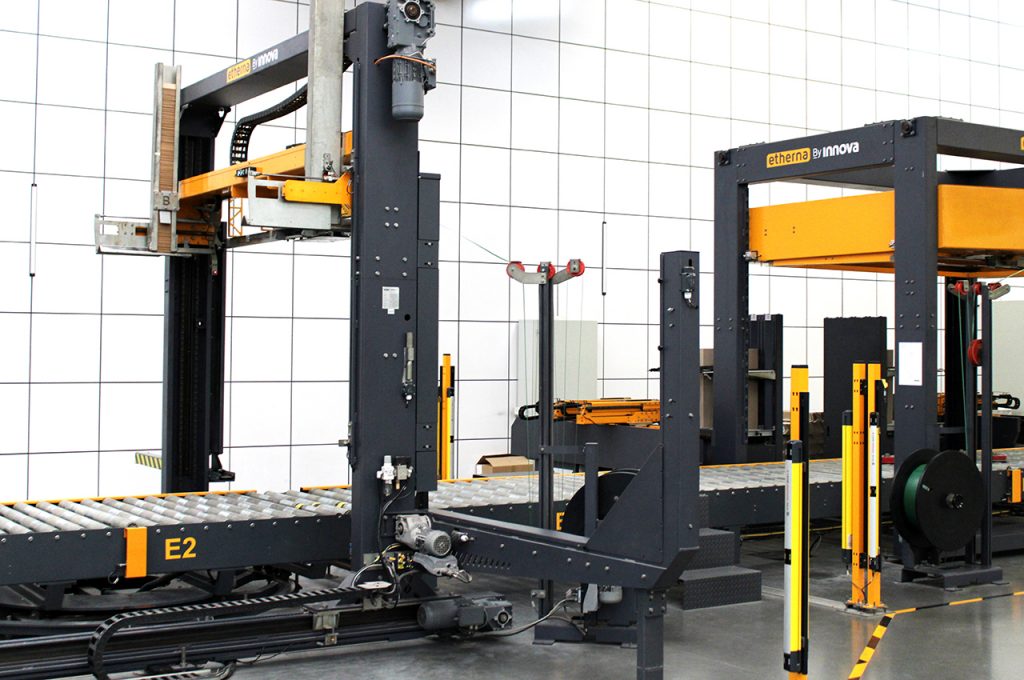 2. What are the differences between semi-automatic and automatic pallet strapping systems?
Strapping of packages, boxes, and pallets can be done with manual, semi-automatic, and automatic equipment, although for pallets it is always advisable to use automatic pallet strapper for safety and optimization reasons. However, the following types of systems are available:
Manual strapping systems: With manual strapping machines or electric strapping machines for the occasional strapping of pallets.
Semiautomatic strapping systems: These are mobile, robot-type machines used to strap pallets with the intervention of an operator to place and pick up the strap. Semi-automatic strapping machines have the advantage of being compact and versatile and offer a better grip than manual equipment for small packaging needs, in a warehouse or logistics area without an end of palletizing line.
Automatic Strapping systems: This is the best option for strapping pallets, even with low production. Within the automatic systems, there is a wide range of options and performances, depending on the needs at the end of the line. For example, in the market, there are simple automatic systems, with a simple frame structure for strapping, complete strapping systems with a 4-pillar structure for greater stability, and accessories such as the edge band applicator to optimize strapping, among others.
3. Which pallet strapping system is recommended for my type of product?
Considering that the strapping system is a fundamental requirement when the load has stability problems, we recommend different models depending on the product, for example:
Bags with sliding problems: Strapping is usually not necessary for bags, but in case of displacement problems, a vertical strapping machine could be used to attach the bags to the pallet.
Light and unstable boxes: It is necessary to tie and secure the load to the base of the pallet to prevent the product from shifting. In this case, vertical strapping would be necessary, and horizontal strapping is optional, depending on the danger of lateral displacement.
Heavy but stable boxes: Although it may seem that they do not need strapping, in this case, we recommend a horizontal strapping system to join the goods and a vertical system to join the load to the pallet. In the case of using a stretch wrapper or Stretch Hood system, vertical strapping would not be necessary since the load can be reinforced at the base of the pallet by means of the wrapping.
Heavy and unstable boxes: This is the most typical case for ceramic products, as it is a heavy but fragile products. It is recommended to secure the load with both horizontal and vertical strapping, unless other reinforcement systems are used, such as automatic wrapping machines.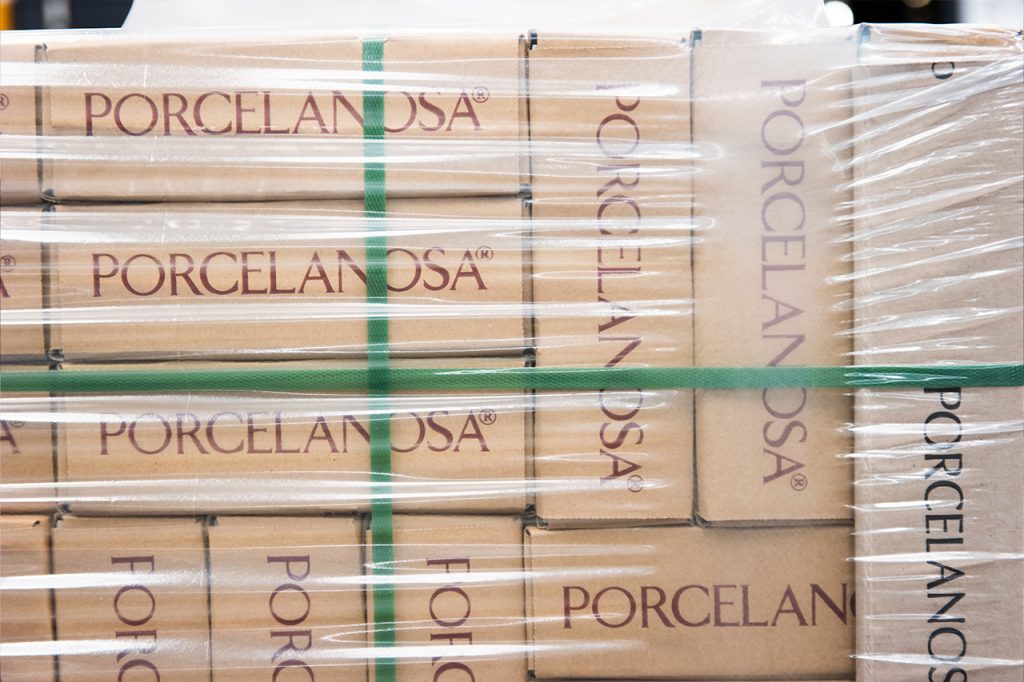 4. What types of straps and characteristics are there?
Strapping is a strong band of material used to secure loads. Strapping is available on the market in many different materials such as polyester, polypropylene, steel, and textile, adapted to each strapping system.
The most common straps used in pallet packaging are:
Polypropylene strap (PP): Polypropylene is a thermoplastic polymer with properties of strength and elasticity. This type of strap is the most commonly used to secure goods on a pallet due to its high resistance to external agents such as humidity. It usually comes in standard sizes between 9, 10, and 12 mm wide and 0.7/0.8 mm thick.
Polyester strap (PET): Polyester is a plastic resin obtained by a chemical reaction, highly resistant to moisture and chemicals. Polyester strapping is quite rigid, with a lower elongation than polypropylene, although initially, the elasticity produced at the time of strapping can be greater and long-lasting. Given its rigidity, it can replace steel strapping, being more economical. It is available in standard sizes of 9, 10, and 12 mm wide, with a usual thickness of 0.5 mm.
Other types of strapping used in the packaging industry:
Steel strap: Mainly used in the steel and construction industry as they are capable of withstanding much more weight than plastic strapping. They are perfect in conditions of high stiffness and strength, with low elongation, but their cost is much higher than polypropylene or polyester strapping.
Textile strap: They are made of high-tenacity polyester yarns and usually replace steel strapping, due to their high strength and elasticity, as well as their anti-slip properties. Their great advantage is their lightness and great adaptability to different shapes and types of loads. However, the biggest disadvantage is that it is mostly used manually, with the help of a tensioner.
5. How is strap sealing performed?
The sealing of the strap can be done by different welding or sealing techniques. These will depend on the strapping equipment, and specifically on the characteristics of the strapping head. The most common are:
Strap Sealing by vibration or friction: The strap is welded by heating the strap by friction.
Electric resistance strap sealing: Strap welding is also done by heating, but since it is electric, it is safer. The welding temperature and cooling time are usually adjustable by the strapping head.
Ultrasonic strap sealing: With this technology, mechanical vibrations are transmitted under pressure to the ends of the strap, so that they are compressed and joined together. The great advantage is that the seal is extremely strong, consistent, and fast.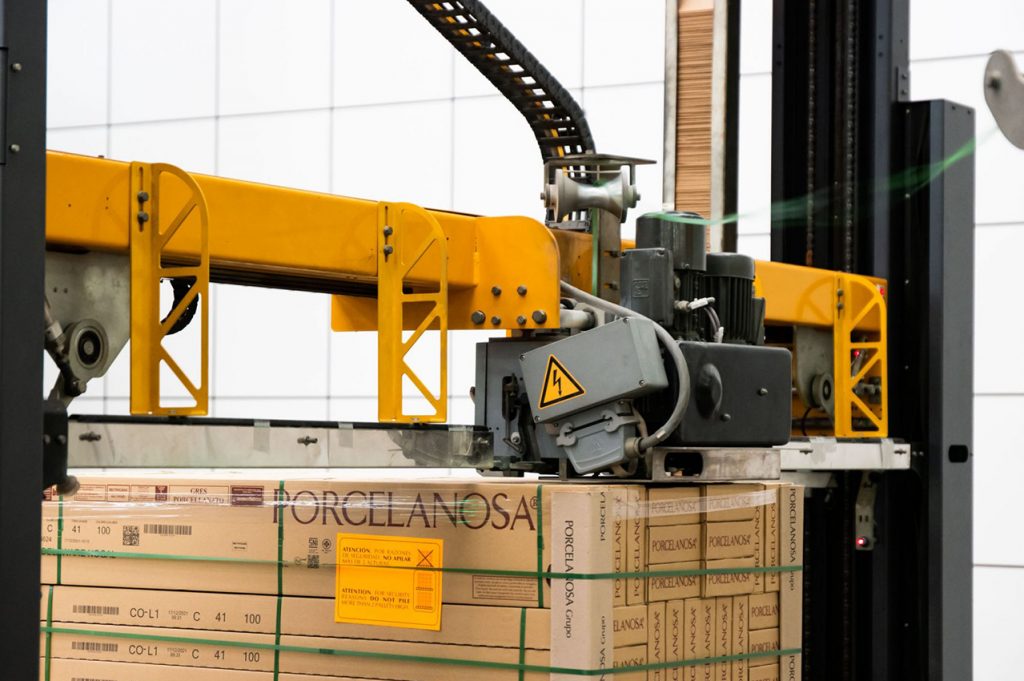 6. How to save on strapping consumables?
Strapping is the most economical packaging system since a few straps and a small number of consumables can guarantee the total securing of a pallet. However, it is possible to further optimize pallet strapping by taking into account some technical aspects:
Using the right strap for our product: Although we need maximum strength and fixation, PET or PP strapping is more economical than steel strapping.
Automatic strapping programming: Using an automatic strapping system that performs the exact number of straps required by the product (versus manual strapping, which can be applied incorrectly or with too many straps).
Precision strapping head: A strapping system with a state-of-the-art strapping head to adjust the strapping tension without strapping waste and avoiding material breakage.
Strap relaunch technology: Some strapping machines have a relaunch system, to go back and repeat the strapping maneuver if it has not been performed correctly, avoiding consumable waste again.
7. Which is the speed that an automatic strapping system can reach?
Automatic strapping systems can perform from 15-20 pallets/hour, up to 60-80 pallets/hour with advanced strapping systems. For example, Innova's horizontal strapping system can strap 60 pallets per hour with cycles of 5 straps per pallet.
8. Can palletless loads be strapped automatically?
In the case of household appliances and homogeneous loads that do not have to be palletized, it is possible to strap automatically as long as the strapping system is adapted.
In the case of horizontal strapping, it makes no difference whether the product is on a pallet or not.
In the case of vertical strapping, it can be done with a transport system that allows the strapping lance or the strapping arch to pass under the pallet.
9. Which accessories can be included to improve strapping?
Automatic strapping systems can include a multitude of accessories to increase strapping safety or the performance that a strapping machine can offer. Some of the most common accessories are:
Automatic edge band applicator (either vertical or horizontal) to protect the edges of the boxes from strapping, in addition to assisting in compacting the goods.
A horizontal compacting system, as an accessory to horizontal strapping, to ensure that the load is unified in one block and without protrusions before strapping.
Four-sided vertical strapping accessories, with a 90º turning system to strap on all sides.
Vertical strapping displacer for unstable loads, which moves the strapping arch to strap more securely without the load shifting.
Folding strapping beam accessory for space-saving in the factory, with a flexible strapping beam structure, which is placed in a vertical position prior to strapping.
For more information on strapping accessories, we recommend our article:
10. Is strapping essential for securement, or can it be substituted by another system?
Although strapping is not essential, it is true that it is one of the systems that provide greater security and stability to the load. Even so, other packaging systems can often be used for the same purpose, such as stretch wrapping, which secures the load in an enveloping way.
The automatic stretch wrapper can hold the load tightly horizontally and tie the load to the pallet with a wrapping cycle with reinforcement at the base. In addition, with the reinforcement roping accessory, a greater horizontal hold is achieved, acting as a strap.
Depending on the type of load, it will be necessary to use strapping or it can be replaced by stretch wrapping. For more information we recommend our comparison between the two systems:
In short, strapping systems are one of the most widespread and widely used final packaging solutions for holding and securing loads. In fact, there is a wide range of strapping machine types with different applications and accessories, depending on the product and securing purpose.
At Innova, we have more than 20 years of experience manufacturing industrial pallet strapping systems, with 100% Spanish technology. Do not hesitate to contact our technical sales team for more information about our end-of-line systems.
Do you like our technical articles? We encourage you to subscribe to our monthly newsletter on packaging and logistics trends (non-commercial).
SUBSCRIBE: