Video: Complete Stretch Hood Packaging Line at Venís (Grupo Porcelanosa)
Porcelanosa Group has been relying on Innova for years for its end-of-line installations, with automatic packaging projects with Stretch Hood System. In today's article we present our recent video of the complete packaging line in Venís Projects, from Porcelanosa Group, in its facilities in Vila-real (Castellón).
The packaging line video shows the fully automated packaging process for Venís, with pallet infeed and outfeed by AGVs.
Complete automatic packaging line in Venís
The packaging line in Venís is composed of:
Input conveyor line with pallet elevator:
The infeed to the line is through a pallet lifting system with conveying included. It also incorporates a pallet-centering device to guarantee better packaging in the subsequent systems.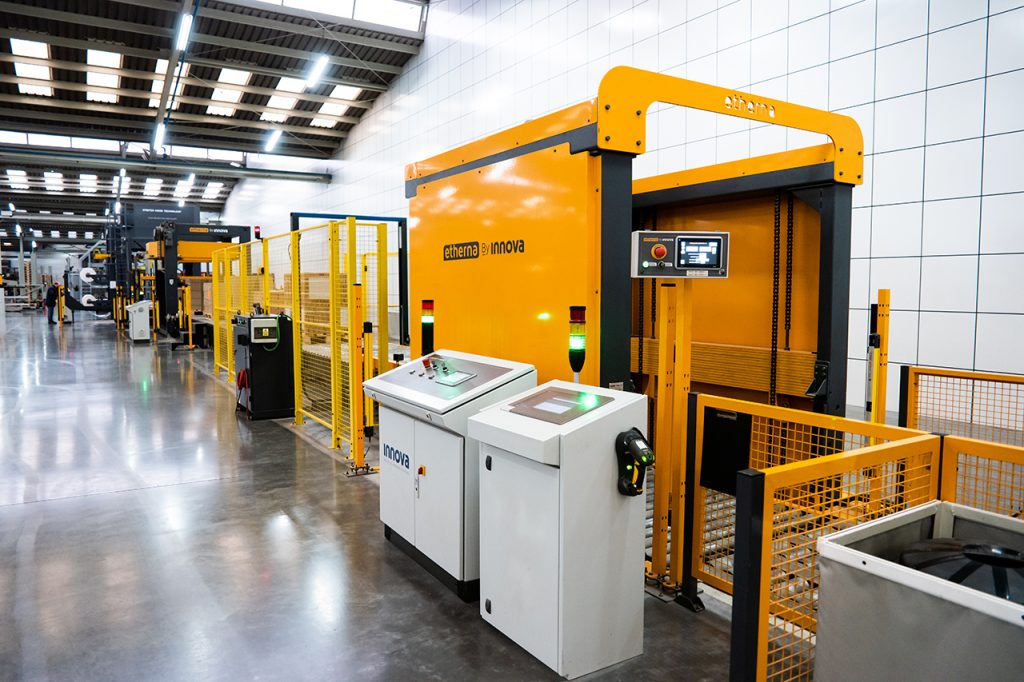 Horizontal strapping with edge band applicator
The first packaging station is the horizontal strapping system that includes an automatic edge band applicator to protect the boxes from strapping. Horizontal strapping compacts the load and unifies it into a block for greater load stability during transport.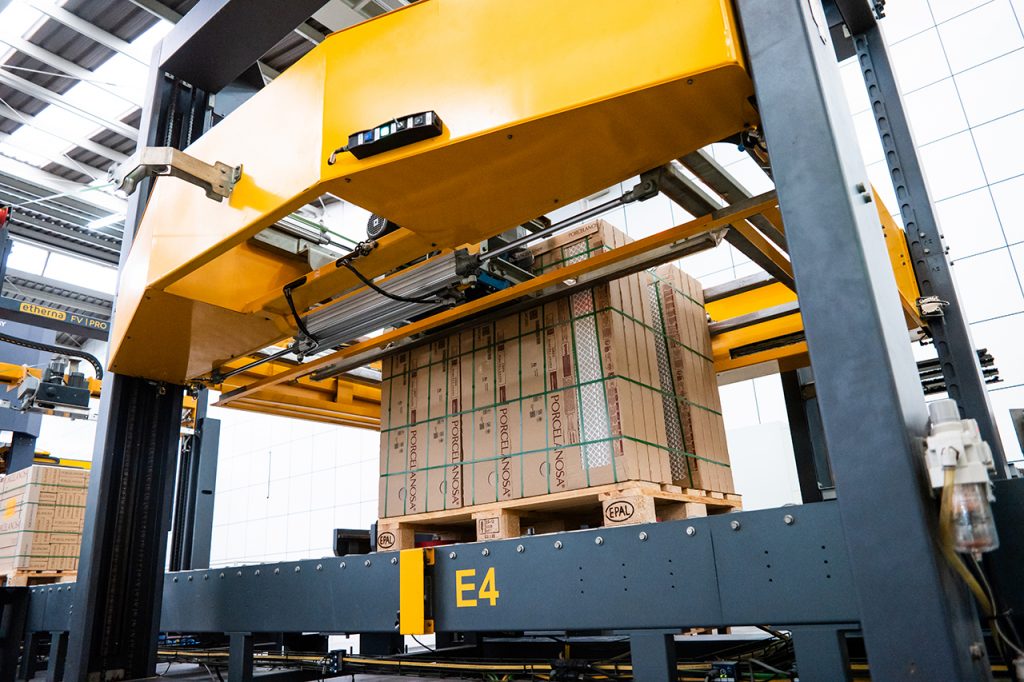 Vertical strapping with 4-sided strapping and folding lance
The automatic vertical strapping system installed in Venís has a special development with several strapping complements to ensure a better process and fastening of the pallet. Thus, vertical strapping includes a 90º turning system for 4-sided strapping, a strapping frame sliding system so that the load does not move during strapping and a folding lance system to reduce space and optimize strapping.
Thanks to the strapping, Porcelanosa Venis ceramic loads achieve greater fastening and unification with the base of the pallet, for safe transport and handling.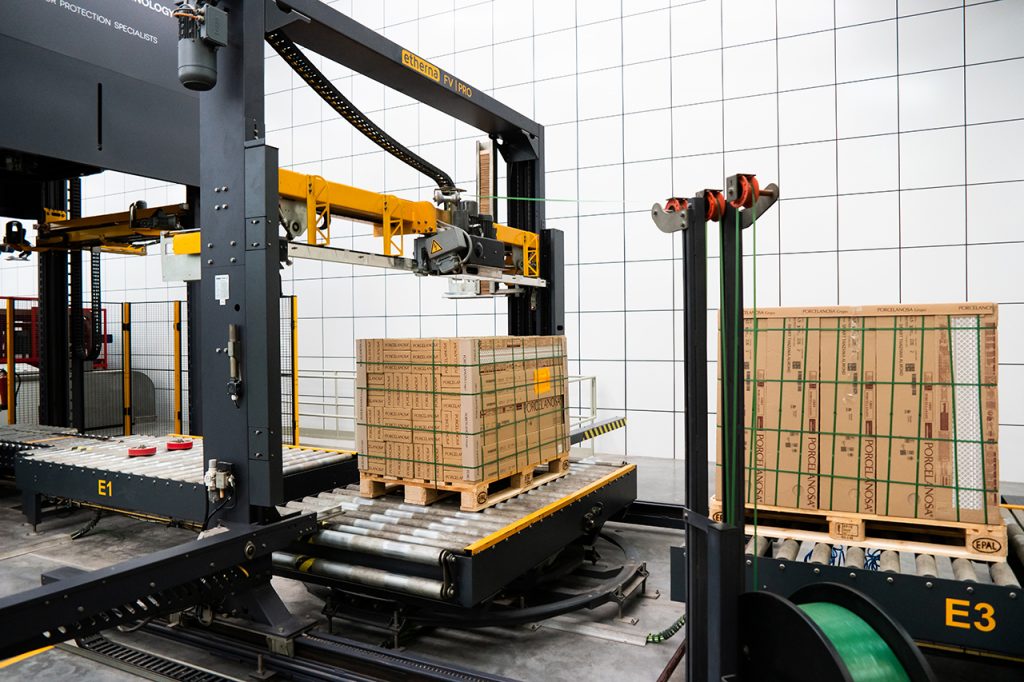 Stretch Hood wrapping system
The Stretch Hooding system provides the final protection for the ceramic load. Using the Stretch Hood technology and its special film, the load is secure and fully protected against inclement weather. Thanks to the total transparency of the Stretch Hood film and the strapping system, Porcelanosa also obtains an excellent brand image for its palletized product.
The stretch hooding system installed at Venís was Stretch Hood SH Pro 2 | S2 with high production (to stretch hood up to 120 pallets/hour) and capacity for 2 film reels to adapt to different formats.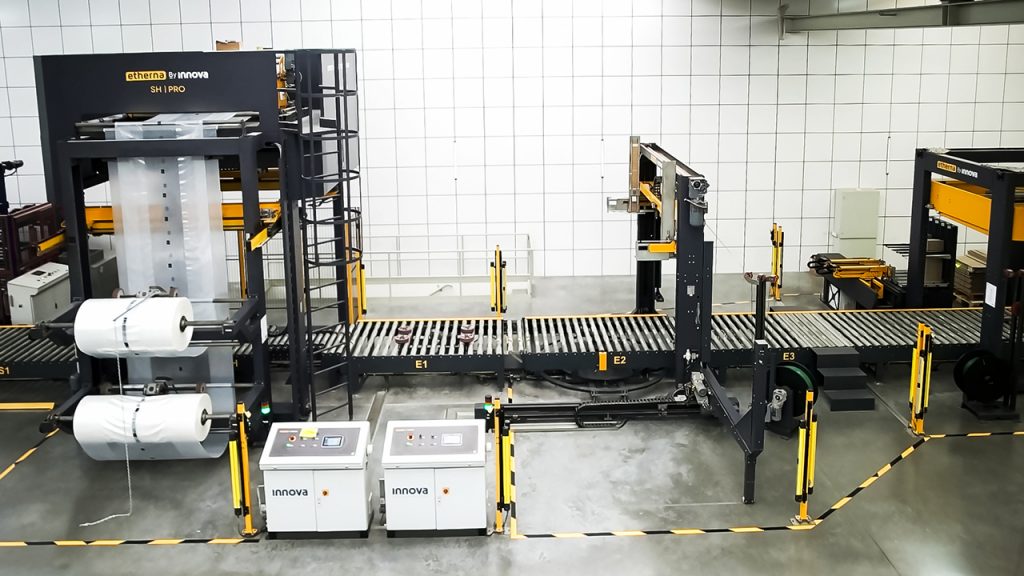 Output conveyor line
Lastly, the line ends with outfeed roller conveyors that connect to the customer's existing conveyor line.
Since the installation of this complete line in Venís, Porcelanosa Group has expressed us its satisfaction and confidence in this and future projects.
For Innova, working with Porcelanosa, one of the international ceramic references, is a matter of professional prestige. A project with Porcelanosa is always associated with dedication, innovation and technological challenges in which we are delighted to participate and contribute!
Thank you Porcelanosa for trusting Innova once again!