7 keys to secure and protect Pet food bags with Stretch Hood system
The pet food and animal feed industry is experiencing global growth, but also encountering an increase in unique requirements, regulations, and logistical challenges. As a result, their top concern is maintaining maximum cleanliness, quality, and presentation of their products during storage and transportation. Within this context, it is crucial to have packaging systems that are adapted to the needs of this ever-expanding sector, including packing and bagging, as well as the final packaging of pallets.
This article will provide you with valuable insights on how to ensure the safety of pet food during transportation with the help of advanced packaging systems like Stretch Hood wrappers.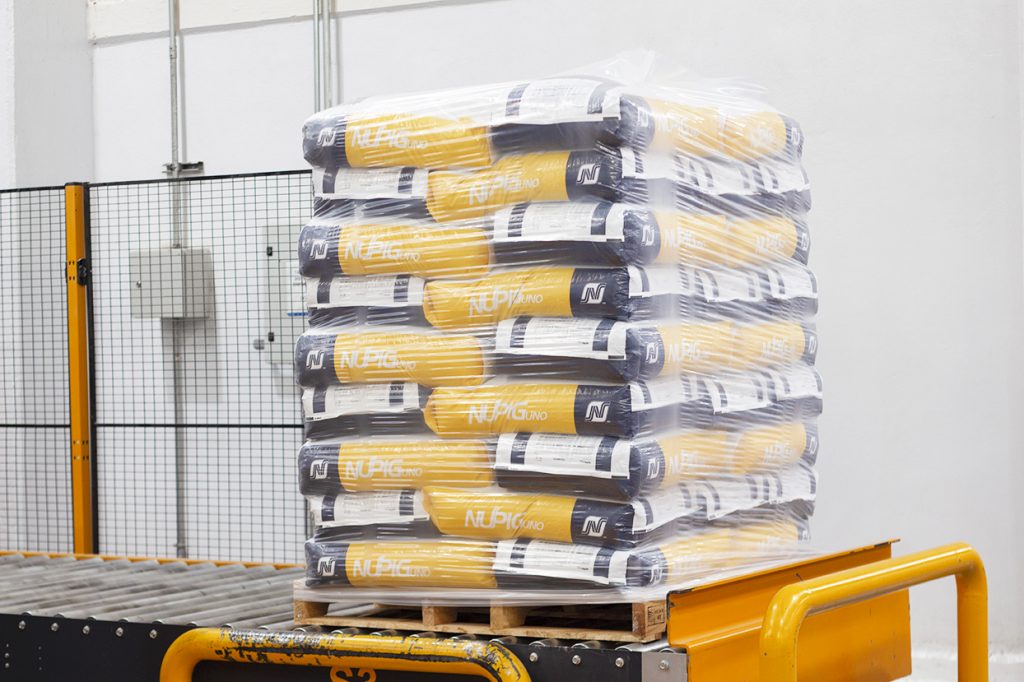 What are the special packaging requirements of the Pet food sector?
The Pet food industry involves very different product typologies, both in terms of package and bag sizes (which can vary from 3 to 20 kg or more), as well as in terms of packaging characteristics to preserve the freshness and conservation of foodstuffs.
It is also an industry that is evolving at a fast pace, with an increase in production and high competition, where product integrity, presentation, and branding are essential.
Some of the specific requirements that arise in logistics packaging for Pet food are:
Total protection and hygiene to preserve food from humidity or dust.
Cargo safety for long-distance transportation.
Adaptation of the final packaging to different bag formats.
Food traceability and logistic tracking.
Brand image and flawless product presentation right up to the point of sale.
Increased automation in final packaging, in response to the growth of this industry.
How can Stretch Hood improve Pet food packaging?
The animal feed sector can now benefit from the Stretch Hood system, a packaging technology that offers superior protection and quality compared to other solutions like the stretch wrapper. This innovative Stretch Hood system uses a tubular film that stretches and conforms to the shape of the pet food load, ensuring complete sealing. It also requires less film, offers better load protection, and speeds up the packaging process. So, let's explore the various advantages of the Stretch Hood system for pet food products.
1. Total protection of Pet food cargo
The Stretch Hood packaging system provides a hermetical seal that conforms to the cargo, preventing the entry of moisture, dust, and external contaminants. Stretch Hood packaging uses a special tubular film composed of multilayer high-density polyethylene (MLLDPE) with stretch, anti-puncture, and anti-scratch properties and a barrier against external factors.
Animal feed products are often transported over long distances and can be exposed to adverse weather conditions. The Stretch Hood acts as an effective barrier against rain, snow, and solar radiation, protecting products from damage during storage and transport.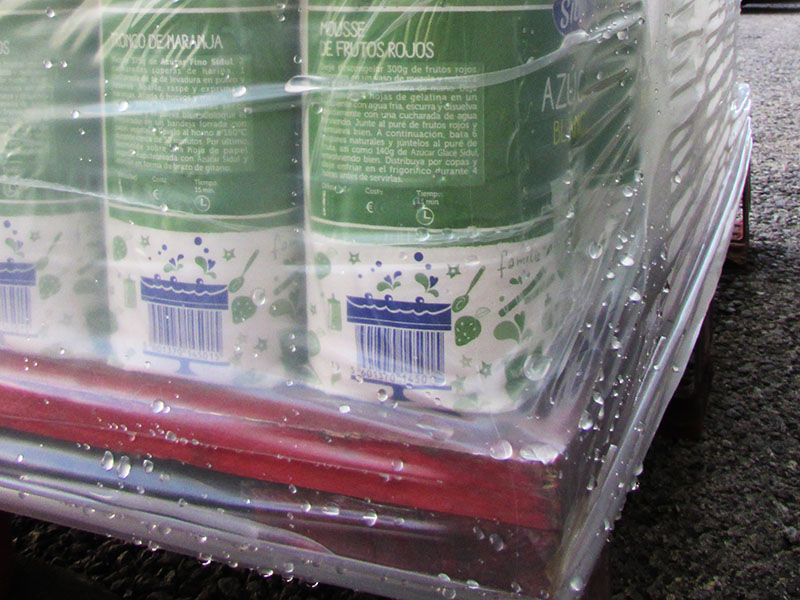 2. Greater hygiene in the packaging process with Innova
A key advantage for the pet food industry is that Stretch Hood provides wrapping with minimal contact with the product and minimal handling of the load. Using a single film hood to protect the load prevents the intrusion of dust or other factors.
When it comes to Innova's Stretch Hood system, the machine design prioritizes safeguarding the stretch hood carriage by incorporating anti-dust barriers. This sets them apart from other manufacturers of similar technology. As a result, external elements are kept at a minimum during the hood film creation and application on the load. This ensures a higher level of hygiene during the packaging process.
3. Versatility and adaptability to Pet food multiformat
The Stretch Hood system adapts to a wide variety of package sizes and shapes, making it versatile for the animal feed industry, where products can vary in bag formats, weights, dimensions, and even packaging materials.
Innova's Stretch Hood system includes up to 3 film reels with different film sizes to accommodate different pallet formats within a single production run. We have also certified our machine with specialized Stretch Hood films to offer greater gripping for bag loading, and with super-stretch films that can adapt to different contours and sizes.
4. The best presentation and brand image with Stretch Hood
A key advantage for Pet Food companies is to be able to offer an impeccable brand image up to the point of sale. The Stretch Hood system offers precisely the best image and logo recognition during storage and transport, as the film is completely transparent, with no folds, layers, or wrinkles, as is the case with other systems such as stretch wrapping.
In addition, the transparency of the Stretch Hood film protects and ensures the legibility of internal barcodes, thus improving the traceability of food control codes.
5. Stability and safety in the transportation of food cargo.
The Stretch Hood system not only offers protection, but the application of the film provides additional stability to the palletized bagged product. This is especially important in the case of Pet food products in slippery bags or fragile packages. The Stretch Hood film provides stability and support to bags using horizontal and vertical forces in its film composition during the stretching and restraining process.
Innova's Stretch Hood system also facilitates the configuration of customized stretch hood finishes to the customer's load, offering reinforced support in certain areas: wrapping with extra support bands, reinforced film at the pallet base, wrapping to cover the entire base of the pallet, etc.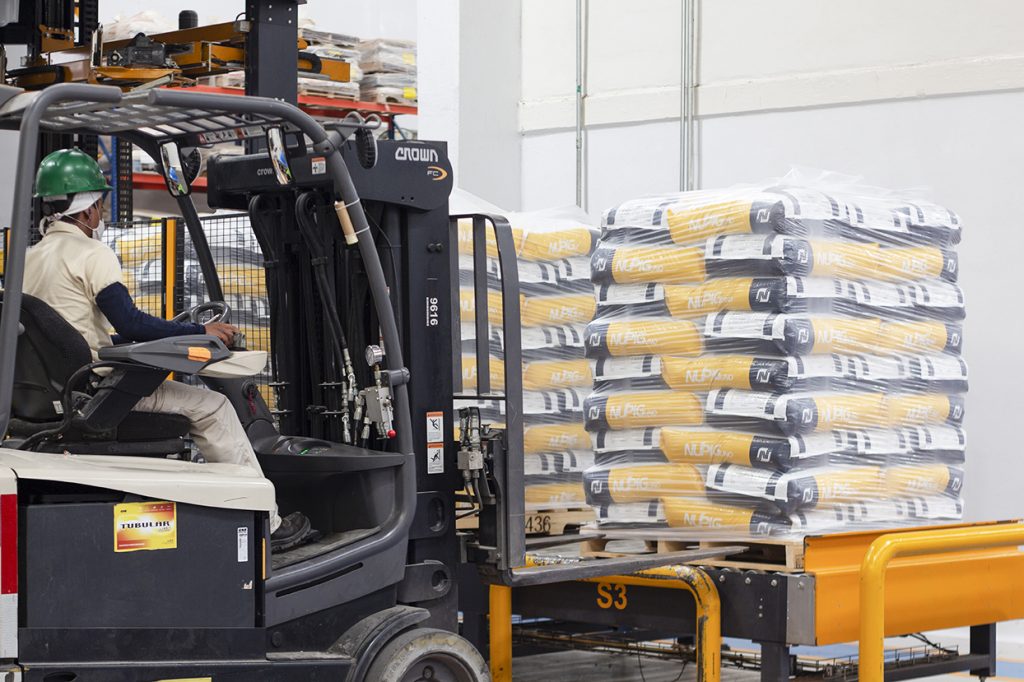 6. Faster and more efficient packaging process
The Stretch Hood wrapping process is highly efficient and quick, decreasing packaging time at the end of the production line and boosting productivity. Innova's Stretch Hood system can wrap 150 or more pallets every hour, depending on the machine model.
In addition, the Stretch Hood system offers greater production autonomy without downtime for consumable changes than other systems such as stretch wrappers. For example, a single Stretch Hood film reel can wrap about 1,000 pallets of standard dimensions, while a stretch wrapper will need film changes every 200-300 pallets.
One of the key factors driving growth in pet food companies is the increased automation and productivity in final packaging.
7. The most sustainable system for the animal feed industry
The Stretch Hood system uses less packaging material compared to other packaging methods, making it a more sustainable and environmentally friendly option. Compared to stretch wrapping, it can reduce the film used on each pallet by up to 50%, since it uses a single layer of highly stretchable film. In addition, the Stretch Hood film industry is working to provide films with a higher recycled component, even offering technical films with 30% and 40% PCR. In addition to film reduction, Innova's Stretch Hood machine is equipped with high-efficiency components and motors to reduce the machine's energy consumption.
Sustainability is no longer just a matter of corporate conscience in today's business landscape- it is a non-negotiable requirement for companies. As such, the Pet food industry has made it their top priority to adopt more sustainable systems.
In summary, the implementation of the Stretch Hood packaging system is a good solution to improve the protection and production in the animal feed industry. This system guarantees adequate protection, upholds integrity, adheres to hygiene and safety standards, and contributes to the overall efficiency and sustainability of the Pet food supply chain. Its utilization is paramount for ensuring high-quality, safe, and reliable animal feed products.
At Innova, we have the experience of more than 20 years and several hundred Stretch Hood installations around the world. Do not hesitate to consult with our technical team about the feasibility of Stretch Hood for your product, we will be happy to assist you.