Automatic Sealing System: How to obtain an extra fastening of the Ceramic Pallet
The safety of ceramic loads in transport is key to avoid accidents but also to comply with regulations such as the Law of stowage of goods (in Spain the RD 536/17). In fact, there are different packaging systems for the total fastening of ceramic pallets, such as the Automatic Strapping System or the Automatic Wrapping Machine. In this context, Innova Maquinaria presents an innovative system not so commonly used, such as the Automatic Sealing System, designed to offer a special reinforcement to the ceramic product boxes in large production lines.
Keys of the Automatic Sealing System
In order to offer an automatic solution, Innova Maquinaria has launched an Automatic Sealing System of the Ceramic palletized load, as a complement to the pallet strapping systems. This type of tape sealing is applied as a reinforcement of the boxes offering advantages such as:
It secures the load to avoid possible collapses during handling and transport.
It provides an extra fastening of the pack in the final delivery to the customer.
It allows for greater unity between the boxes as they are held together when the strapping is removed at the point of sale.
In short, it offers an extra protection in the upper side of the load.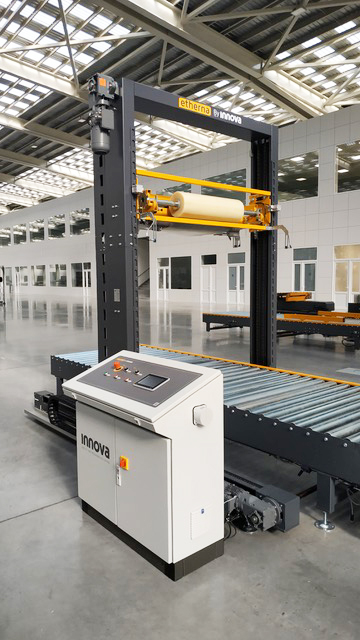 How is the Automatic Sealing applied?
The tape ealing is usually applied before the vertical strapping to facilitate opening the strapping afterwards. The sealer machine has a head which applies the tape on the upper surface of the pallet. The sealing process occurs when the head is automatically positioned at the required height and advances by sealing the top surface of the pallet.
The Automatic Sealing Machine CV |Pro ETHERNA by Innova
At Innova, as specialists in end-of-line packaging, they offer a highly advanced Automatic Sealing System of their own manufacture. In fact, there are currently few manufacturers in the world that offer this type of packaging system, with characteristics such as:
Automatic pallet height and length detection system using photocells
Electrical panel and own control with touch screen.
Capacity to seal pallets of width from: 800 to 1200mm.
Two-column chassis with motorized transverse movement.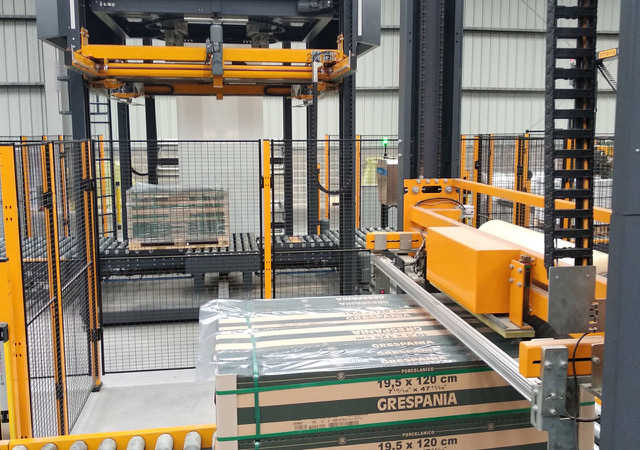 Customers such as Porcelanosa Grupo or Grespania have already seen the advantages offered by this innovative system, with total satisfaction with the final results in their ceramic pallets.
Do not hesitate to consult our technical-commercial team for more information on sealing and its advantages in securing loads with heavy boxes.
#WeAreInnovation
#WeAreYourPartner