Bestile chooses a double packaging line from Innova for their new factory
New factory, new automated packaging lines. Bestile knew they needed Stretch Hood packaging technology to equip their new Factory 6 and did so with the installation of a double line by Innova to meet their high production needs. The project consisted of two packaging lines installed in two stages, which went into operation in January and May 2022, respectively.
With this new packaging project in Bestile 6, the company has a total of 5 full packaging lines with Innova, distributed in several production centers in l'Alcora and Onda (in the ceramic Hub in Castelló, Spain). Bestile group is one of the ceramic reference companies in Castelló, currently in full expansion and production growth. Bestile is characterized by a sophisticated design in its ceramics, with a concept of quality, design and innovation that also applies to the technology used in its facilities.
The challenge: Fitting out their new Factory 6
Bestile presented us with a project for its new production center in Onda, which could serve both the existing remodeled facility and the new plant built next to it. Thus, the project consisted of two lines in different locations in its factory 6 with different objectives:
– Line Factory 6 – 1: Located in the new area of the facility, with machinery for high production.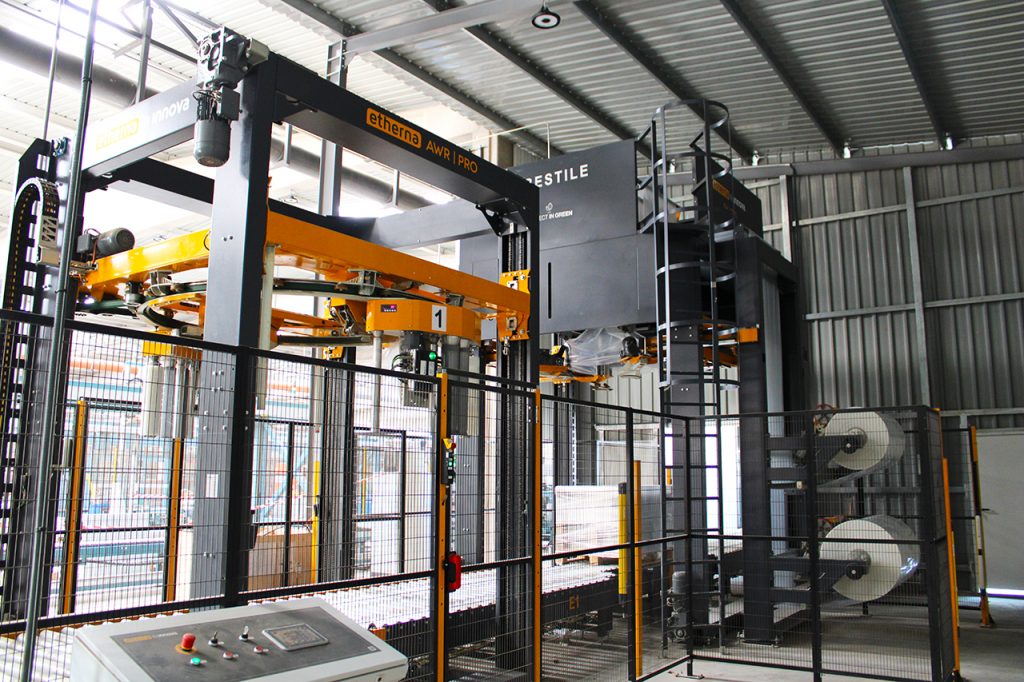 – Line Factory 6 – 2: Located in the existing production plant, to replace obsolete wrapping machinery.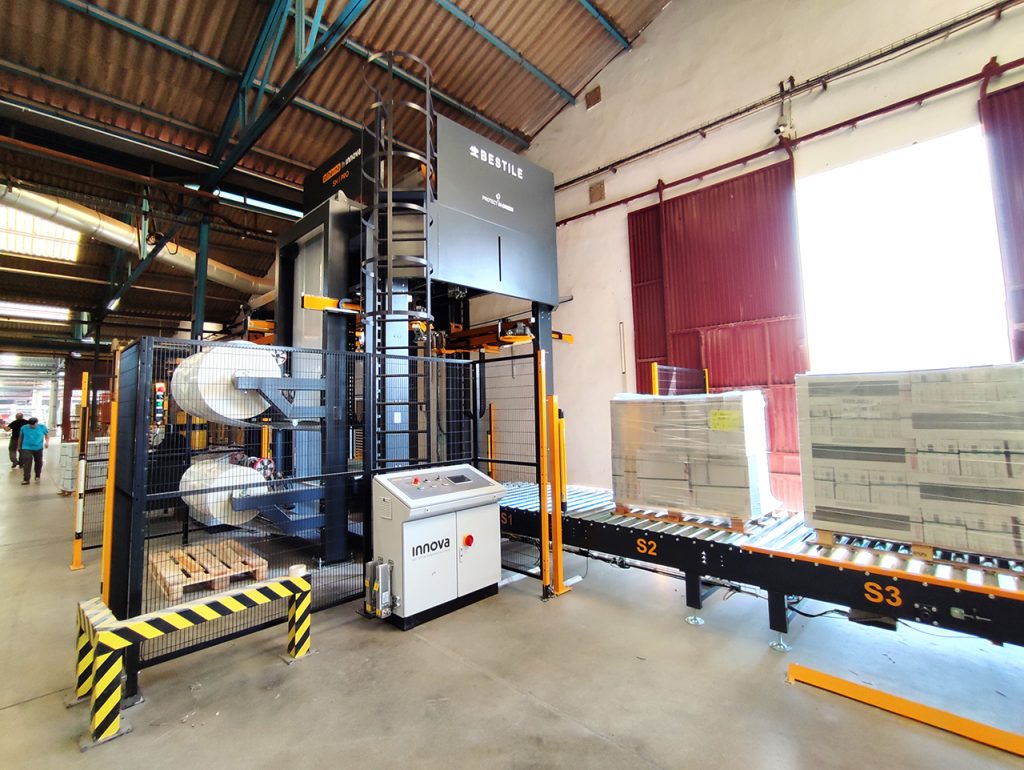 Bestile has a special finished product that requires specialized packaging for total support that is suitable for its different formats and ceramic boxes. For this reason, the combination of systems used in these two lines consists of an automatic ring stretch wrapper (for securing) with the Stretch Hood system (for protection).
The project: Double packaging line
The two packaging lines have the aforementioned packaging and conveying systems, as this is the usual combination that Bestile also uses in all its packaging lines with Innova.
The two packaging lines have thus been composed of:
– Infeed conveyor line: The infeed of both lines is adapted for pallet access with various types of vehicles ( manual pallet truck or forklift). For this purpose, it has a chain plate conveyor system with a lifting platform for ground level access. The infeed line also has a pallet centering system to ensure better packaging.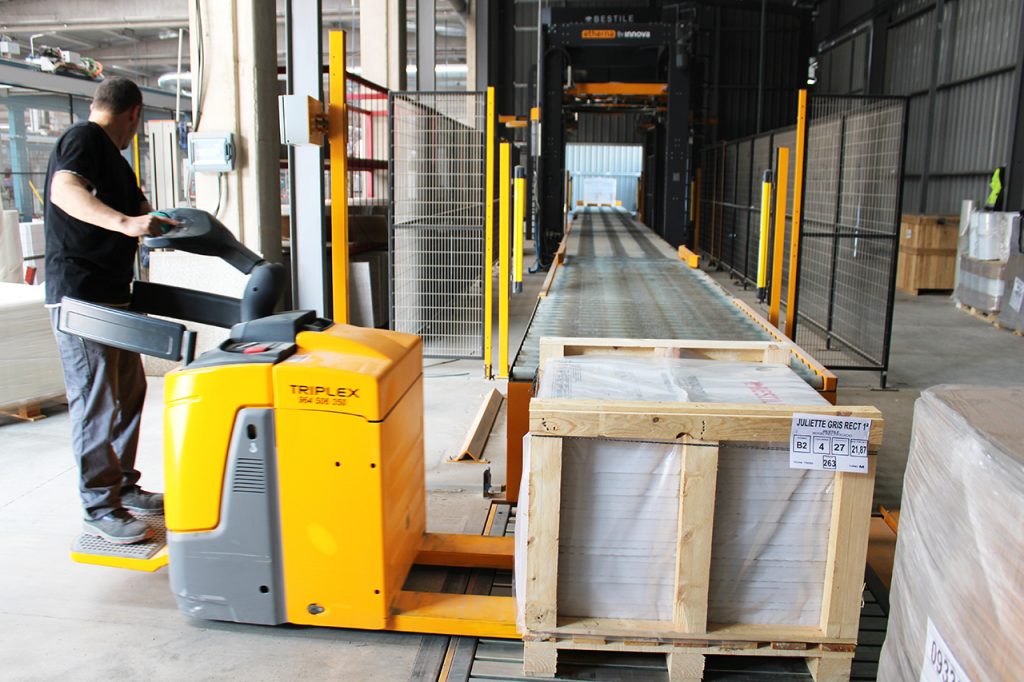 – Automatic Ring Wrapper: The next station is the automatic ring stretch wrapping station that performs a highly accurate case pallet securing, thanks to the combination of the stretch wrapping with the reinforcing roping system. In addition, the wrapping system of line 1 is a high production model with a double wrapping film carriage system.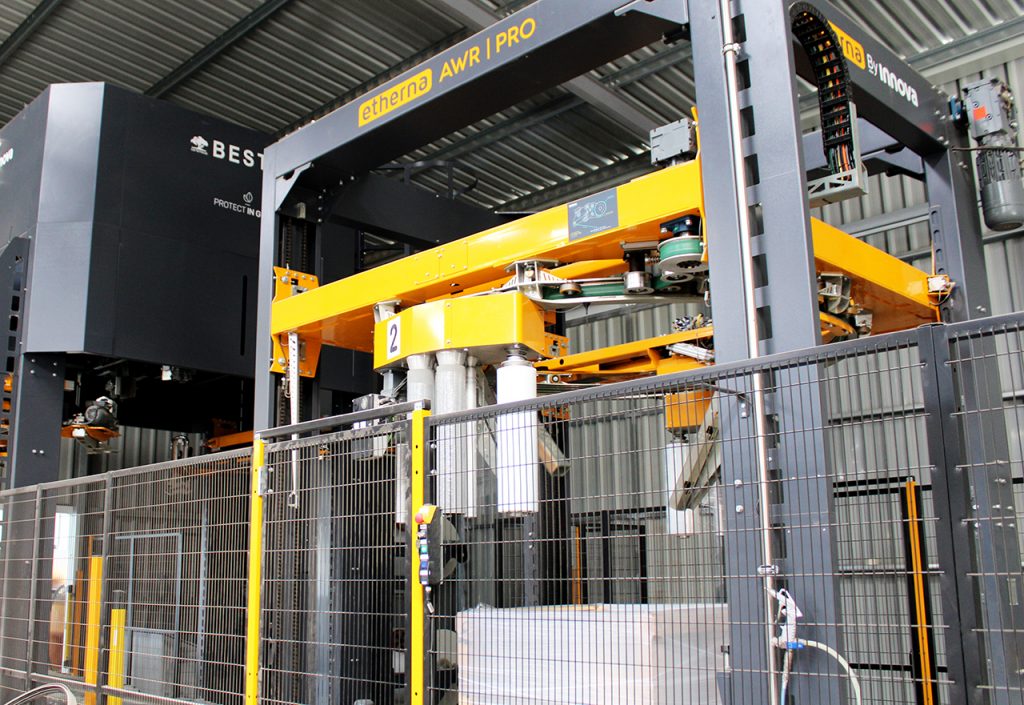 – Stretch Hood wrapping system: Bestile pallets are then completely protected thanks to the Stretch Hood wrapping system. The Stretch Hood tubular film adapts to the load, sealing it completely and offering protection and waterproofing for outdoor pallet storage. For the project, a Stretch Hood SH Pro 1 – S2 with two reels has been installed in each line to adapt to the different formats and high production of the lines.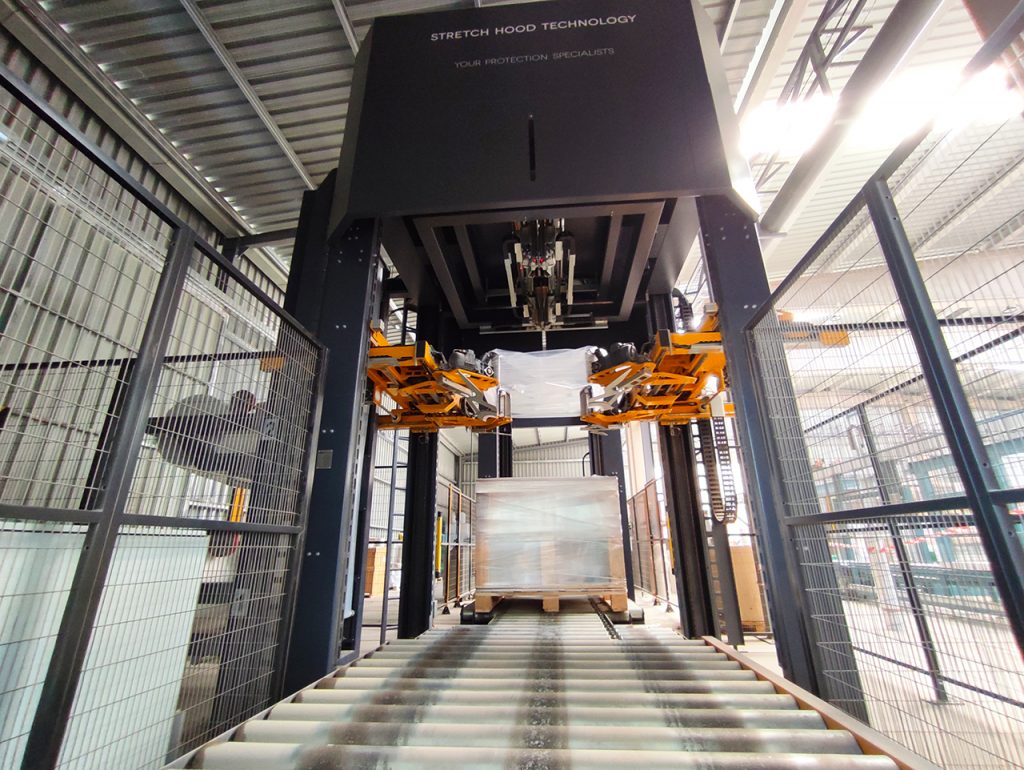 – Outfeed conveyor system: Finally, both installations are completed with an outfeed roller conveyor line and pallet accumulation for subsequent distribution to the logistics warehouse.
Results: High productivity, efficiency and future projects
The double packaging line installation has fulfilled its objectives of providing service to the high production of the new Bestile factory. Thanks to both lines, all of the company's ceramic pallet formats are fully protected with energy-efficient systems. Both Stretch Hood and Stretch Wrappers are designed for lower energy consumption and reduced film usage, thus contributing to Bestile's sustainability plan.
Bestile's commitment to advanced and sustainable packaging technologies remains steady, and proof of this are other future projects in common with Innova. The company has expressed its satisfaction with the two recent installations and its confidence in future packaging lines.
For Innova, it is a pleasure to work again with a leading company like Bestile, with which we feel closely identified and with which we are bonded by the values of innovation, technology and design.
Thank you Bestile for trusting Innova once again!