High-performance packaging for Caiba bottles with Innova's automatic Stretch Wrapper
PET bottle company Caiba realized that they needed to automate their end-of-line packaging to gain efficiency and improve their production. In order to answer their challenge, Innova proposed an Automatic Stretch Wrapper system that responded to very specific needs for the final packaging of Caiba's PET bottles.
Caiba is a leading PET preform, bottle and container manufacturer for food, household, and personal care products. Innova's final packaging project was carried out at its 23,000 m2 plant in Ribarroja (Valencia), which is equipped with the most advanced technology in the sector to produce 110 million PET containers and 850 million preforms per year. The project by Innova answered Caiba's objectives to achieve greater technological innovation for high-quality production.
1. Caiba's challenge: total automation of their packaging line
At the time, Caiba was using a rotary arm stretch wrapper with low production and less features. Therefore, the main objective was to upgrade to an Automatic Ring Wrapping system for high production that allowed them to speed up their production and improve wrapping quality.
In addition, they were looking for a automatic packaging system that provided more stability during their pallet wrapping, due to the lightness of their PET containers load.
To meet these requirements, Innova proposed out automatic ring wrapping system with pallet securing and support accessories. Thus, Innova's pallet Stretch Wrapper provides them greater efficiency and speed in packaging, a better wrapping result, with the help of a top press, and a greater hold of their product with the reinforcement roping device.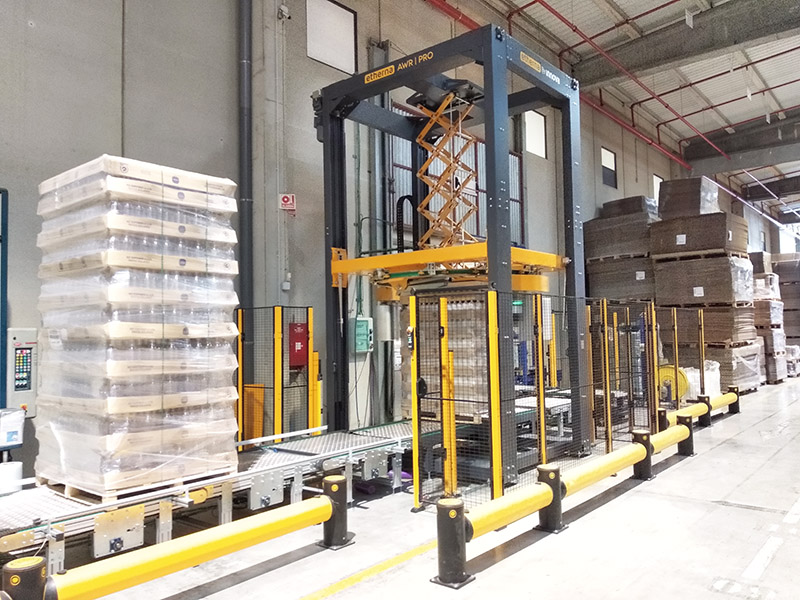 2. Innova's solution: efficiency and improved finish
The packaging line installed at Caiba consisted of:
Automatic Ring Wrapping System ETHERNA AWR | Pro:
The automatic pallet Stretch Wrapper installed at Caiba included a High-performance kit consisting of a double reel film cart to meet the higher speed requirements. It also featured a top press to hold the load while wrapping the pallet, to offer greater security in the process. Finally, the wrapping system also applies a reinforcement rope that ensures a greater hold and containment of the load for its transport and handling. The roping device system is one the most popular accessories of the automatic stretch wrapper, as it acts as a strap for pallets that cannot be strapped.
In summary, the high-performance stretch wrapper at Caiba included:
High production kit with a double film reel
Top press for wrapping hold of light loads
Reinforcement roping device
Automatic conveyor line:
The automatic packaging line was adapted to a conveyor line with infeed and outfeed plate conveyors adapted to their company's pallets.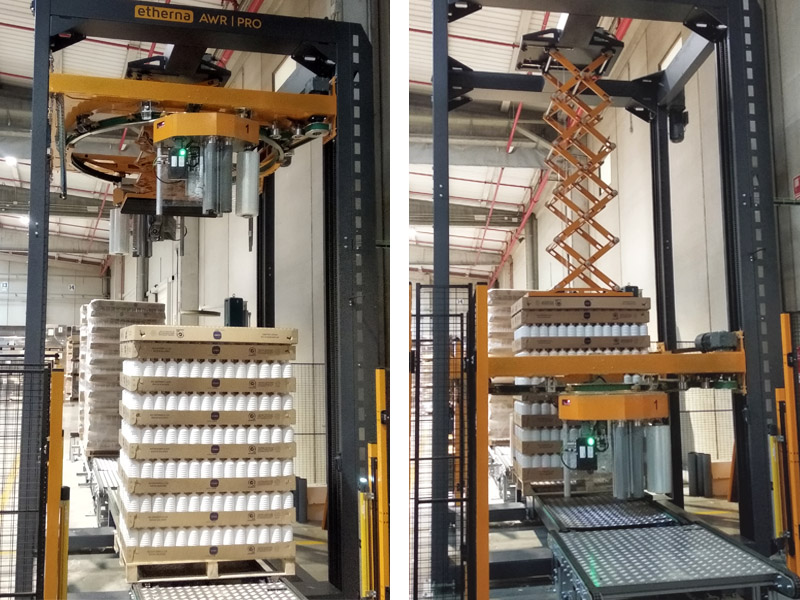 3. Results: Production improvement
The installation provided Caiba with a higher production capacity of 80 pallets/hour, and a better finish thanks to the high-speed ring system, which included also a position-controlled motor for enhanced corner wrapping.
In addition to offering lower film consumption, Innova's pallet stretch wrapper is designed and engineered to be more sustainable, with less energy consumption and lower maintenance costs. This is one of the objectives pursued by Caiba, through its sustainable Innovation project.
Caiba conveyed to us their compliments on their packaging automation project and the support service they received. For Innova, this project has been very satisfactory and enriching as it allowed us to adapt to the food and beverage industry's needs. It was a pleasure to work with Caiba, a leading company in the PET bottles and Containers industry.
Thanks Caiba for trusting Innova!