IQE Group obtains the best protection for chemicals with a special height Stretch Hood by Innova
Innova's new special Stretch Hood stands like a white cathedral at Grupo IQE's facilities in Zaragoza. The chemical benchmark company presented us with a challenge of protection for chemical and formats of great height, to which Innova gave an answer with a completely customized installation. Safety, protection, impermeability and sustainability were the determining factors of a reference project for Innova Group.
The new Stretch Hood packaging line has been installed and commissioned this summer at IQE's main plant in Zaragoza. With more than 50 years of history, Industrias Químicas del Ebro SA (IQE) is an European reference in the inorganic chemistry sector, specialized in aluminates, additives and silicates. From their plant in Zaragoza they offer national service and export to more than 50 countries.
IQE's challenge: safety and security for their special cargoes
IQE had a project to renew their entire end of line and it was clear to them that they needed a packaging system that would offer them greater protection and automation such as Stretch Hood. At the moment they had a stretch wrapping line with an automatic wrapper and they manually applied a top bag to protect the load from external agents. So the packaging process with this semi-automated system was costly in time and resources.
IQE also required a system that would adapt to its high loads, with 2500 mm height pallets, as well as offering total protection. Therefore, they were looking for a supplier specialized in Stretch Hood and chemical protection that could offer a project tailored to their needs, both in terms of product format and protection.
The project: Custom-made Stretch Hooder for IQE
At Innova we designed a special Stretch Hood system that adapts to their requirements: high wrapping height, protection during the packaging process and corporate colors of their machinery.
Thus, IQE's packaging project consisted of:
Stretch Hood SH Pro1-S2 Special Height
The special Stretch Hood installed on IQE is designed to wrap pallets of bags and FIBCs up to 2550 mm high. It also has a protective structure composed of side and top panels, to avoid air currents during stretch hooding and to obtain maximum protection of all electronic and mechanical components. In this way the hooding process is not affected by air or ambient dust and ensures better maintenance and less wear and tear of the machinery. The design of this special Stretch Hood has been made with the objective of safety and protection against external agents, hence the 8-meter height of the machine and the corporate white color finish.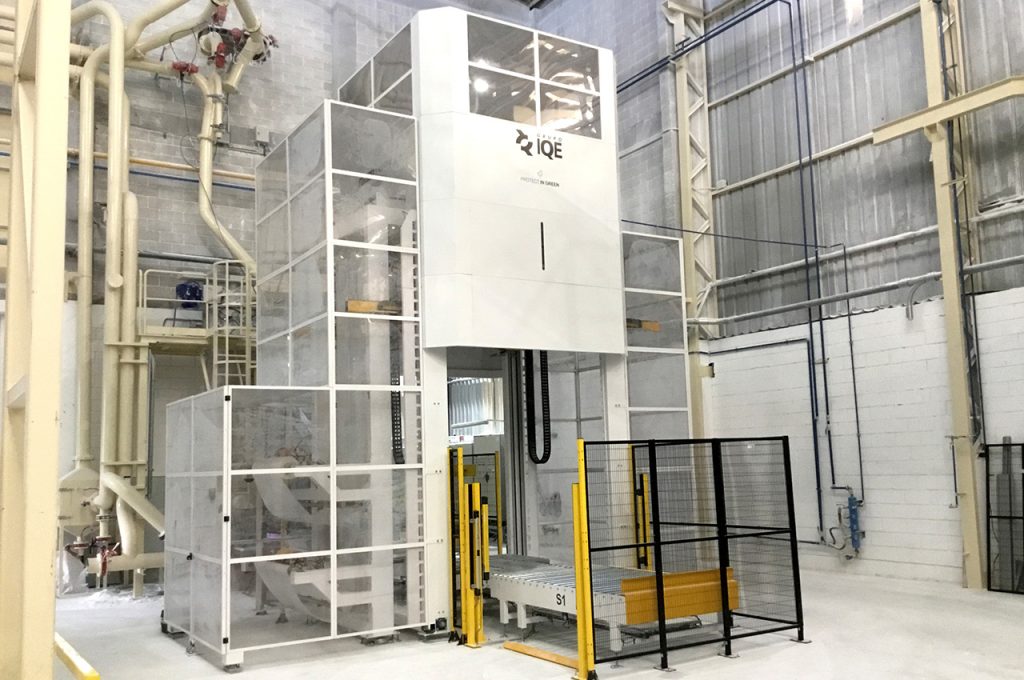 Pallet conveyor line:
The packaging station is linked to the existing palletizing line through a conveyor line consisting of 5 roller conveyors and a rotating platform for connection from one bay to another. It also includes a pallet centering device prior to stretch hooding and pallet accumulation conveyors at the exit.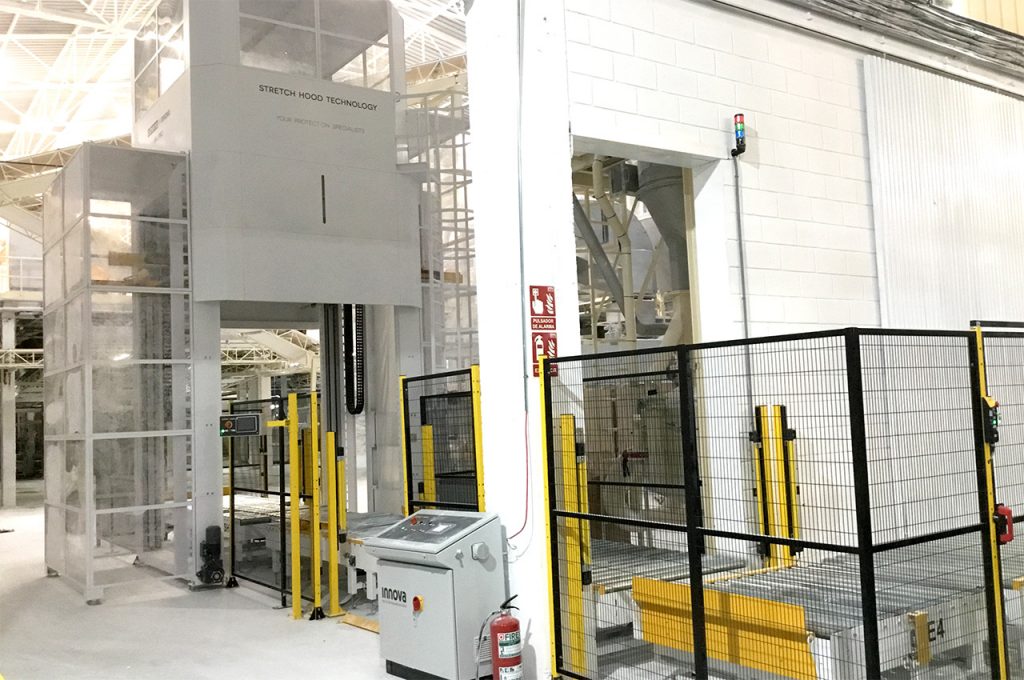 Results: Protection, efficiency and sustainability
With the new installation, IQE has obtained a more efficient and autonomous packaging process, but also a better protected and packaged product ready to travel thousands of kilometers. In addition to the direct benefits, the chemical group also contributes to reduce CO2 emissions and to decrease the plastic film used in the packaging of its pallets. Precisely the goal of energy efficiency and sustainability provided by the Stretch Hood system is one of the company's Corporate Responsible Development lines of work.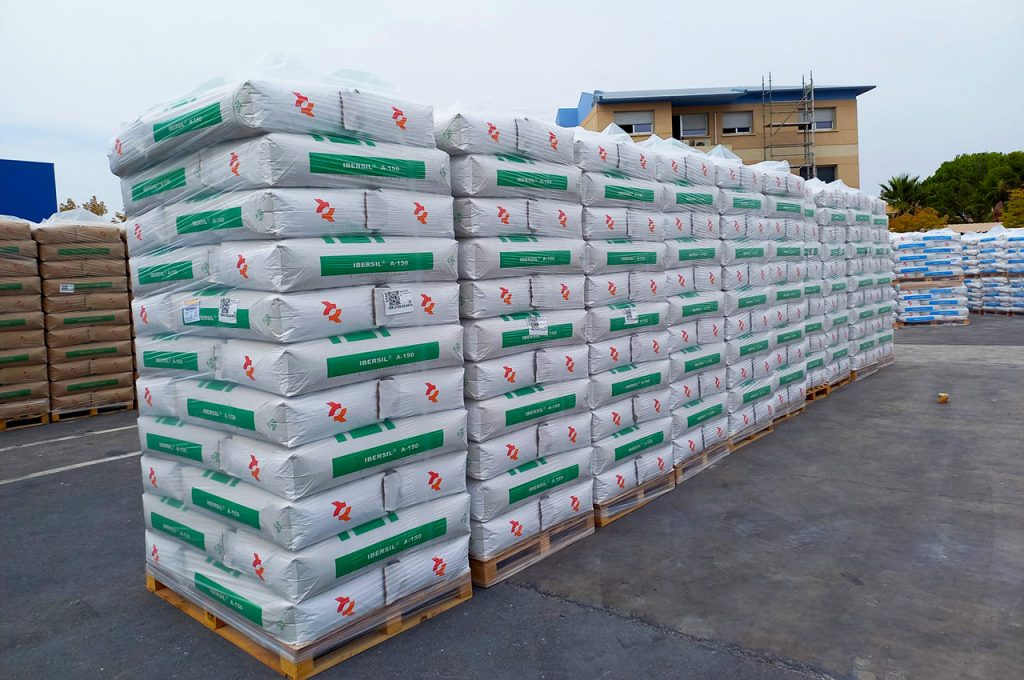 IQE Group has transmitted us their confidence in Innova as a packaging supplier for this specialized project and their satisfaction with the results obtained in protection and safety of the installation. Innova is proud to work with a group of chemical reference as IQE, carrying out a great installation as the one made in Zaragoza.
Thank you IQE for trusting Innova Group!
#WeAreYourPartner
#WeAreInnova