The Stretch Hood packaging system, more than a protection solution for the Mexican chemical sector
Mexico's Chemical Industry is facing the need to improve its logistics and distribution in order to respond to the challenges of international trade. Many Mexican Chemical companies are already working on improving their cargo logistics, adopting packaging solutions that provide them with greater safety and protection of their product. In this context, the Stretch Hood packaging system is presented in Mexico as an innovative solution to protect the pallets and meet these logistics challenges of the sector. Proof of this are the projects carried out by Innova in the country with leading Chemical Corporations such as Resirene Mexico (Grupo Kuo) and other leading companies of frits and glazes sector.

Why Stretch Hood for Chemicals?
Stretch Hood is an innovative pallet wrapping system designed for the protection of chemical loads. Unlike other solutions, it wraps with a tubular film that adapts to the dimensions of the load, providing several key advantages:
1. Total protection of the product:
Stretch Hood film provides total waterproof protection from external agents such as moisture, dust and even sun and rain. This makes it the preferred system for many chemical companies around the world, as it provides greater coverage and protection than similar solutions such as  the wrapping system.
2. Savings in packaging costs:
In addition to offering protection, the cold sleeve system provides further savings in packaging costs as it only uses one layer of stretch film, avoiding additional wrapping or cover applications to protect the load. The company using Stretch Hood achieves savings of up to 50% on consumables.

3. Installation safety
Another great advantage for the Mexican chemical industry is the safety of the Stretch Hood machine itself, which is crucial in such a sensitive environment as the chemical one. Stretch Hood does not need gas installations to carry out the wrapping, since the film is stretchable and adapts to the load.

4. Automation and connectivity
One of the challenges of the Mexican chemical industry is the complete automation of their end of line systems that provide them with greater control and speed of their production. In this sense Innova proposes a Stretch Hood packaging line fully integrated into their existing end of line and connected to their CEDIS (Distribution Center).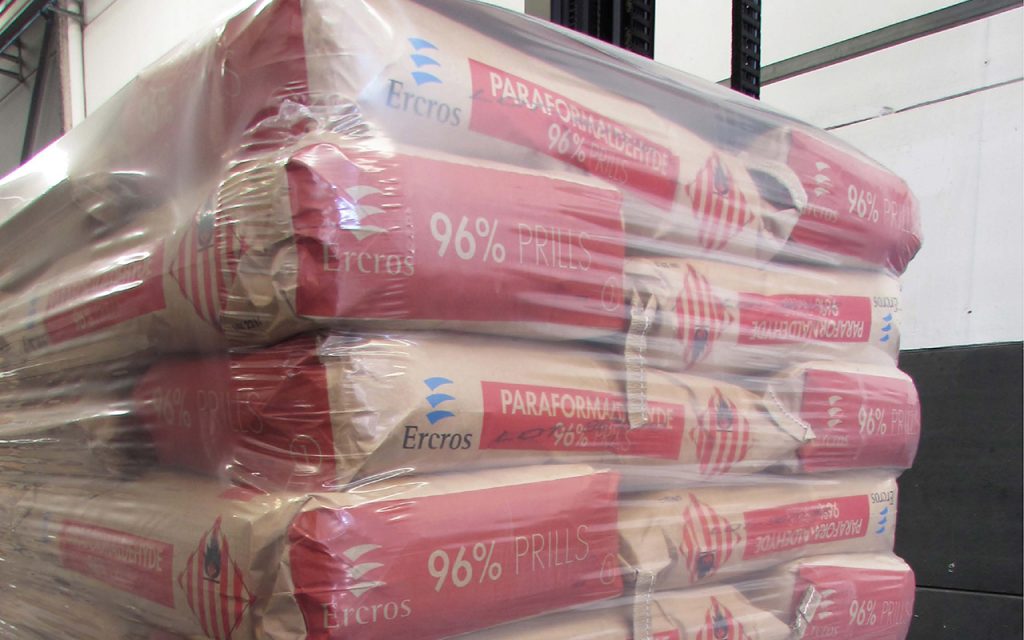 5. Contribution to the planet: The most sustainable solution
Last but not least, Stretch Hood represents a shift towards a more sustainable packaging, a key factor in the chemical industry's approach. It reduces CO2 emissions and also plastic consumption, avoiding waste and residues. The Stretch Hood machine itself manufactured by Innova also uses low energy consumption, being one of the most sustainable solutions to protect pallets worldwide.
Stretch Hood protection for chemical companies in Mexico
Proof of the benefits that Stretch Hood brings to the chemical industry are Innova's projects with two large chemical companies in Mexico.

The company Resirene relies on Innova since 2016 with a Stretch Hood packaging line at its plant in Puebla to protect their products of polystyrene, copolymers and compounds. In fact, the installation was a pioneering project in the country with this packaging technology and since then it has improved the protection and safety of their product.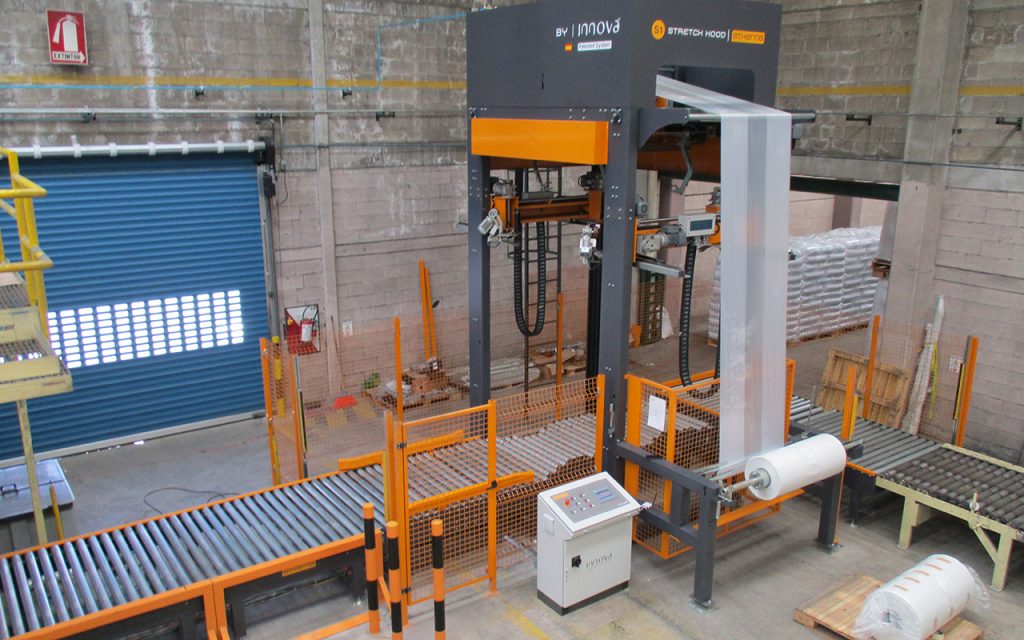 On the other hand, an US Chemical multinational specialized in frits and glazes, has also opted for the protection of Stretch Hood by Innova with a new installation in Mexico.
Innova's Stretch Hood is also acclaimed by several chemical companies in Spain, such as Ercros (specialized in chlorine derivatives, intermediate chemistry and pharmacy) or Esmalglass-Ítaca (frits, glazes and ceramic colorants), among others.
Innova Mexico: Spanish technology, 100% Mexican service
From its branch in Querétaro, Innova offers its customers in Mexico a fully localized and customized technical support service. Our specialized support team works continuously, closely and professionally with our Mexican customers thanks to a Preventive Maintenance Plan.

From our Mexican office we also offer Technical and Commercial Advice on final packaging projects for various sectors and needs. Our team carries out studies and feasibility analysis of Stretch Hood technology according to your company's needs. Contact us without obligation, we will be happy to help you.
#WeAreYourPartner
#WeAreInnovaMexico