Nova Porcelanato Selects Innova for its New State-of-the-Art Packaging Line in Brazil
Nova Porcelanato, a major ceramic company based in Brazil, has decided to modernize and automate its ceramic end-of-line process by utilizing the technology provided by Innova Group. To ensure the safety of their ceramic loads, Innova proposed a complete packaging line equipped with advanced securing and protection systems.
The new packaging line was inaugurated in late 2022 at Nova Porcelanato's factory in Santa Gertrudes, São Paulo, one of the largest ceramic hubs in Brazil and South America. The plant covers 288,000 square meters and has modernized, automated industrial facilities equipped with the latest technology and Industry 4.0 capabilities. It can produce up to 1,300,000 square meters of tiles per month. With this new installation, Innova's packaging line also contributes to the modernization project by providing advanced packaging technology for pallet protection.
The project and installation by Innova Group at Nova Porcelanato were carried out in collaboration with our technological partner in Brazil, Servitech, responsible for offering support and spare parts services to all our customers in the Brazilian market.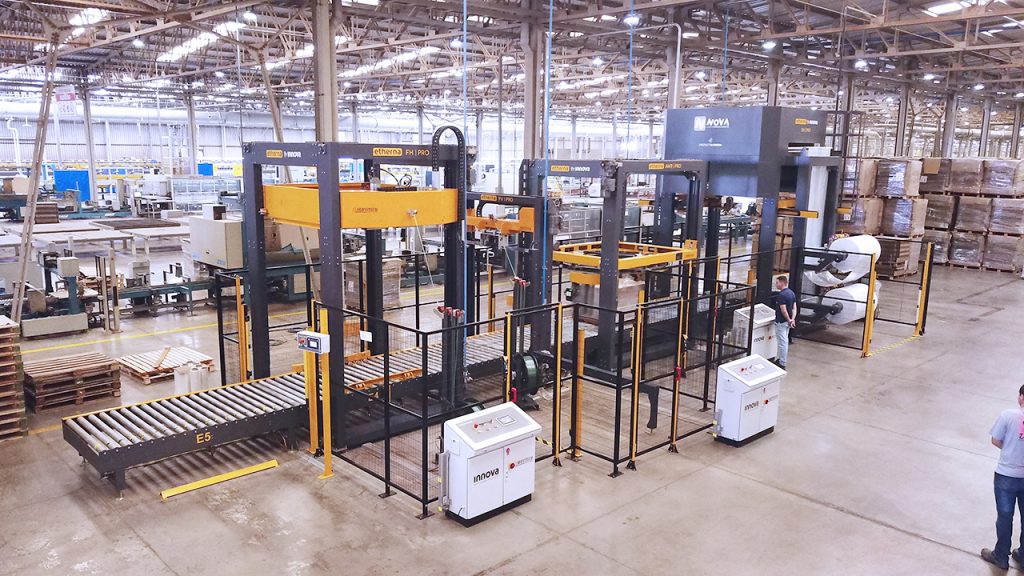 Nova Porcelanato's Automation Project
Nova Porcelanato approached us with the need to fully automate its final packaging process while complying with safety regulations such as NR12. They were using semi-automatic wrapping systems to protect their loads and manually applied metal securing systems, but they required automated packaging solutions that could offer greater protection.
The packaging line installed at Nova Porcelanato was designed with the complete protection of the tiles from their Damme and Helena brands in mind. Therefore, the combination of an automatic wrapper, pallet strapping systems for enhanced securing, and Stretch Hood wrapping for total load protection was chosen. The combination of these three systems (strapping, wrapping, and Stretch Hood) is a common formula in Innova Group's ceramic packaging lines, present in ceramic production centers in Spain and Mexico.
Nova Porcelanato's Packaging Line
The end-of-line system installed at Nova Porcelanato includes the following systems: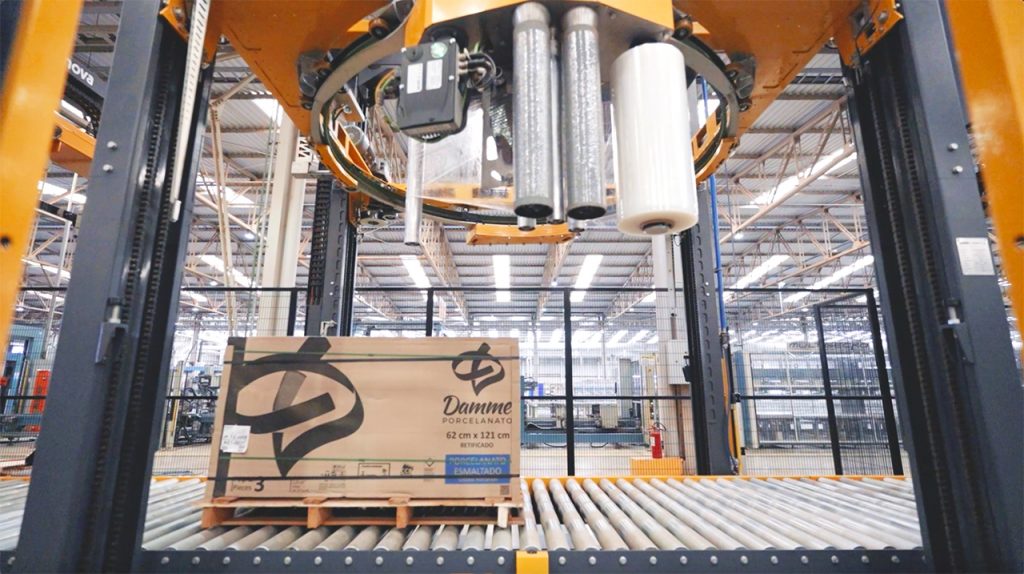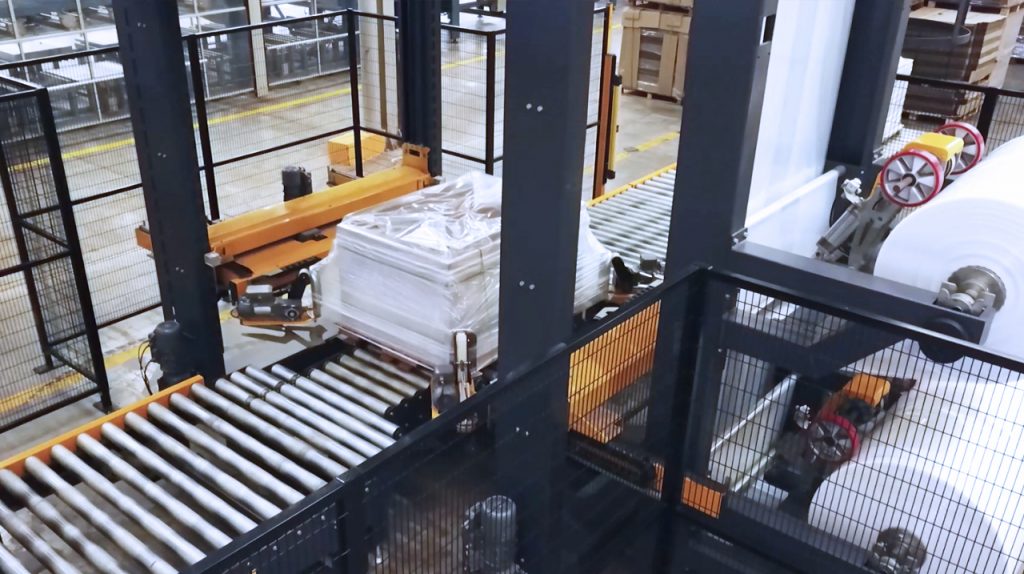 Results and Future for Nova Porcelanato
The automation project not only met Nova Porcelanato's modernization and safety requirements but also significantly improved the safety of its ceramic products during transport and storage. With these technological advances, Nova Porcelanato is well-positioned to meet the future demands of the ceramic industry and continue offering high-quality products to its customers.
In collaboration with Innova Group and its technological partner in Brazil, Servitech, Nova Porcelanato has taken a step forward in its commitment to maintaining a leading position in the ceramic industry, demonstrating a strong commitment to quality and efficiency in its final packaging process. They have shown their satisfaction and trust in this project and future line update projects.
For Innova Group, "Collaborating with a top-notch ceramic company like Nova Porcelanato and fulfilling their packaging needs is a great opportunity for us to showcase our skills and expertise. We are committed to meeting their requirements and delivering the best possible results."
Thank you, Nova Porcelanato, and we look forward to working together again in the future!