STRETCH WRAPPERS GUIDE: What type of pallet stretch wrapper do I need?
The pallet wrapping system is one of the most popular systems available, but there is a wide range of pallet wrappers on the market, with very different features, brands and objectives. As experts in packaging systems, in today's article we present a guide with several points to choose the pallet wrapper that best suits your production and packaging objectives.
First: Do I need an automatic or semi-automatic stretch wrapper?
This is the turning point when choosing a type of industrial wrapping machine as their performance and objectives are very different:
LOW PRODUCTION:
For low production (max 20-30 pallets/hour) and a non-automated end-of-line, the semi-automatic pallet stretch wrappers are ideal. There is a wide range of models and versions with very different features, but the most common one is the pallet stretch wrapper with turntable, usually versatile but robust, as it allows wrapping both light and heavy pallets.
MEDIUM-HIGH PRODUCTION:
If the company needs to wrap more than 30-40 pallets/hour, we recommend using automatic stretch wrappers, even if there is no automated end of line as such. This is often the case for companies that have grown in their final production and generate bottlenecks in their automatic wrapping process. For this purpose, there are automatic pallet wrapping machines with rotating arm or with wrapping ring that can wrap 100 pallets or more per hour.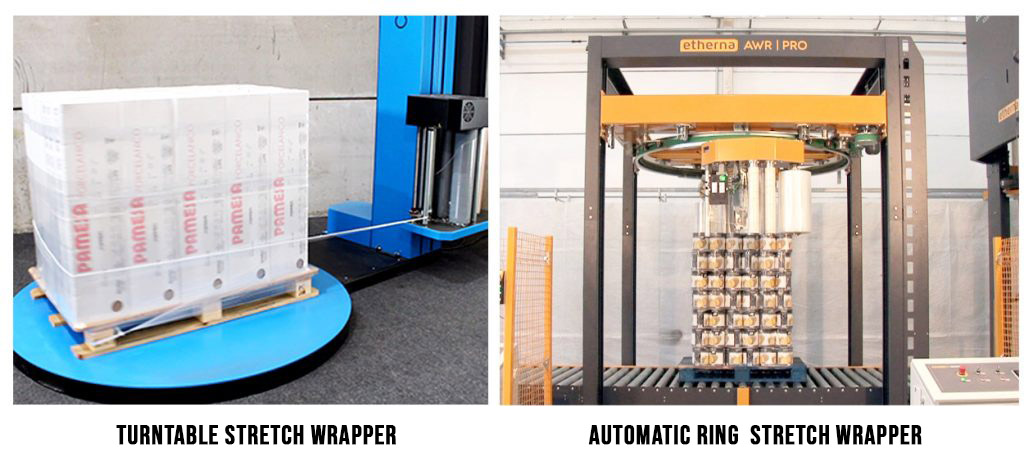 When to consider switching from semi-automatic packaging to an automated stretch wrapping line?
The answer is usually not simple: Even if a company has a low-medium production, if it has problems with its pallet packaging, it should consider automating it. Some of these problems can be logistical and affect delays, or occupational hazards in personnel or transport damage caused by incorrectly applied packaging.
In the following article we address the most common problems with manual or semi-automated packaging and the keys to automation:
Why automate the end-of-line packaging? Solving the problems of manual end-of-line processes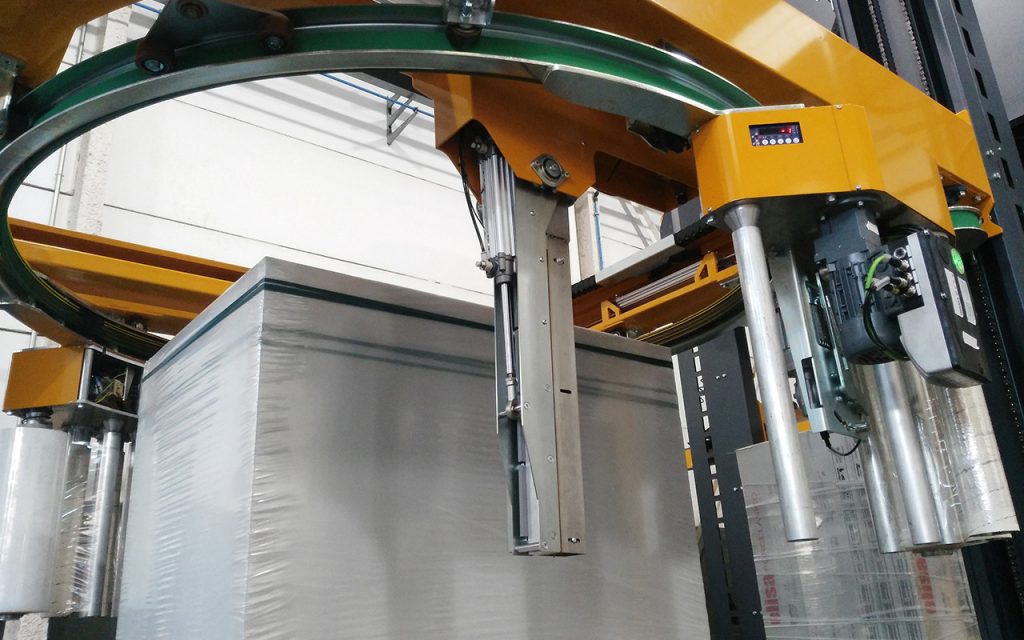 Second: Pallet wrapper prices, what budget do I have?
From the cost of wrapping a pallet manually, at the price of the operator's hourly rate and the film used, through the use of a semi-automatic pallet wrapping machine controlled by an operator, to the installation of an automatic wrapping line. The range of prices varies a lot from one system to another, but it is also necessary to see what use is going to be made of the wrapping machine. We could set some price ranges according to the type of stretch wrapper:
Timely rental:
Semi-automatic industrial wrappers can be rented or leased for peak pallet wrapping work. At Innova Group, for example, we offer a rental and financing service for this type of semi-automatic turntable wrapping machines for pallets.
Low-medium budget:
The price of a semi-automatic pallet wrapper can vary greatly depending on quality, origin, performance, accessories, etc. You can find pallet wrappers on the market from 4.000 USD to 20.000 USD, a very wide range. Often a cheap industrial pallet wrapper is expensive if it needs a lot of maintenance. And vice versa, with a higher-priced industrial wrapping machine it is also necessary to take into account that all the features included are needed for our production.
Some of the most common extra features of semi-automatic wrappers:
Reinforcement roping device (for extra hold)
Pre-stretch system (for film economy)
Pallet access ramps
Pallet weighing system, etc.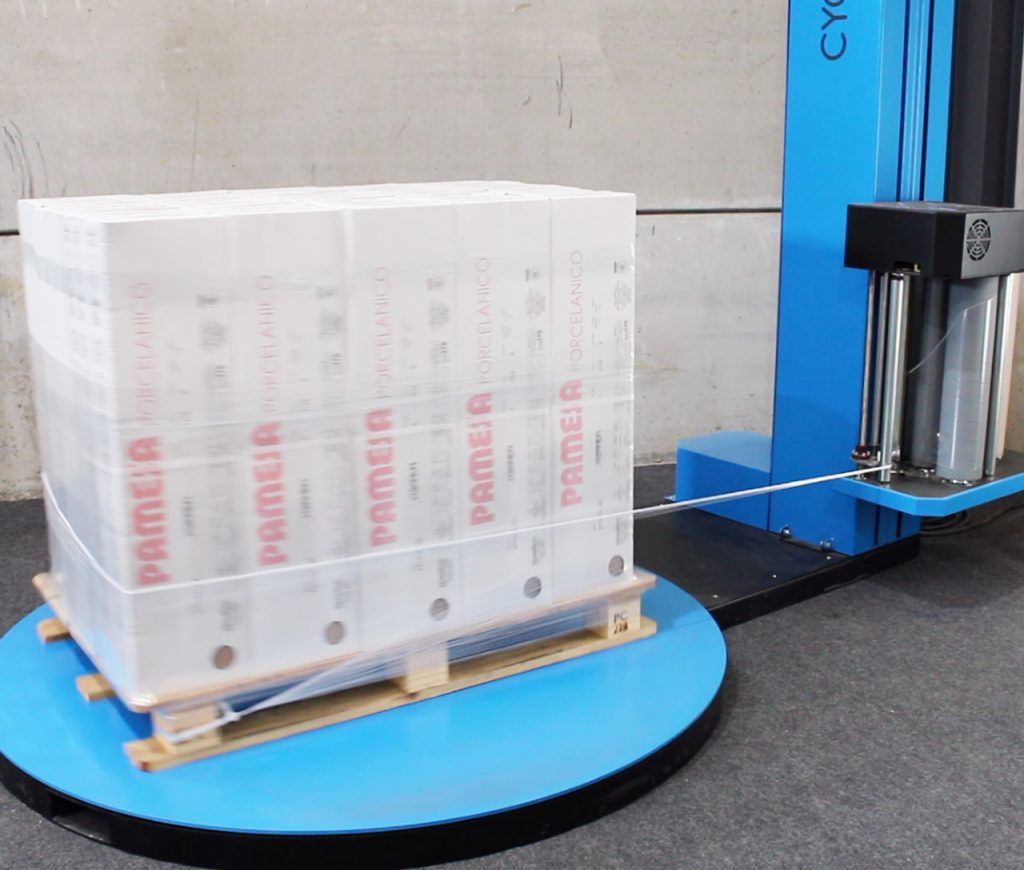 Medium-high budget:
Within the automatic wrapping machines there is also a wide range depending on the characteristics of the installation and the production objectives. For low to medium productions, the automatic rotating table or rotating arm wrappers have a lower cost than high production wrappers such as the ring wrappers. Even so, in the section of automatic pallet wrapping machines, the difference between them is not usually very big, since apart from the performance of each one, they all require an automated installation, i.e.: installation and connection to the factory conveyor line, pallet conveying vehicles, connectivity to the company's PLC, etc.
Third: Which objectives am I looking for in industrial packaging?
Once the production needs and budget available for the investment in a pallet wrapping machine have been defined, it is necessary to look at the objectives sought in the packaging. The choice of one type of pallet wrapping machine or another depends on this:
Maximum fastening objective:
When the packaging requirements are to get the best securing, it is advisable to look for industrial stretch wrappers with pre-stretch system, adjustable tension and also reinforcement cord at different heights for maximum stability. Automatic stretch wrappers can save much more on film because they have control devices to optimize film usage and adjust the wrapping cycle for maximum hold.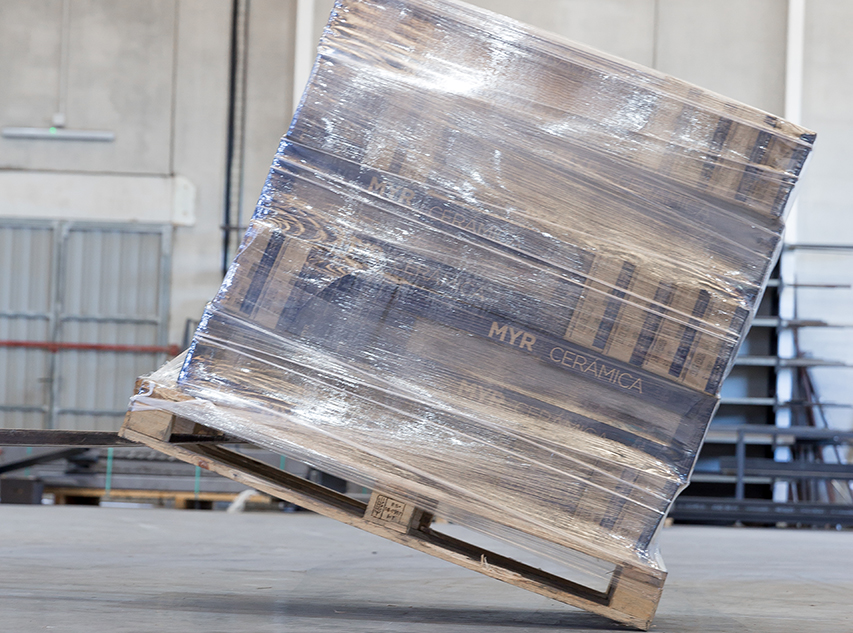 Differences between using pre-stretched film and stretch film for securing the load:
The pre-stretched film fulfills its function of holding the load, but it does not have as much elasticity as the stretch film. With the passage of time, pre-stretched film may lose grip and elasticity because the stretching process has not been carried out in a way that adapts to the load.

With Stretch film, the stretch wrapping system is in charge of stretching the plastic with the prestretch system in such a way that the film adapts to the shape of the load and holds it in place. Therefore, we recommend using automatic stretch wrappers with pre-stretch system to optimize the use of film and improve the stability of the palletized goods. For example, Innova Group's Cyclone pallet stretch wrapper can stretch the film up to 400% with its stretching system.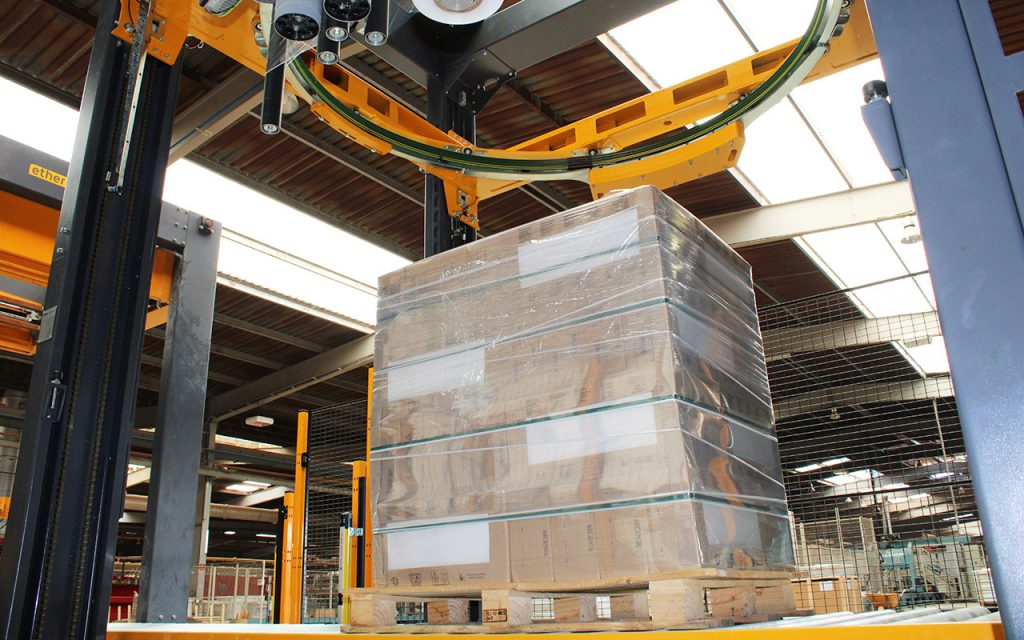 Protection objective:
For maximum protection against external agents, a pallet wrapper with cover application is recommended to protect the top of the load. This system is usually found in Automatic Stretch Wrappers, either incorporated in the structure itself (as in the case of ring stretch wrappers) or with an additional complement to apply the cover automatically (in the case of automatic arm or turntable stretch wrappers).

The wrapping cycle itself also provides almost airtight protection on the sides with automatic wrapping programs that reinforce the wrapping from the base of the pallet to the top of the load.
Fourth: Do I need a pallet wrapper?
In the fourth and final point, we address another issue that many customers are considering when investing in automated packaging. For greater load protection, many companies that have palletized product in bags or bulk bags are choosing the Stretch Hood option. This is the case for the Chemical, Building Materials and Cement industries.  The main motivation is to obtain a higher quality packaging that offers impermeability and total protection for a product that cannot be damaged by external agents. In addition, Stretch Hood also saves on film consumables by using less film than a pallet stretch wrapper.
It is also the case of ceramic companies with large production that require greater tightness and better product presentation than the one offered by the industrial pallet wrapping machine. In this case, the ceramic end of line usually combines securing systems such as strapping with Stretch Hood wrapping protection.
We recently carried out a comparison of the Stretch Hood Wrapper vs. Stretch Hood System in which we analyzed all the factors in which one system or the other would be preferable:
Comparative between packaging systems: Stretch Hood vs. Stretch Wrap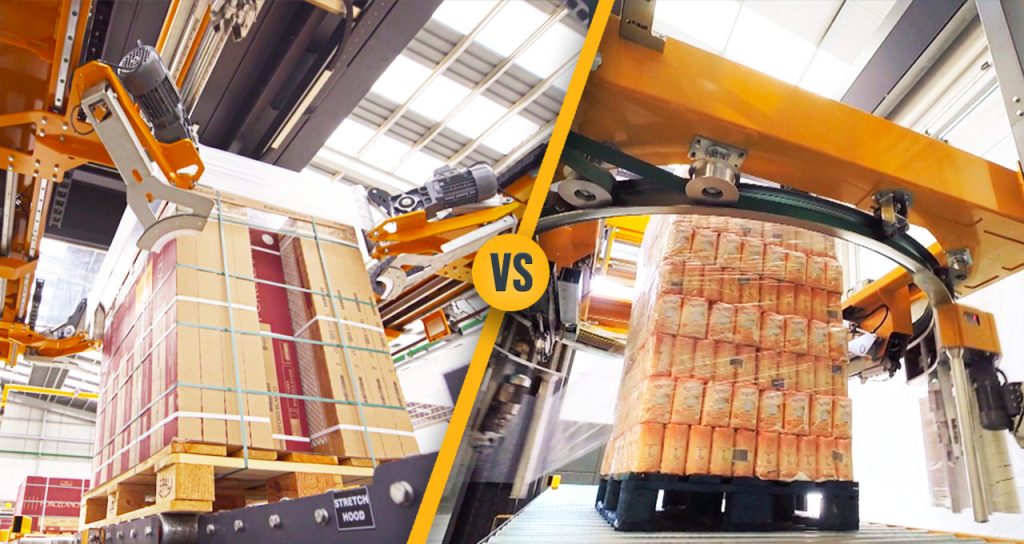 In short, there are many essential factors when choosing one packaging system over another. Although budget often rules, it is important to take into account the objectives of product securing but also to solve current packaging problems or avoid future ones.
Our team of packaging specialists can advise you on which system is most suitable for your company, as well as carry out a study of film and consumption savings without commitment.