Efficient Packaging Technical Support with Smart Warehousing
In a demanding and fast-moving international logistics industry, packaging line efficiency and productivity are essential to maintain a competitive edge for many companies. Regular maintenance has become essential for companies to avoid costly downtime and disruptions. Preventive measures and spare parts service can save time, money, and resources while ensuring smooth operations.
In this context, Smart Management of the spare parts warehouse has become necessary for service providers and packaging system manufacturers such as Innova Group. In this article, we will cover the basics of a Smart Spare Parts system based on our experience in Technical and Maintenance Services for end-of-line packaging systems.
Smart Spare Parts Warehousing, a key to the Technical Service of packaging systems
One of the key points in any Technical service is the availability of spare parts, as they are crucial to the operation of a packaging line. Therefore, intelligent spare parts warehouses represent an evolution of traditional inventory management by incorporating advanced technologies such as automation and AI.
A Smart Warehouse is defined as a system that employs technologies such as IoT, RFID tags, and automated tracking to optimize availability and access to critical spare parts. This enables real-time control of inventory, location, and status of spare parts.
Automation records every spare parts movement, minimizing human error and ensuring availability when required. In addition, it integrates with maintenance and ERP systems, generating an efficient workflow and greater visibility of the spare parts needed for a packaging line.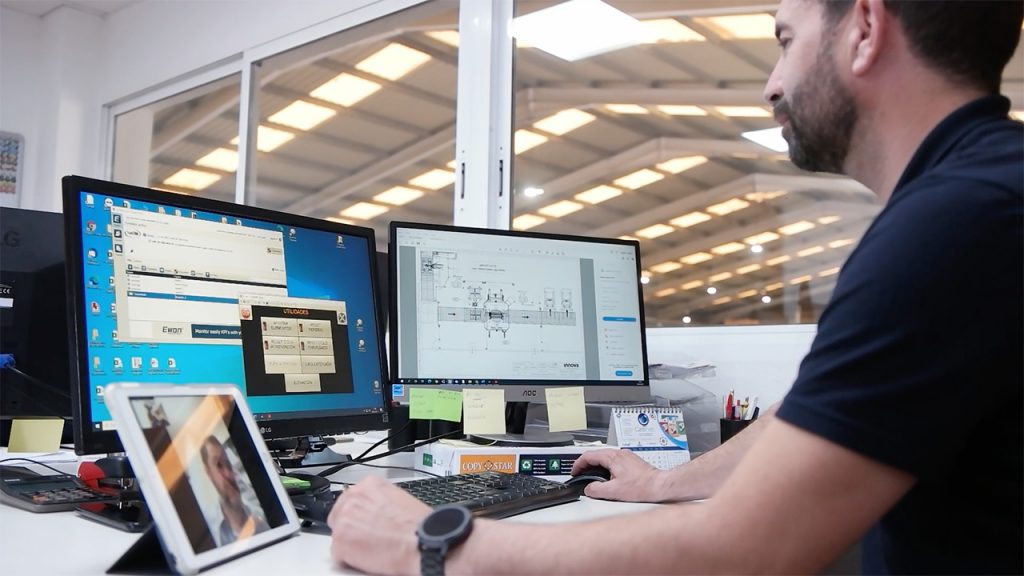 Innova Group's example: How our Smart Warehouse improves Technical Service
At Innova we have been implementing Smart Warehouse systems for the management of spare parts for several years, providing support to various areas of production and technical service of machinery.
Manufacturing and Assembly of packaging machinery: The first stage of stocking materials in a packaging line project starts in our intelligent warehouse which shows the available stock of the parts required in the project and/or the need to order them.
Scheduled maintenance: In the case of programmed maintenance of packaging systems, a collection is also carried out through the Smart Warehouse first or it is taken as a reference to order the necessary parts.
Technical support service: In the repair service, having a smart warehouse is essential to avoid downtime in the packaging line and improve the speed of resolution of incidents. Innova's technical service operators can access the intelligent warehouse directly 24 hours a day to collect the required parts. The stock is then automatically updated in the ERP management and smart warehouse, which reports the availability of the inventory and the need to replenish it. The inventory is checked almost daily by the warehouse quality technicians to restock the parts that the intelligent system indicates are needed, according to the preset minimum stock.
The Smart Warehouse occupies a key position for several technical departments of Innova, being the backbone in the stocking of parts for production, technical offices, after-sales, etc.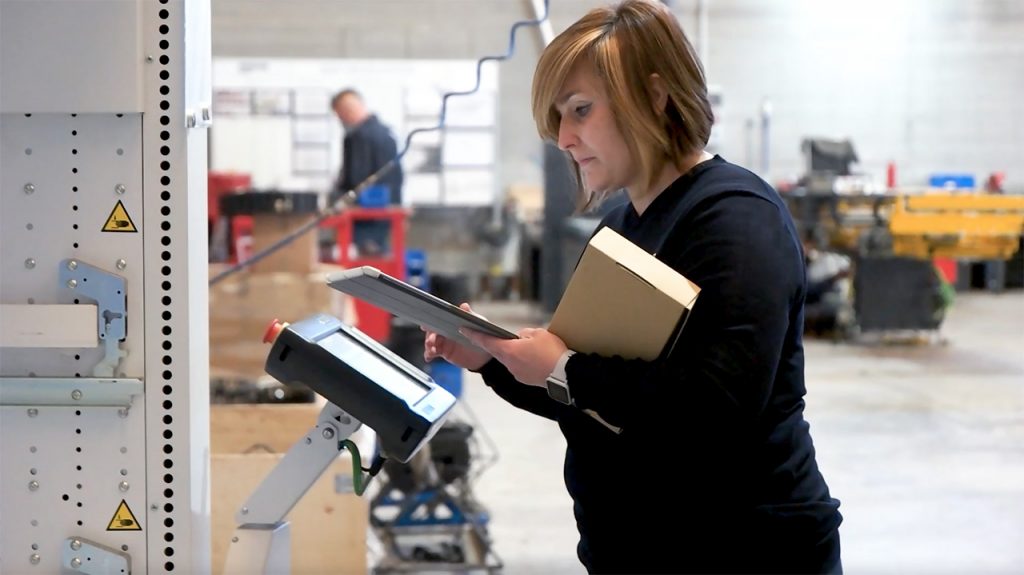 Results: Elimination of failures and improvement of customer service
The implementation of the Smart Warehouse for Innova's technical service and after-sales services has brought us several improvements, resulting in the advantages of providing a better service to our customers:
Detailed inventory control: Thanks to the synchronization between our ERP and the warehouse, there are no stock failures.
Elimination of "stock-outs": There is no human error as the warehouse always indicates the exact inventory.
Immediate location of parts: Thanks to intelligent labeling, the spare part has an exact location on a tray in our intelligent vertical warehouse.
Tracking of warehouse users: With the connection in the ERP, control of the warehouse users is obtained, to identify who has extracted the part and for which service and/or packaging project.
Immediate service of spare parts: With all that inventory control, there are no delays in providing spare parts, a benefit that translates directly into an improvement in our technical service.
In short, all these advances in inventory control have resulted in a faster and more efficient technical service that is better valued by our customers.
In summary, in the era of efficient production, Smart Warehouses have emerged as an innovative solution to the management and maintenance challenges of packaging lines. These systems are revolutionizing the availability of spare parts and the predictive approach to maintenance, and are already a must for machine manufacturers' technical and service departments. Do not hesitate to ask our technical team about the operation of this service and our intelligent maintenance plans, we will be happy to assist you.