How to optimize load securing with Stretch Hood Wrapping
Poor securing and stability of the pallet is the cause of most product losses and accidents during the transport of goods. Did you know that 25% of road accidents in are caused by load stability problems?  Obstructing loads are responsible for 200,000 accidents in the US each year, according to the US FMCSA (Federal Motor Carrier Safety Administration). How can we solve this problem and optimize the securing of our loads? In today's article we analyze which packaging components and systems affect stability, and in particular how the Stretch Hood packaging system contributes to solving this issue.
How do secondary and tertiary packaging influence pallet securing?
While it is evident that the packaging is 100% responsible for securing the load, in reality, it depends on a multitude of factors that range from its primary packaging (container), and secondary packaging (boxing, bagging, strapping, etc.), to tertiary packaging (wrapping or stretch hooding.). Thus, we find that stability accidents are commonly caused by:
Poor palletizing or stacking on the pallet
Incorrect use of secondary packaging such as adhesive tape, strapping, etc.
Incorrect application of tertiary packaging (due to manual packaging or incorrect configuration of the automatic wrapping system).
Therefore, the stability problem is not only solved at the last stage of packaging (wrapping or stretch hooding) but all other aspects are involved: from the moment the load is prepared on the pallet to its final wrapping.
Influence of the packaging type on stability
Most of the factors affecting stability come before final packaging. According to Danish film producer Trioworld, only 30% of stability depends on the final packaging or hooding, while 70% is due to factors related to primary packaging, secondary packaging, or palletizing itself.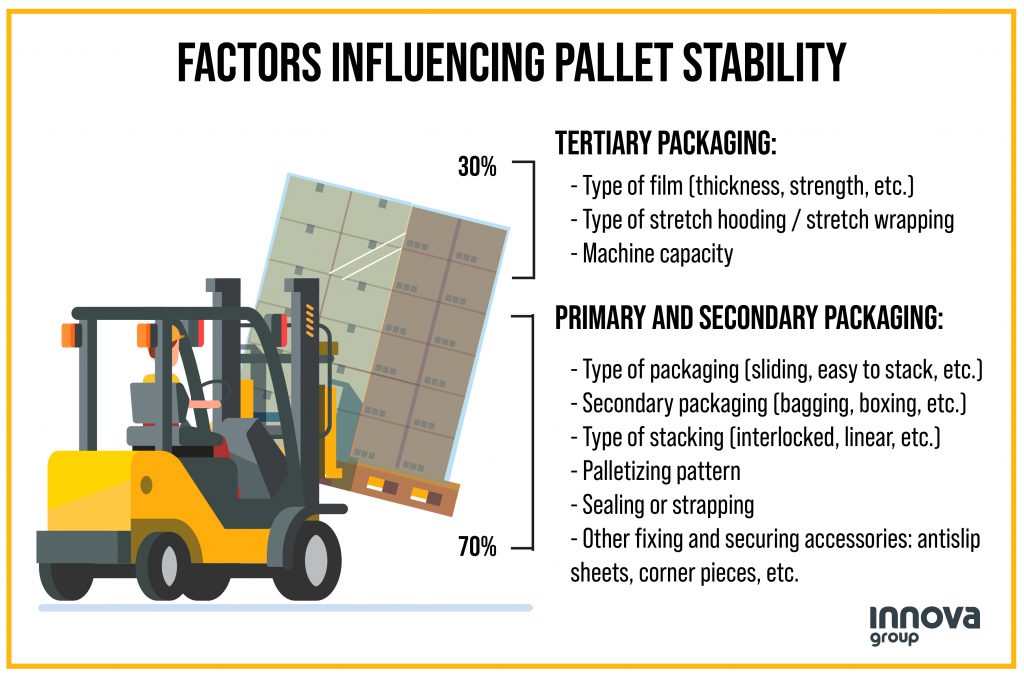 This infographic invites us to consider that load securing has to be planned as a whole, considering all the load-securing systems.
At Innova, from our Innova LAB testing laboratory, we can study and test what types of packaging and reinforcement systems the load needs to obtain maximum securing. Not everything is solved with the best pallet stretch wrapping or a Stretch Hood, but there are many security and fastening complements recommended according to the type of product and its palletization.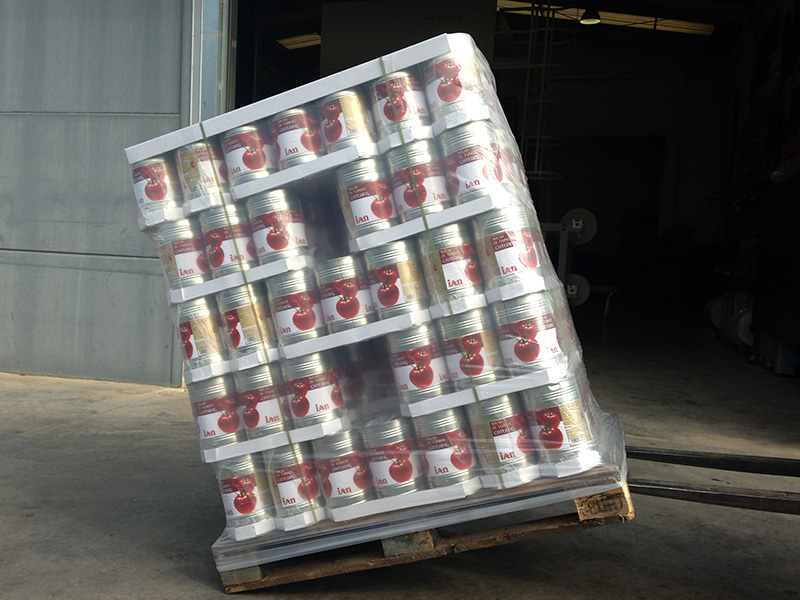 How can Stretch Hood solve stability problems?
The stretch wrapper system has traditionally always been seen as the preferred system for stability, as pallet stretch wrapping provides a lateral restraint that envelops the load. The pallet stretch wrapper could use thicker stretch films and higher tension stretch wrapping applications, in addition to the application of the roping device.
However, the Stretch Hood system is emerging as an increasingly popular alternative to the stretch wrapping machine. This system offers the same gripping properties, with better protection against external agents while saving a considerable amount of film.
In terms of stability, Stretch hooders use specialized Stretch Hood films with different grammage, stretchability, elasticity, and tear strength properties to provide superior load securing. In addition, unlike the pallet stretch wrapper, Stretch Hood securing occurs with a combination of vertical and horizontal forces, so that the product is not only secured laterally but also vertically, with the hood applied from the top to the bottom of the pallet. The Stretch Hood packaging system uses a tubular film with a circumference smaller than the load shape so that the film stretches and retracts to fit and hold the goods.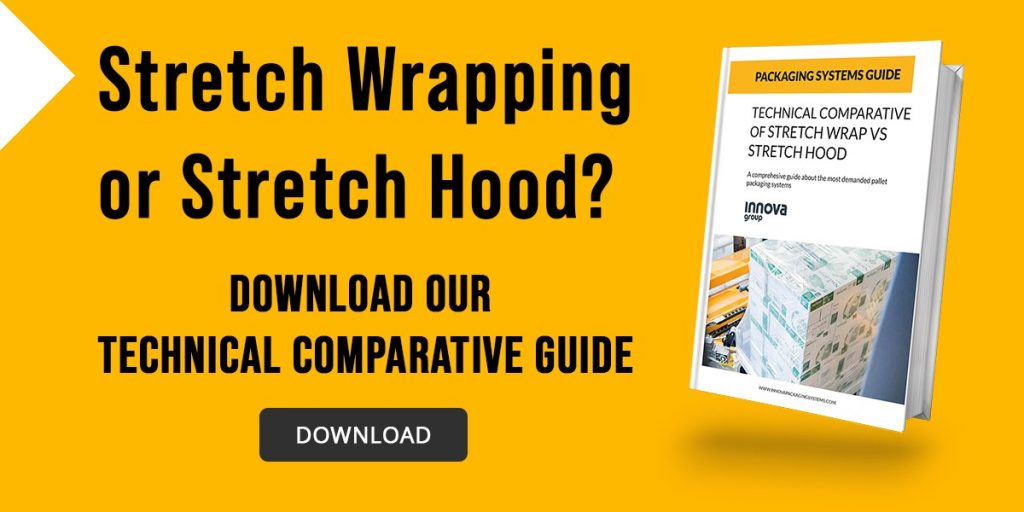 How does Stretch Hood contribute in cases of products with poor stability?
In the case of warehouse goods, picking shipments, or similar, there are often loads with insufficient stability in which the primary and secondary packaging does not provide support in itself. These are very diverse, non-uniform, and sometimes protruding loads, where not even full support and protection can be achieved with the stretch wrapping system. In this particular case, Stretch Hood applies a hood that covers the entire shape of the cargo and provides lateral support and attachment to the base of the pallet.
In cases of light and unstable loads, such as in the packaging industry with empty plastic bottles, empty drums, etc., Stretch Hood also presents itself as an ideal solution as it uses specialized films for containment and ultra-securing. In addition, Innova's Stretch Hood system can perform different stretch hooding programs to reinforce the base of the load for greater stability.
In short, the securing of our loads requires the alignment of all packaging elements. Far from being a complex formula, it requires a definition of the packaging project carried out or consulted with packaging experts.
It is necessary to have good base support, with the necessary palletizing and complements, and an automated stretch hooding or stretch wrapping system that meets the desired support and protection requirements. At Innova, we have the experience of hundreds of end-of-line packaging projects and we put at your disposal our Innova Lab for testing the best possible securing. Do not hesitate to contact our team for more information with no commitment.