Most efficient packaging system combinations for your end of line
Which packaging systems are best suited to my product? How to obtain maximum support and protection in my logistics? How to ensure that the load does not shift during and after automatic packaging?  There are many questions that a customer may have when choosing the best automatic packaging system for his product and the configuration of his final line.
Each project requires an automatic packaging line tailored to their needs, but from our experience as consultants and manufacturers, there are combinations of systems that offer better results depending on the customer's objective and sector. In today's article we review the most standard packaging combinations according to product, secondary packaging and final packaging objectives.
Packaging according to unit load
As a first step, we usually define the packaging needs according to the unit load, i.e. its secondary packaging. In this case we refer to boxes, bags, bulk bags / FIBC or packaging units such as packs of bottles, cans or carafes, among others. Each type of product requires a different palletization and therefore different packaging systems.
In this article we will discuss three main types of cargo:
Product in boxes
Product in bags
Product in multi-packs (containers, packages, bottles, etc.)
Heavyweight boxes: the ceramic combination
The most common example of heavy boxes is ceramic, a very special product as it is both very fragile, expensive and unstable. Therefore, two main objectives are sought in this sector:
Maximum fastening and stability: to secure the boxes during transport and avoid displacement and loss of product.
Maximum protection of the load: which is usually stored outside in warehouses and needs an automatic waterproof packaging.
In order to obtain fastening and protection of ceramic boxes, we usually recommend:
COMBINATION A: Horizontal + Vertical Strapping + Stretch hooding
Horizontal and vertical strapping systems are designed to secure the load with different methods:
Horizontal strapping: Used to compact the load of boxes and unite it in a single block to avoid lateral displacements.

Vertical strapping: Used to join the load to the base of the pallet and give it extra stability.
Hooding systems (either Stretch Hood or Shrink Hood) provides extra support to the load and protection against external agents during transportation and outdoor storage. Although both systems have similar results, at Innova we recommend the use of Stretch Hood over Shrink, due to its advantages in terms of consumable savings and finish and transparency quality.

COMBINATION B: Horizontal Strapping + Wrapping + Stretch Hooding
For several years in Innova we have been using a variant of the first combination using the pallet wrapping machine instead of the vertical strapping. This is a solution to provide extra support to the ceramic load. It includes:
Horizontal strapping: Compaction and unifying of the ceramic load bundle.
Pallet stretch wrapper: The automatic pallet wrapper holds and wraps the load in a more respectful way than strapping, also securing the load to the base of the pallet. The application of the reinforcement cord is a substitute for strapping, offering that extra hold.
And why use Stretch Hood next if the Stretch Pallet Wrapper is already protecting the product?
It is true that many companies choose stretch wrap as protection only, adding a top cover, but this does not guarantee total waterproof impermeability. This is why we always recommend Stretch Hooding for maximum protection.
Stretch Hooding system: this innovative system provides the final layer that seals the product and protects it completely on its 5 visible sides.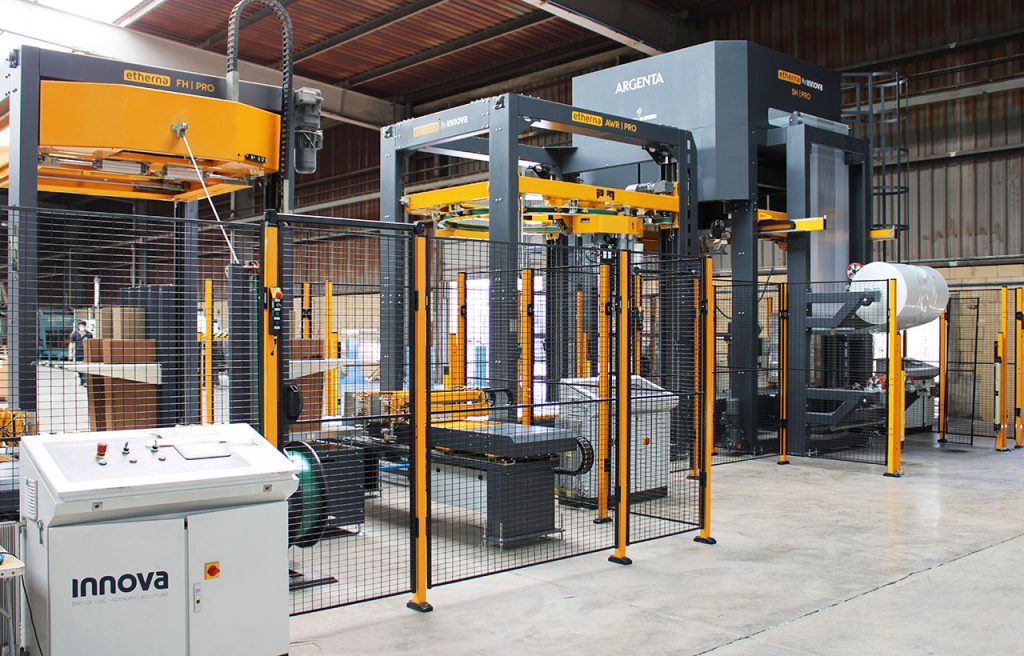 In addition to these combinations, the lines of ceramic boxes can also incorporate other complements such as the application of box edge protectors, tape sealing or pallet compactors, among others.
Solid bags: the packaging for chemical and agri-food industries
Products that are packed in bags require total protection in their final packaging. It is a usually heavy and stable product, so its industrial packaging goals will be:
Stability objective: the bag palletizing itself offers stability to its units.
Protection objective: they require a system that offers total impermeability so as not to damage the chemical, mortar or agri-food product.
Therefore, the best recommended packaging systems for this sector are :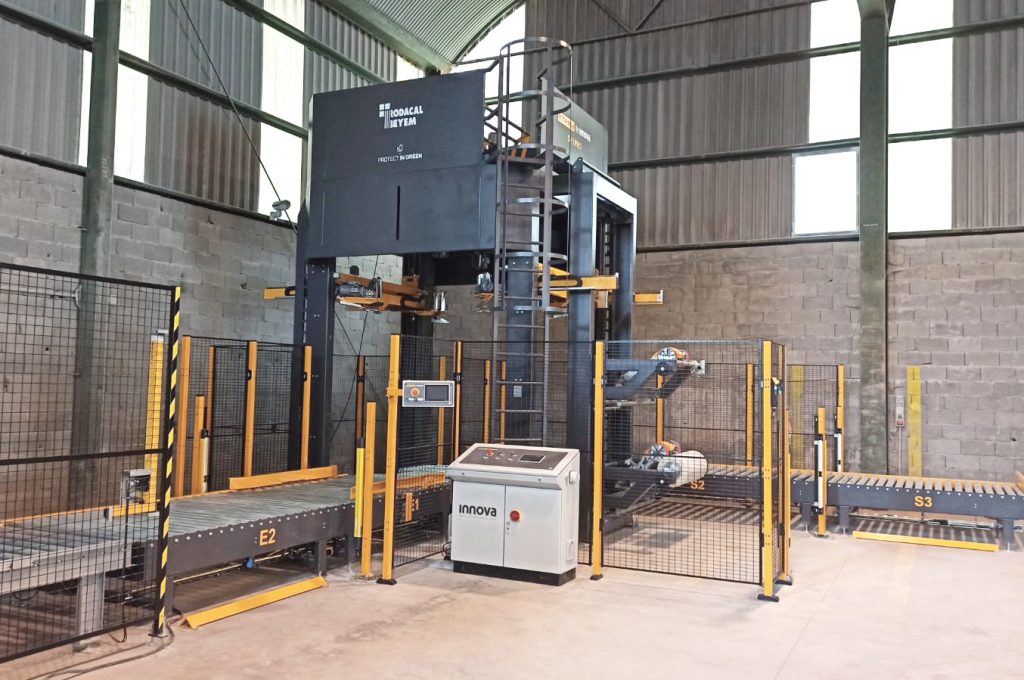 Many companies also choose to use the automatic pallet wrapper with a top cover, but moisture or rain tends to seep in between the layers of the wrapper and over time the wrapping may lose its hold.
Other complementary systems for bags:
Strapping system: in the case of lightweight loads, we recommend adding a vertical strapping system to reinforce its fastening to the pallet.
Multi food packaging: multi packaging options
Finally, there is the large group of the food sector, with units and shapes as diverse as bottles, packages, light boxes, carafes, cans and other types of food packaging. In many cases the shapes are not uniform and therefore unstable, although most of them have a block palletized load.
This type of products require:
Stability and securing: as these are lightweight and usually high loads, packaging with extra securing is required.
Extra protection: for certain products that can be damaged by moisture seepage, a totally watertight packaging is required.
The most commonly used packaging system in the food industry is the stretch wrapper, as it suits both objectives, but more and more companies are opting for stretch hooding options. Let's see the most common systems:
 Pallet wrapping machine with cover: in its automatic or semi-automatic versions (see semiautomatic pallet wrapping machine) the pallet stretch wrapper is a very versatile solution that adjusts to the customer's production. Thanks to the application of the reinforcement cord, greater stability and compacting of the block load is obtained. For full protection it will require the use of a cover and a stretch wrapping program that covers the entire load.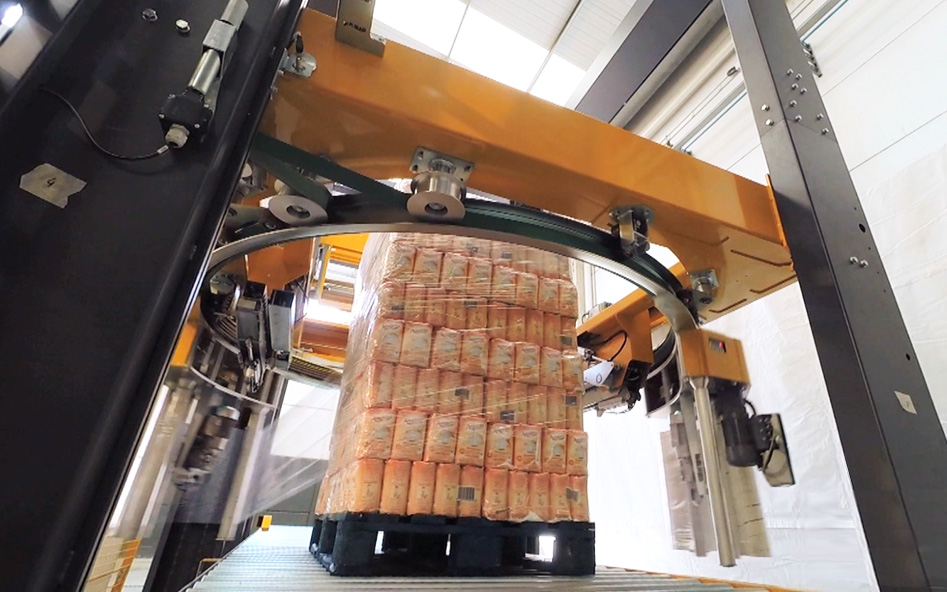 Stretch Hood system: The Stretch Hood system is increasingly used for large production loads that require full protection and product visibility. In addition, Stretch Hood also provides extra support for the palletized or pre-strapped product.
Other systems for extra securing:
Strapping system: in case the food load is light or unstable an additional strapping system is also recommended.
Boxes Edge protection system: in case of strapping or wrapping boxes, it may be necessary to add edge protectors to avoid damaging the food packages.
In short, each type of product needs a packaging suitable to its characteristics and needs. At Innova we can not only recommend the most appropriate combination of systems for your product, but we also continuously improve our machines to adapt to the demands and needs of different industries. Do not hesitate to contact us without obligation for your packaging project.
#WeAreInnovaTech
#WeAreInnovaGroup