Packaging trends: Pallet Stretch Wrappers, the key to packaging automation
Logistics and packaging requirements are becoming increasingly challenging for today's companies: High market demand, expensive materials and consumables, logistical problems, hard to comply with regulations… Plus the demands of customers themselves to be considered and the so-called last mile. In this context, automation has become more than an answer to face these challenges. Many companies are taking the step to renew their end-of-line packaging systems, either with automatic Stretch wrappers, or Stretch Hood systems.
This trend is clearly seen in the packaging systems manufacturing sector. Thus, 32% of the food & beverages industry companies will automate their final packaging systems, according to the recent industry report "Global Pallet Stretch Wrapping Machine Market Report, 2021-2031", realized by Future Marketing Insights (FMI), where Innova Maquinaria appears as a reference, among other manufacturers. Today we take a closer look at the most important trends of the report.
Rising demand for Automatic Stretch Wrappers
What is the motivation for the growing demand for automated end-of-line packaging systems?
The global pallet Stretch Wrapper market is on a progressive upswing. According to the study, "32% of the food industry and 31% of the beverage industry will renew their packaging systems to adapt to the high requirements of the market".
According to the FMI study, "a gain in automated stretch wrappers is expected to be experienced by 2031, while turntable stretch wrappers will become less and less important in the market." This growth is due to the great benefits of automated packaging systems. The advantages of having Automatic Stretch Wrappers with higher production and throughput will be decisive in the coming years.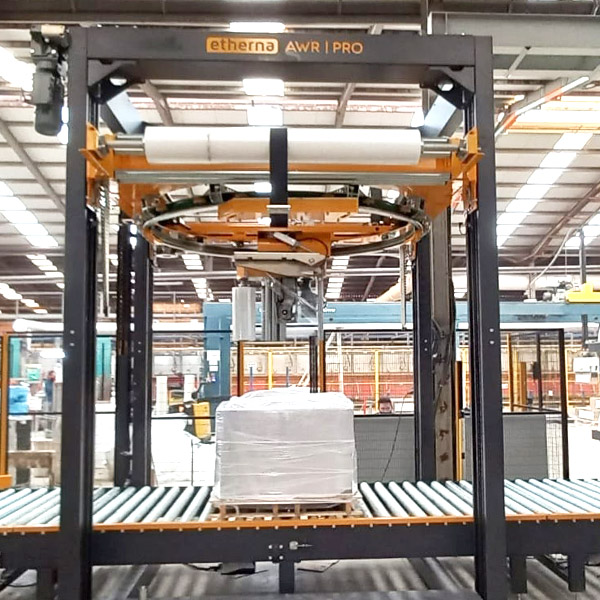 Benefits of automating packaging systems
Automation is in demand. Not only large production companies are renewing their systems, but small and medium-sized companies are also modernizing their end-of-line packaging systems for their countless advantages:
Reducing labor costs:
Europe faces the problem of high labor costs, which is why more and more employers choose automatic stretch wrappers. A fully automated packaging line requires fewer workers and, at the same time, generates more qualified technical positions in Industry 4.0.
Another great advantage is the reduction of accidents in the factory, which can be harmful to the health of the workers and can cause losses and damage to the product.
Higher productivity:
The high level of productivity and performance offered by these wrapping systems, such as, for example, Innova's high performance stretch wrapper, has become also decisive.
Non-stop production
These automated wrapping systems operate over a long period of time and can wrap as many times as it is needed (24 hours a day, 7 days a week). Therefore, it is a highly responsive production system for any industry because it avoids the packaging backlogs that manual packaging generates.
Reduction of consumables costs
Another important advantage is to reduce the film consumables since an automated system can automatically use only the amount of film needed according to the size of the load. Besides in the case of the stretch wrapper, film reduction does not mean poor wrapping. Features such as film pre-stretching up to 400% optimize the use of film, as it stretches and adapts perfectly to the volume of the load, making it compact and efficiently wrapped.
Safety and loss reduction
The automatic palletizing and packaging avoids several important errors that would mean considerable economic losses for the company. Although it is possible to palletize and wrap manually or in other less safe ways, the automated packaging is always preferable to avoid errors that can influence the total safety of the load.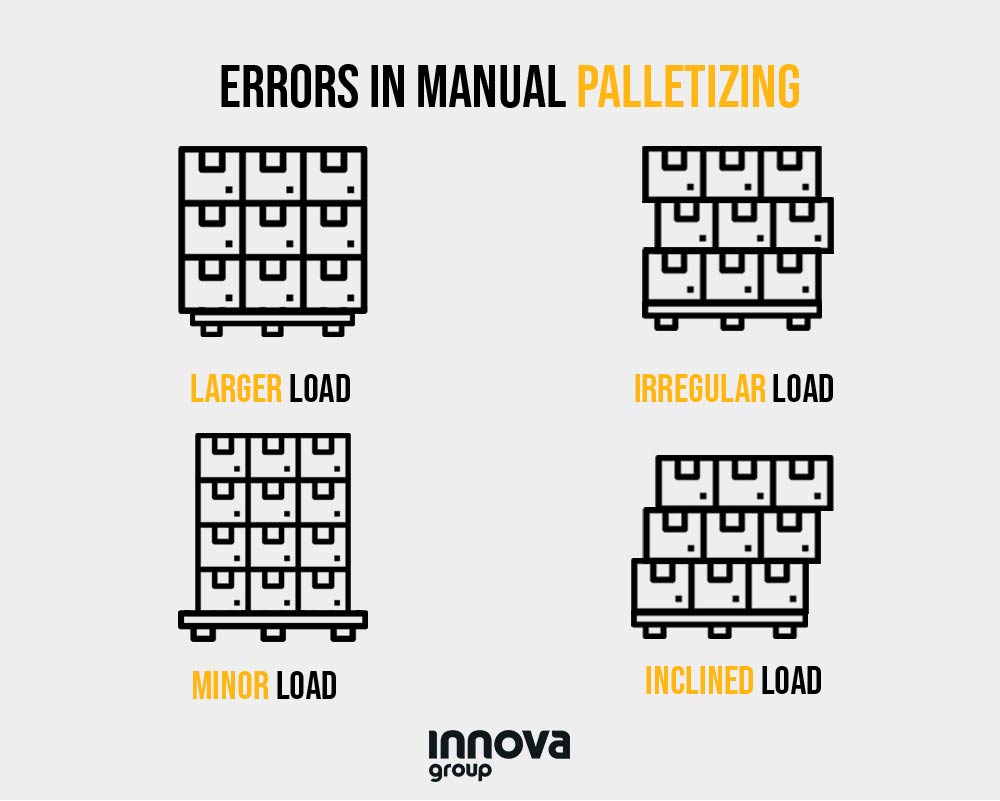 Why automate the end-of-line packaging? Solving the problems of manual end-of-line processes
The step to automation: Choosing the right stretch wrapper
How do I know which Stretch Wrapper is best for my production level? According to the FMI study, "it is estimated that rotary arm and ring stretch wrappers will have a high penetration in the global market because they provide higher performance capacity and easier operations."
It is very important to know how to choose the right stretch wrapper according to the sector and type of load. Based on our experience, we recommend:
Automatic pallet stretch wrappers for medium-high productions (more than 30-40 pallets/h) either with a rotating arm or with a high speed wrapping ring, so if the production increases, can avoid generating jams in the process.
For the food and chemical sector, especially for refrigerated food, wet, liquid product, etc. the trend is to use systems with stainless steel finishing. For example, Innova Group has a stainless steel stretch wrapper with pre-stretch system and reinforcement roping device adapted to the requirements of the refrigerated goods sector, with a large variety of additional complements.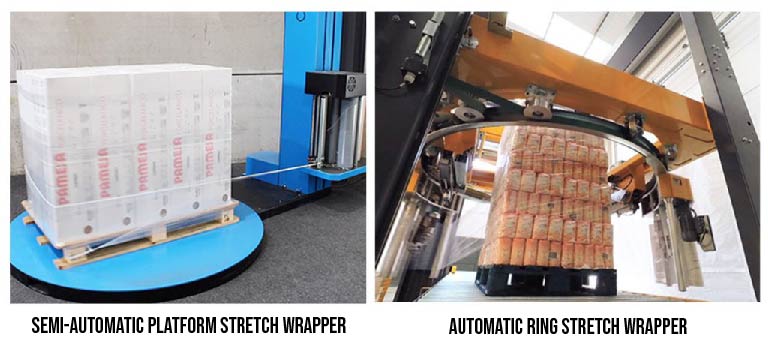 READ MORE:
STRETCH WRAPPERS GUIDE: What type of pallet stretch wrapper do I need?
In summary, there are many different packaging systems, but automatic stretch wrappers are a cost-effective solution for all companies that want to adapt to the high demands of today's market. In addition to guaranteeing protection and safety, automatic solutions help you avoid errors and losses, and speed up the final packaging process. Do not hesitate to consult with our technical team on automation. We offer you packaging savings studies and free quotation for your packaging project.