Vitromex relies on Stretch Hood technology and Innova's service in its production hub in México
The most advanced packaging technology, the best protection for its ceramic pallets and the closest technical service. This was the decisive combination for Vitromex when choosing its third Stretch Hood packaging line with Innova for one of its largest production centers in San José Iturbide (Querétaro). Vitromex, belonging to the GIS Group, once again demonstrated its confidence in Innova with this installation in the Factory 1 of San José Iturbide, after the projects of San José Factory 2 and San Luís Potosí.
1. Vitromex Goals: Renovation and unification of systems
Goal 1: Technological renewal
Vitromex's main objective was to upgrade its San Jose-based factories with the latest packaging technology, renewing old systems. Their commitment to Stretch Hood wrapping technology was clear as they sought to unify packaging systems in all their main production plants. In fact, according to the latest news from the GIS Group, their plan is to technologically develop their production centres at their San José Iturbide Hub. In this sense, according to Ricardo Sandoval Garza, Institutional Relations Director of GIS, to Vanguardia MX, technological advances are being centralized in the San Luis Potosí and San José plants because they are "plants with new technology that require other dimensions".
Goal 2: Saving on consumables
Before the installation of the new line, Vitromex used the shrink-wrapping system to protect its pallets, resulting in a greater expense on film and gas consumables. Therefore, its objective was to change to a more efficient technology that would reduce its energy consumption and use of consumables (film), as provided by the Stretch Hood wrapping system.
Goal 3: Protection and quality of wrapping
Vitromex was also looking for maximum protection for its ceramic product pallet for outdoor storage and logistics. For that reason, Vitromex required a solution that offers total protection against external agents such as rain, dust and dirt, humidity and even the effect of the sun.
Lastly, Vitromex, belonging to a leading group in Mexico such as GIS, sought to obtain a better finish for its pallet packaging and to offer a better image and added value in the delivery of its product to the client.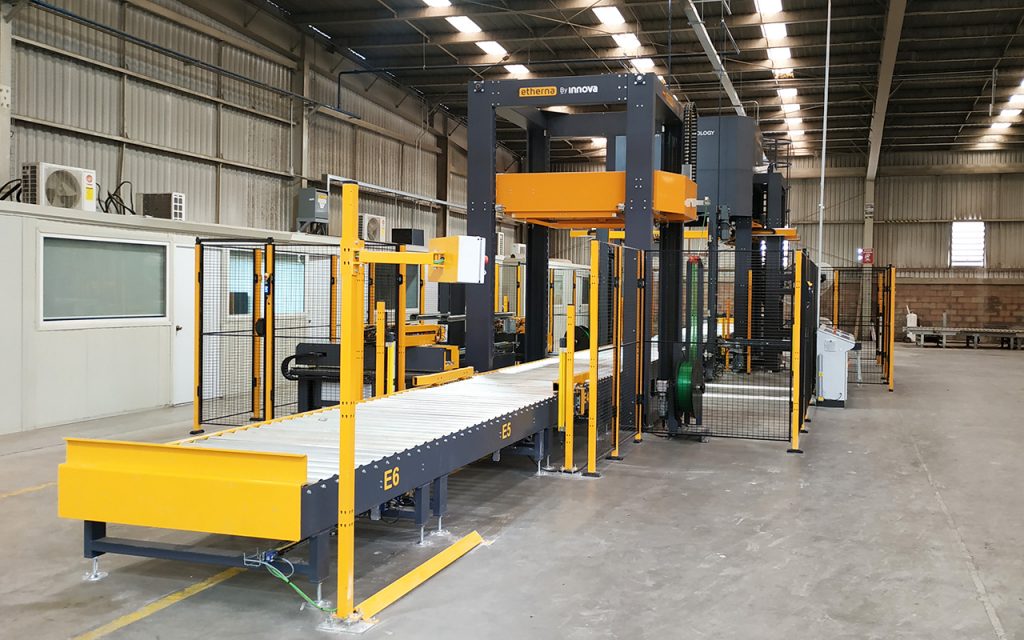 2. Innova's solution: New Stretch Hood packaging line
Innova proposed to Vitromex a project with a Stretch Hood system line with its complementary strapping and compaction systems. The objective was to respond to the goals of the Mexican company of greater protection and security of its logistic distribution, using a technology of higher efficiency and savings.
The installation in plant 1 of San José Iturbide consisted of:
– Horizontal Strapping System with Corner Protector Applicator: This system centers and compacts the pallet, then applies corners to protect the edges of the boxes and finally straps horizontally to ensure maximum compaction.

– Vertical Strapping System: The vertical strapping system complements the horizontal strapping, providing extra support of the load with the pallet. The application of the two types of strapping guarantee the total subjection of the product for its transport and logistic handling.

– Stretch Hood wrapping system: The Stretch Hooder uses a tubular wrapping that adapts to the load, providing total waterproof protection. The model of Stretch Hood Pro 2-S2 installed in Vitromex offers the highest packaging speed, reaching 150 pallets/hour. Thanks to the two film reels incorporated, it can adapt to the different sizes and formats of Vitromex pallets, another of the requirements of the Mexican company.
– Conveyor Line: Finally, the installation is unified by a conveyor line that includes infeed conveyor rollers, pallet centering system and outfeed conveyors for pallet accumulation.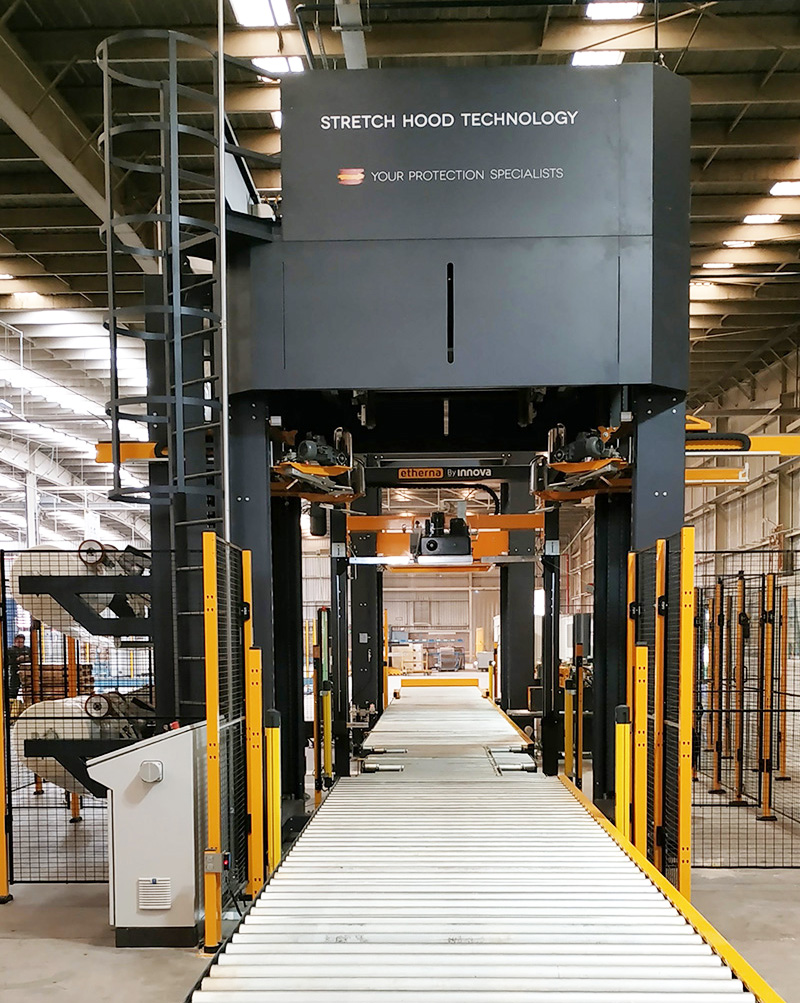 3. The results: A more efficient packaging line with local technical service
As a result of the installation of the Stretch Hood line, Vitromex has been able to save on its final packaging, at the same time that it has gained in efficiency and quality. In addition to the direct benefits in its ceramic product, the tile company has also increased the performance of its machinery thanks to Innova's Technical Service.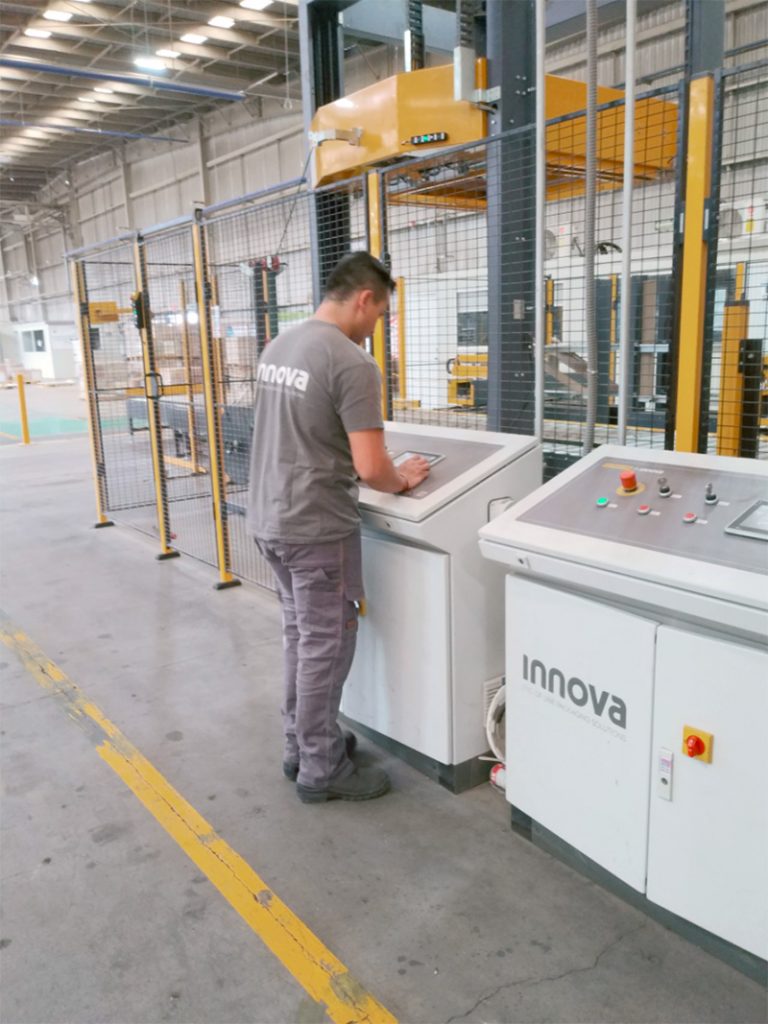 Vitromex is one of the first Mexican customers to have Innova's Preventive Maintenance Plan, which includes a totally tailor-made proximity service. This Innova Support service with local spare parts was one of the decisive factors for Vitromex to choose the Innova project. In fact, the line installed in San José is Vitromex's third joint project with Innova and the confirmation of a relationship as partners for years.
Thanks to the combination of new technology, quality packaging and a technical service of proximity, Vitromex has selected Innova as its packaging technology partner, with a view to a fourth joint project on the horizon.
Thank you Vitromex for trusting Innova Maquinaria, we hope to be your partner for many years to come!
#WeAreYourPartner
#WeAreInnovaMexico